A left-wing student at the University of California, Riverside, went on a 10-minute, profanity-laced political tirade in front of school officials after taking another student's Make America Great Again hat right off his head — and the whole thing was caught on video.
The astonishing clip — obtained by Campus Reform — shows the female student holding Matthew Vitale's red Trump campaign cap and walking into the Student Life Department, complaining that the college shouldn't let Vitale wear it.
"So this guy thought it would be a good idea to go into a conference wearing this f***ing hat," she tells school officials behind a counter, after which Vitale says the hat is his property and the woman stole it from him.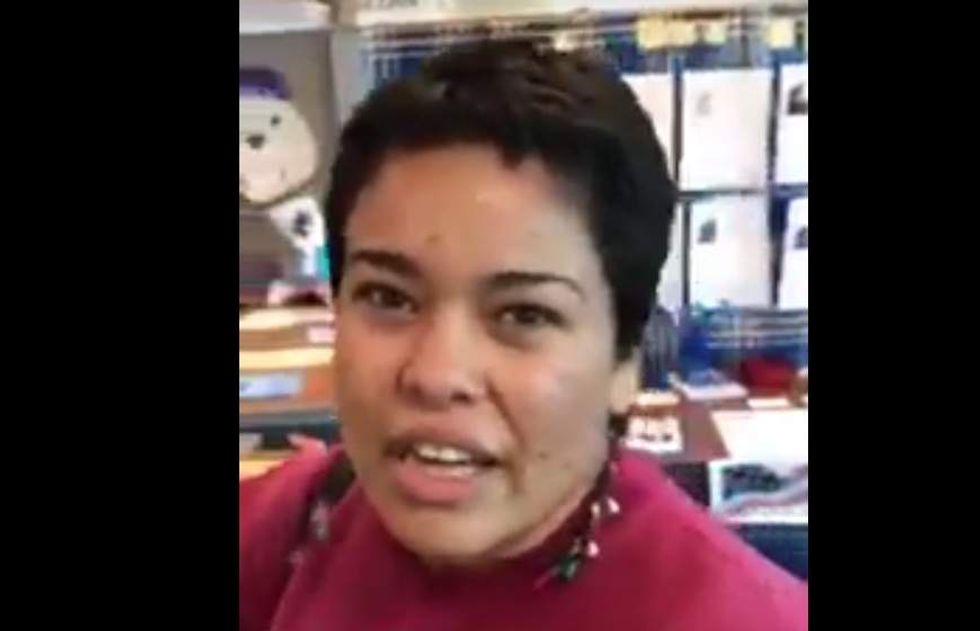 Image source: YouTube screenshot
"Look at the kind of s**t he's wearing," she continues, still holding Vitale's cap. "You know what this represents? This represents genocide — genocide of a bunch of people."
Vitale, somehow remaining calm, retorts that "you do not get to take other people's property that is legally theirs in this country."
The woman's response? "Man, f*** your laws."
When Vitale tells her that freedom of speech allows him to wear the Trump campaign hat, she says "your f***ing freedom of speech is genocide, homeboy" and then "I swear to God I could burn this s**t."
As school officials meekly stand by with the woman still holding Vitale's cap, he asks, "Are you people not going to do anything? She's stealing my property."
After Vitale tells the woman to "get out" of the United States if she doesn't like it here, she comes back with, "How the f*** do you know that I'm brown?"
Still holding the stole cap in her hand, the student adds, "He's recording me like I'm the criminal here."
But when Vitale attempts to argue back, again emphasizing that the cap is his property, she interjects: "Oh, because 'you stole my property.' Y'all stole this land! Your ancestors stole this land, motherf***er!"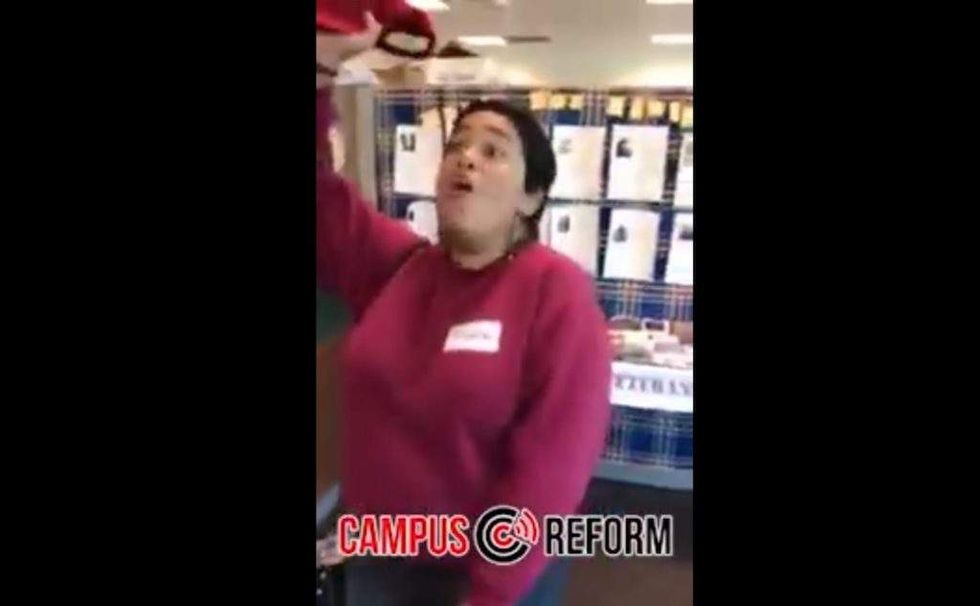 Image source: YouTube screenshot
Finally, one school official tries to calm things down and asks the woman if he can hold the cap instead: "Can I be the neutral party, and I'll take it?"
Nothing doing. She still holds on to Vitale's cap.
That leads an employee to say, "We will need to return his property to him, but then we can talk about…"
But she interrupts with, "How about we talk about not letting people wear this s**t on campus?"
At one point the woman — who had earlier asked Vitale how he knows she's "brown" — has no problem telling the victim, "You're white, boy. You're white. You pass as a white man."
Vitale tells her he's "half Nicaraguan," but that doesn't seem to matter much.
Losing patience, the Vitale tells school employees — as the other student still holds on to his hat — "honestly, the fact that you people haven't gotten this back for me is sad and wrong."
When a staffer suggests the pair "take a breather," the woman adds more content to her political tirade.
"That's full of s**t, because you all are just going to, like, mediate this and make it so like 'Oh, we're all OK here, freedom of speech, whatever.' How 'bout we think about what's actually going on in this country? ... I f***ing hate this country. I hate it, and I'm not leaving. I'm staying here because there's s**t that needs to be fixed here … We need to get rid of all y'all … You've got a s**tload of privilege, and it shows by you wearing this hat ... while there's literally people getting killed out there!"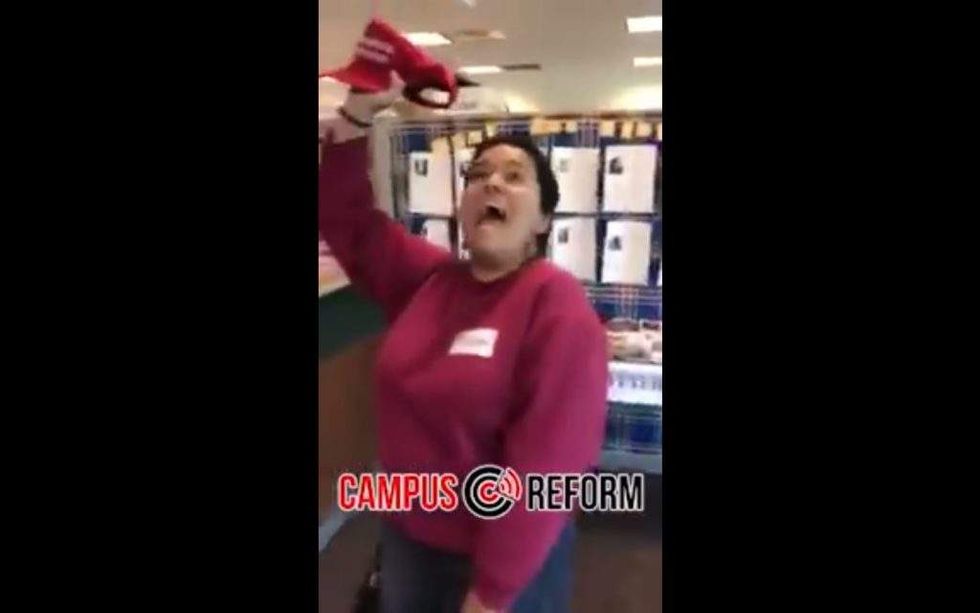 Image source: YouTube screenshot
After a staffer finally directs her to hand over the cap, she reluctantly does as requested yet can't believe other staffers aren't coming to her aid: "Somebody back me up in this s**t!" she tells them.
When another employee says office personnel are trying remain "neutral," she shoots back, "You're neutral my ass."
And when another staffer finally gives Vitale's hat to him, the victim's nemesis gets angry, refuses to speak further to employees and attempts to leave the office.
Not so fast. A pair of police officers show up at the door, blocking her exit — and pointing at her to stay put.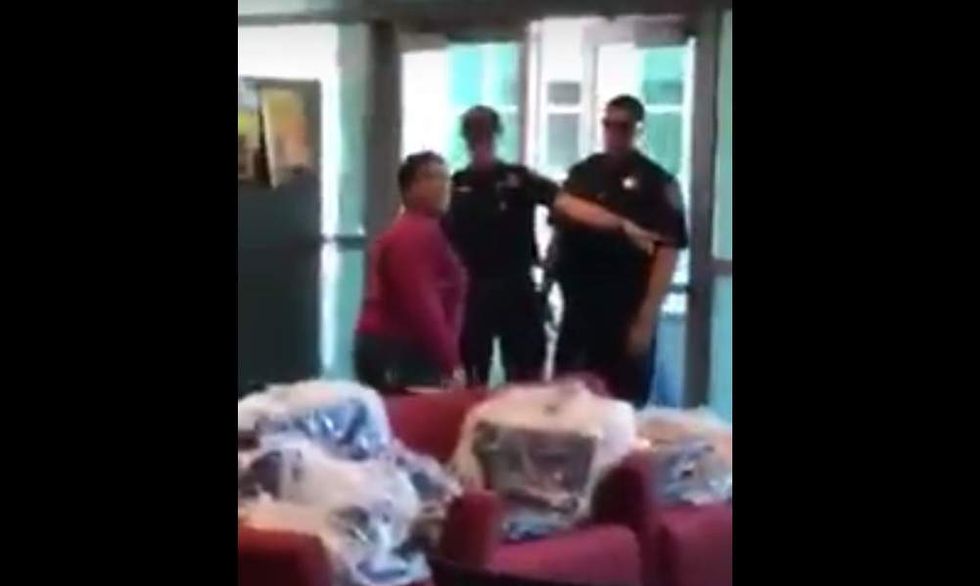 Image source: YouTube screenshot
"Really, y'all?" she asks, turning back to the office employees.
Vitale sounds vindicated at the turn of the situation: "Good. That's how this country works."
The clip ends at that point, and it isn't clear if anything happens to the woman. The video was posted Thursday to YouTube, but it's not clear when the incident occurred.
Campus Reform said it reached out to the school and Vitale for comment but neither party responded.
Here's the clip. (Content warning: Rough language):