In his new book, "How the Right Lost its Mind," political commentator and former talk radio host Charlie Sykes argues that, in 2016, much of the conservative movement sacrificed the conservative idea at the altar of "Trumpism."
'What happened to the conservative movement?'
In an interview with TheBlaze, Sykes said many in the conservative movement rejected the conservative idea — which he defined as respect for the Constitution, limited government, liberty, and personal responsibility — as they embraced tribalism over principle when they selected Donald Trump as the Republican nominee for president.
Sykes described watching the Republican presidential primary cycle in 2015 and 2016 as a "long, soul-crushing slog" where he "had a front row seat" to the conservative movement's "slow-motion defeat and then later capitulation to Trumpism."
"Part of the reason I wrote the book was to quite frankly figure out, 'What just happened?'" he said. "What happened to the conservative movement? Was the movement very different than what I thought it was, or are people not who I thought they were?"
Trump, Sykes said, is "a man without any fixed principles" — and who poses a threat to conservatism. His base is driven more by personal loyalty to him than they are by "a set of coherent ideas."
"If conservatives decide he defines the movement, they've surrendered any fixed point," Sykes said, arguing that if Trump moves left, so does his base.
"Donald Trump really is about Donald Trump," he said.
Trump, he added, defies labels, but has displayed nationalism, populism, nativism, and "a streak of authoritarianism" since taking office.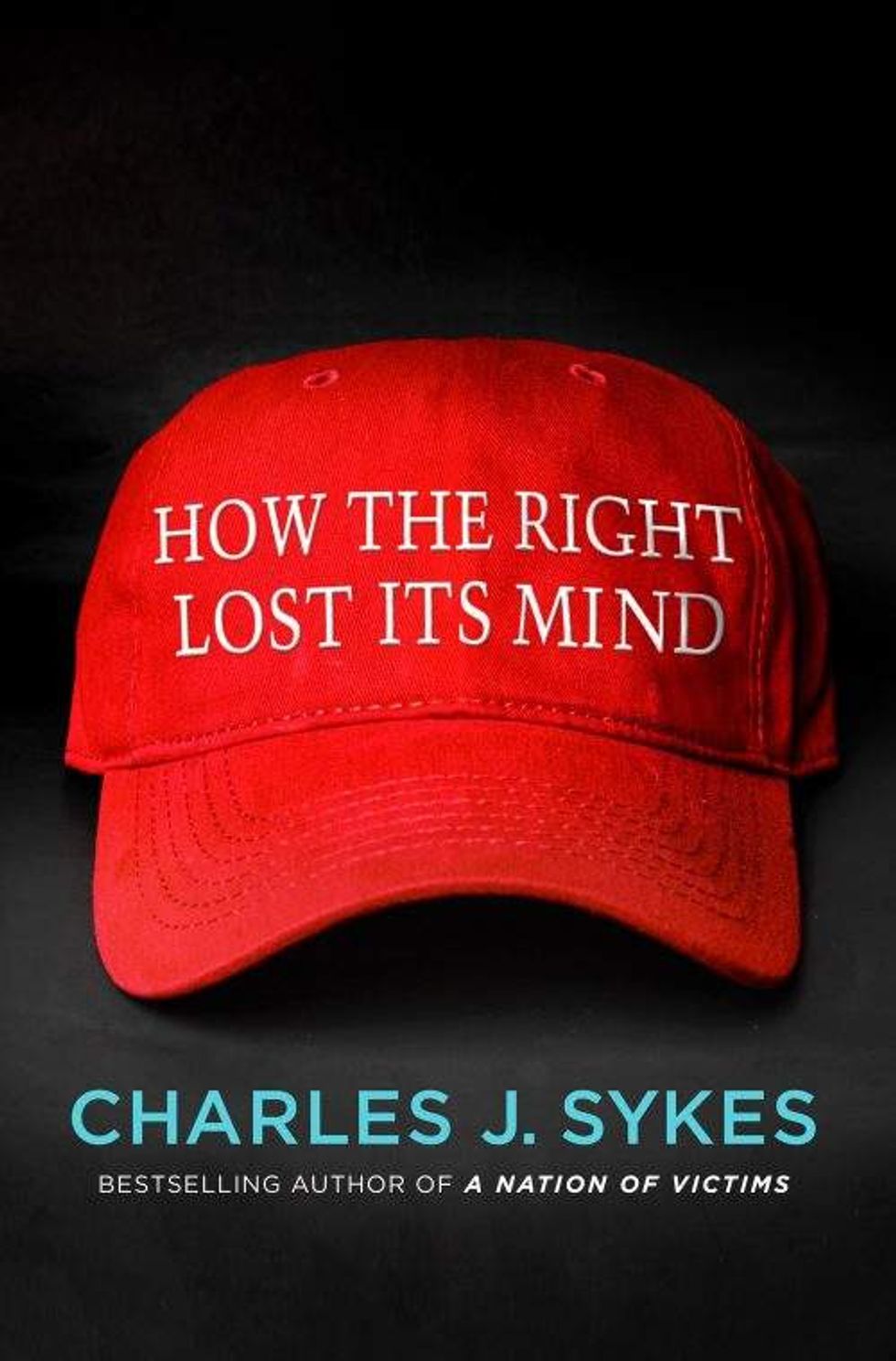 Image source: St. Martin's Press
"I think that many of us had believed that the conservative movement was a movement driven by ideas, but I think those ideas were really pie-crust thin over the movement," he said. "What we're seeing now is it's less about ideas and principles and more about tribal loyalty. And Donald Trump is exploiting that and reflecting it. But I'm not sure he created it."
Sykes argued that pre-existing conditions in the conservative movement paved the way for Trump's rise. Many in the Republican Party displayed a "lack of political courage and principle" and fell out of touch with their base. Conservatives were very skilled at defining what they're against — which he called "anti-liberalism" — but less successful at articulating what they support. He also argued that the conservative movement "outsourced our thought leadership to the loudest, angriest, most vulgar voices on the right."
"The rise of the perpetual outrage machines tends to drown out any thoughtful discussion of issues," he said.
What was the role of conservative media?
Skyes said that during Trump's rise, portions of conservative media went from presenting a "valuable alternative voice" to creating "alternative reality silos":
This is incredibly important to tell the other side of the story, to talk to a huge portion of Americans who are not being served by the mainstream media — and the reality is the mainstream media is culpable in this with their bias, which is real, their contempt for conservatives, which is real, we all recognize it — so I thought one of the best developments on the right was this development of, 'Hey, here's the other side of the story.' But then something happened.
Once Trump secured the Republican nomination, many were no longer willing to hear any criticism of him, Sykes said.
"A lot of conservatives really did feel that conservative media's role was to reinforce what they wanted to believe," he said. "Confirmation bias is very powerful."
Sykes discovered this for himself, he said, when he began to criticize Trump on his show. Some of his listeners told him they would no longer listen, even going so far as to call him a "traitor."
"I really did have that moment where I thought conservative media has now devolved into a safe space for the right," he said. "People tune in to not have their preconceptions challenged, but to have their ideology confirmed."
Sykes noted there were publications and hosts within the conservative media who resisted calls to become pro-Trump, but many "essentially rolled over."
"What is the 'business model' for conservative anti-Trump media?" he asked. "It's extremely difficult. Not everyone has become a fawning fanboy like Sean Hannity, but it is economically risky to be in the conservative media and to objectively cover Donald Trump."
What's next for conservatism?
Sykes said he struggles "to be an optimist" about the state of American conservatism in the Trump era.
"I feel that I have been excommunicated from a movement that I have been part of for more than two decades," Sykes said. "And that's part of the reality now of politics in the age of Trump."
He said it's hard to predict what the Trump presidency will mean for future elections.
"It's difficult to see how the conservative movement is not badly damaged and stained by this," he said. "On the other hand, as I say in the book, I think principled conservatives find themselves in the wilderness. We should use this as an opportunity to engage in some introspection, go back to first principles, ask questions about who we are and what we believe and what we really value and that actually could lead to positive change."
Meanwhile, he said, the left is "completely capable of imploding on itself."
"If the Democratic Party decides to move hard left, you're going to see these divisions and these tribes harden," he said. "If politics is going to be about tribal loyalty rather than ideas, it's hard to see how you come out of this on the other end."
"How the Right Lost its Mind" is available Tuesday.