One might assume Black Lives Matter and liberals are best of friends. But that doesn't appear to be the case after what transpired at the College of William & Mary last week.
What happened?
Black Lives Matter protesters stood in front of a stage and began chanting five minutes into a freedom of speech event co-sponsored by the American Civil Liberties Union at the Williamsburg, Virginia, school, Flat Hat News — the college's student paper — reported.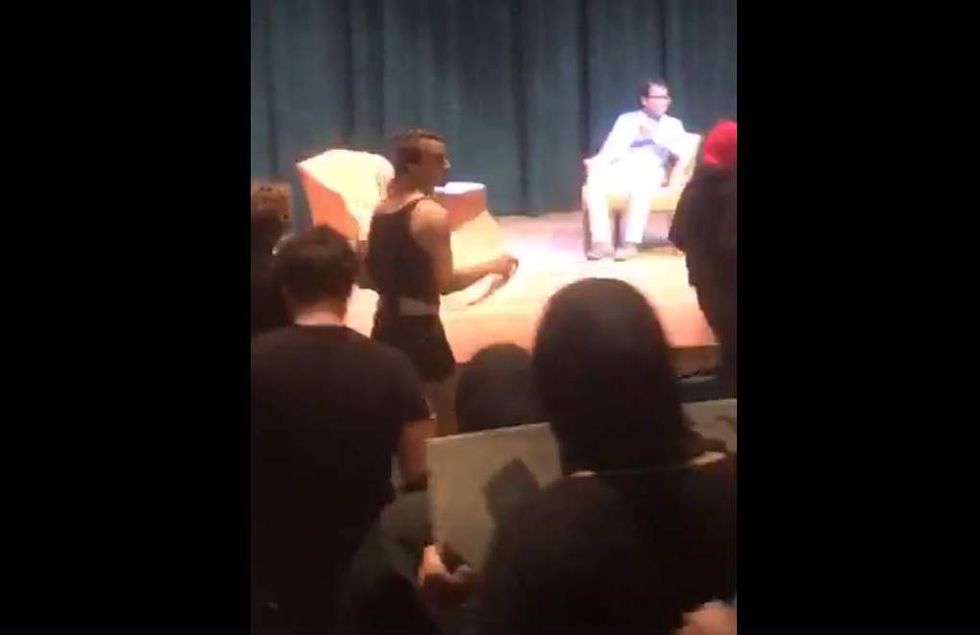 Image source: Facebook video screenshot
What did the sign-toting protesters chant?
"Liberalism is white supremacy!"
"ACLU, you protect Hitler, too!"
"No justice, no peace — Nazis don't deserve free speech!"
"Your free speech hides beneath white sheets!"
"Blood on your hands!"
"Shame!"
"The revolution will not uphold the Constitution!"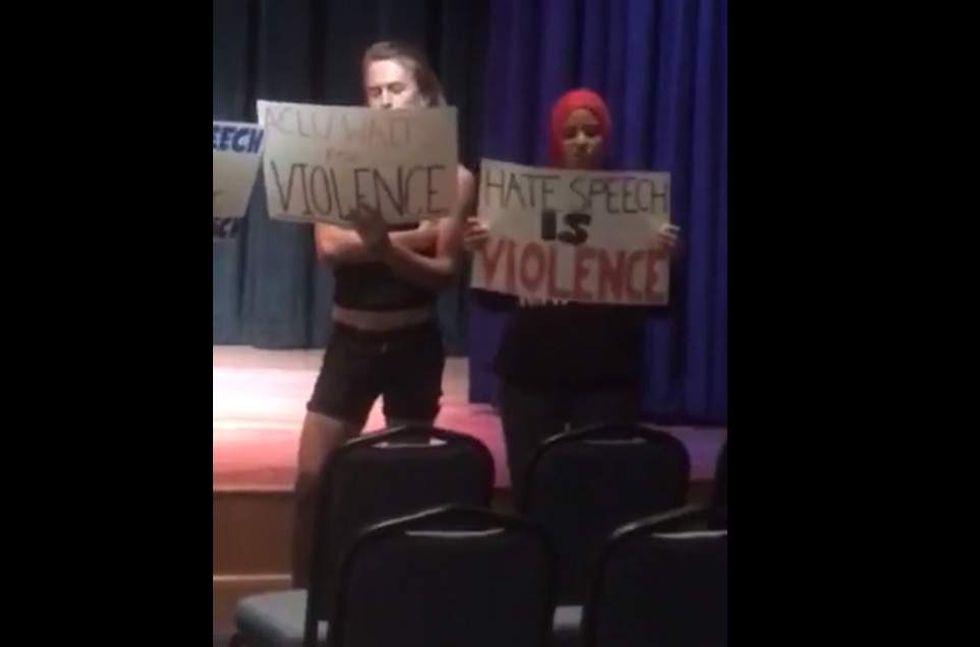 Image source: Facebook video screenshot
How did the speaker respond to the protesters?
As protesters marched to the front of the stage, speaker Claire Guthrie Gastañaga — executive director of the Virginia ACLU — said, "Good, I like this. This is good. I'm going to talk to you a bit about knowing your rights and protests and demonstrations, which this illustrates very well ..."
What did a Black Lives Matter member say after an event organizer handed her a microphone?
"When is the free speech of the oppressed protected?" the BLM member asked, Flat Hat News said. "We know from personal experience that rights granted to wealthy, white, cis, male, straight bodies do not trickle down to marginalized groups. We face greater barriers and consequences for speaking."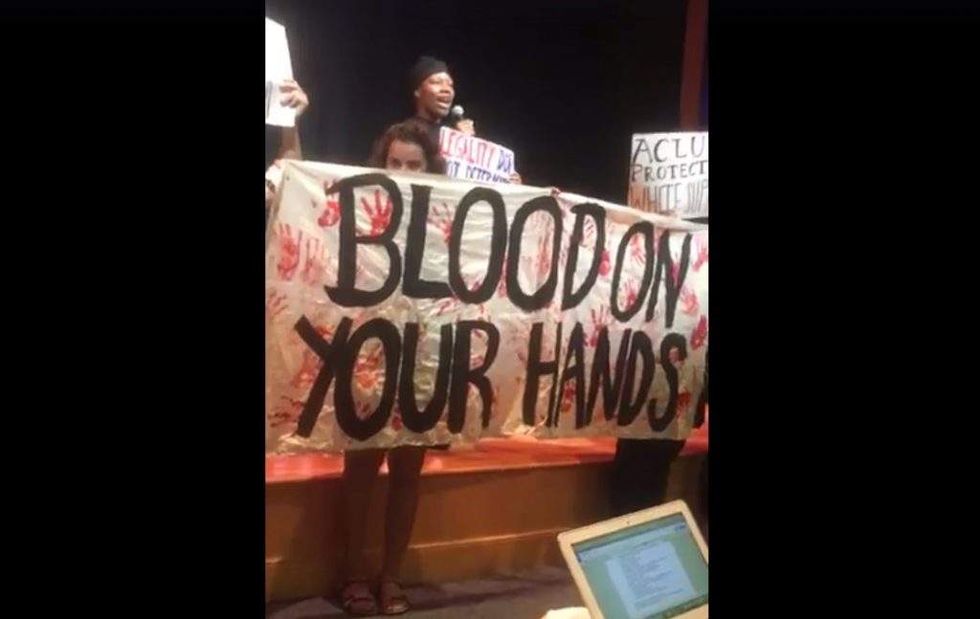 Image source: Facebook video screenshot
Did the free speech event resume?
The event titled, "Students and the First Amendment," was shut down and did not resume, Flat Hat News reported.
What happened when the event ended?
Some students who attended the event to actually hear what Gastañaga had to say circled around her in the hopes of asking questions and dialoguing, the student paper said.
But no dice. The Black Lives Matter protesters gathered around them and drowned out Gastañaga with more chanting.
The remaining students then dispersed, Flat Hat News said.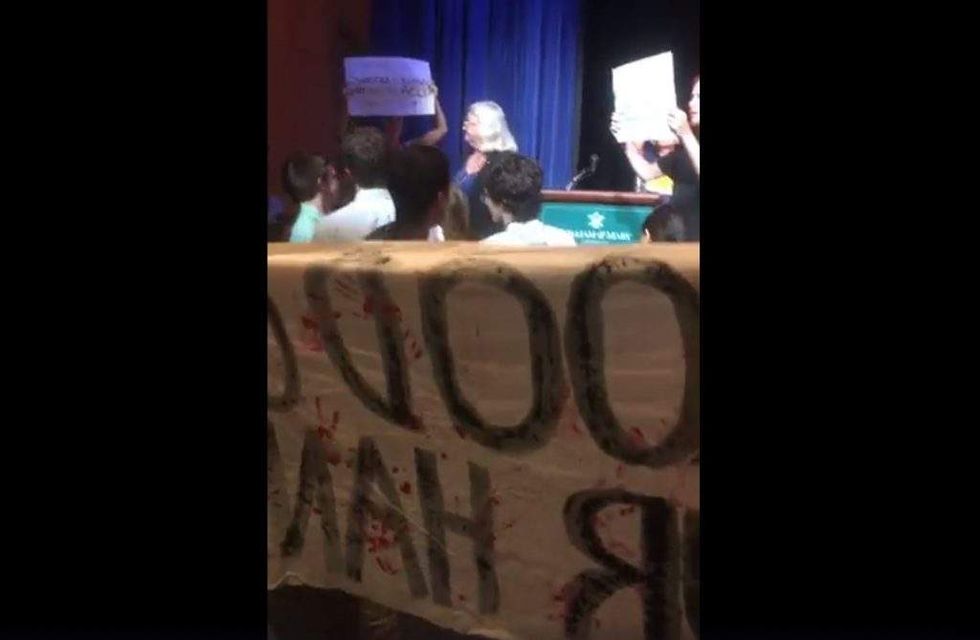 Image source: Facebook video screenshot
Here's video of the protest:
What did Black Lives Matter say afterward?
William & Mary's BLM chapter said on its Facebook page that it "shut down" the event, the student paper said: "In contrast to the ACLU, we want to reaffirm our position of zero tolerance for white supremacy no matter what form it decides to masquerade in."
How did the school respond?
"Silencing certain voices in order to advance the cause of others is not acceptable in our community," William & Mary President Taylor Reveley said in a statement, Flat Hat News said. "This stifles debate and prevents those who've come to hear a speaker, our students in particular, from asking questions, often hard questions, and from engaging in debate where the strength of ideas, not the power of shouting, is the currency."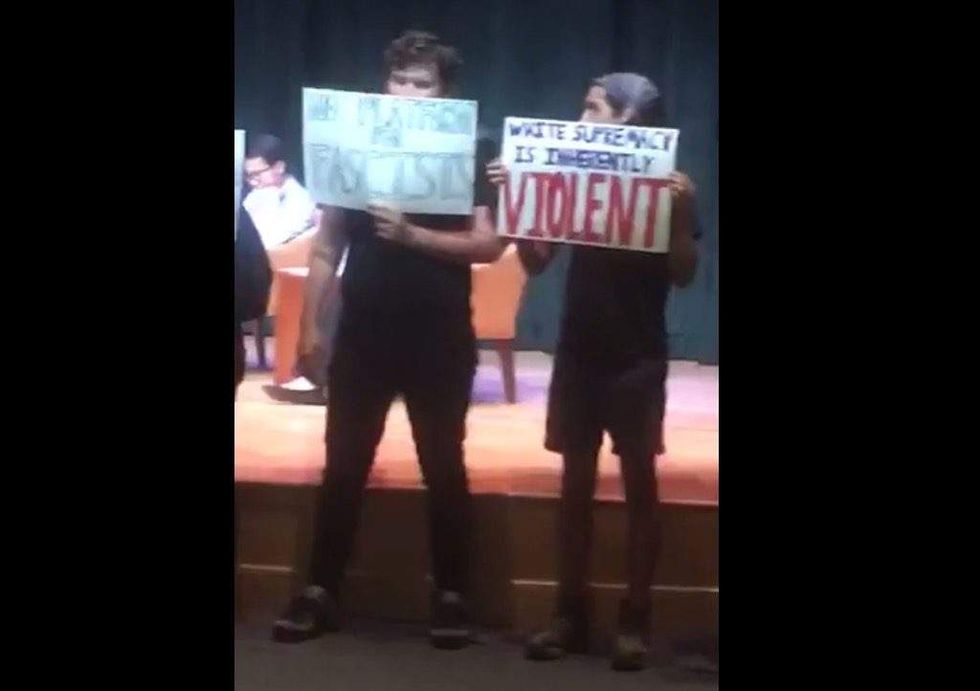 Image source: Facebook video screenshot
How did students respond?
"I do not believe that preventing discussion from happening is a viable pathway to get what you want," Tyler Senio told the student paper. "I believe it is important for people to express themselves and stand up for the issues they believe in. However, once these expressions start to negatively affect others and prevent progress in the area they are protesting, that's when the justification becomes questionable."
"We are proud of be a part of a politically active community that voices their concerns and fights for their rights," student and event organizer Miguel Dayan told Flat Hat News. "However, we hoped for a two-sided dialogue so our students could learn about their rights and [have] the chance to question, critique and engage in conversation with the director herself."
This writer's perspective
Even though a Black Lives Matter member was given a chance to speak to the audience on a microphone at an event BLM was not connected to — and even though BLM managed to shut down the event — the protesters weren't content.
They didn't even give audience members and the speaker the opportunity to huddle and chat informally afterward, simply drowning out their discussion with more chanting.
That's disturbing.
The free speech event organizers put their money where their mouths were and gave protesters a chance to be heard when they didn't have to. And the protesters returned the favor by spitting on that.
Some day the protesters who shut down free speech at William & Mary could find their own speech endangered or shut down — and who then will come to their defense after the judgment they've passed on others' speech?
Americans can't abandon the crucial idea that even those with ideas we despise have the right to speak. We may not like it, but it's a temporary and much lesser downside to a greater good. A gift that lets us freely express ourselves as opposed to hiding in the shadows in fear of what may happen to us if we say what's on our minds.
(H/T: Reason)