Right-wing firebrand Ann Coulter took to her Twitter account to launch a scathing rhetorical attack on Hollywood for their hypocrisy in looking the other way for decades as movie mogul Harvey Weinstein sexually harassed women.
Coulter zeroed in on iconic actress Meryl Streep:
Meryl Streep on Trump:"When the powerful use their position 2 bully others, we all lose." Unless he's a lib & most… https://t.co/jVZWII20t2

— Ann Coulter (@Ann Coulter)1507418031.0
Merle Streep on Trump: "Evil prospers when good men do nothing" ... Like she did for 20 years, winning Oscars. https://t.co/6EutGqeDe6

— Ann Coulter (@Ann Coulter)1507418151.0
The award-winning actress has not yet commented on the scandal. In 2014, the movie producer said he was working with Streep to create a movie attacking the National Rifle Association.
Streep is a vocal critic of President Donald Trump, and blasted him in a speech given at the Golden Globes in January.
Coulter mocked the common refrain by some on the left meant to highlight Trump's sexism:
The narrative of having difficulty explaining to children, especially daughters, why Trump won the presidency was a favorite trope among the left.
Actresses:"How do I tell my daughters about Trump?" I ask: "How do you tell your daughters you did nothing about Weinstein for movie roles?"

— Ann Coulter (@Ann Coulter)1507440305.0
She was especially caustic with actress Ashley Judd:
Coulter tweeted about Judd, "Ashley Judd to Trump voters. 'You voted for a p***y grabber!' Ashley Judd to Harvey Weinstein: 'You can grab my p***y if I win an Oscar.'"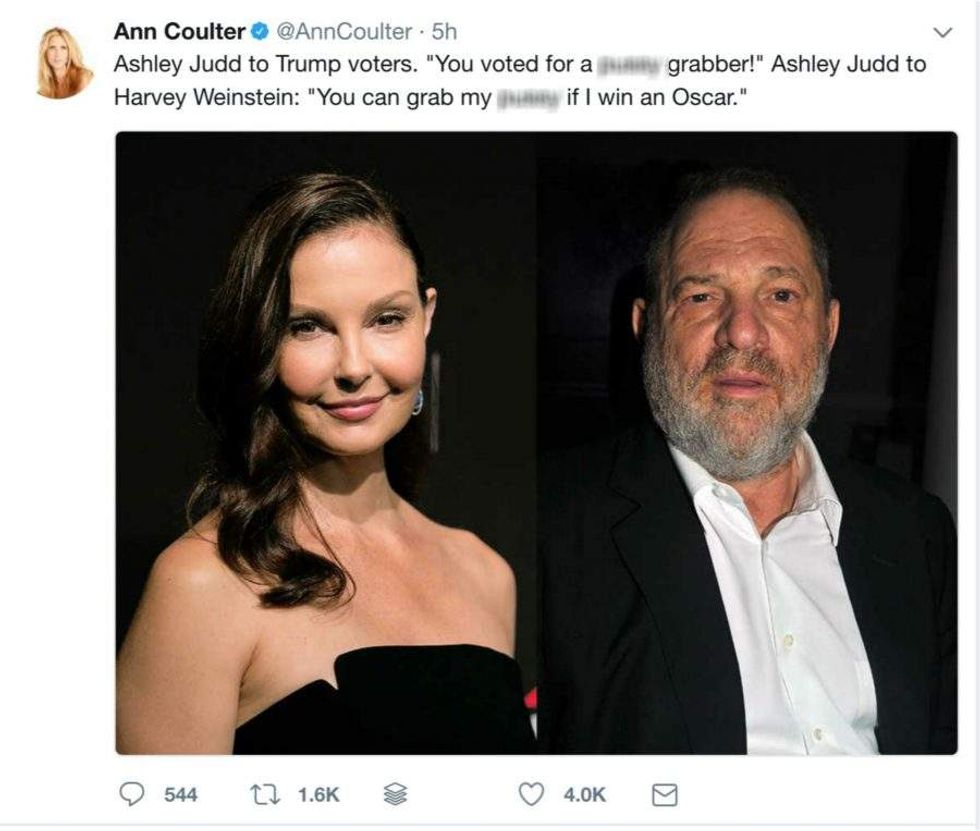 Judd revealed that she had been allegedly pressured by the movie mogul to let him massage her while he was in his bathrobe. When she refused, he asked if she would watch him shower.
"Women have been talking about Harvey amongst ourselves for a long time, and it's simply beyond time to have the conversation publicly," she said about the incident.
Coulter mocked Judd for previously having attacked Trump over his controversial comments on the "Access Hollywood" tape in 2005.