Climate conditions have erupted into massive wildfires in California this season that are straining emergency services.
Here's what we know about the damage from the wildfires in California so far.
Many dead, many more missing
Chief Ken Pimlott, director of California Department of Forestry and Fire Protection said that the fires have claimed 15 lives so far.
But that is a preliminary estimate, and the toll could be much higher. More than 200 people are missing in just one county as the fires have spread so quickly, residents are having to evacuate without being able to contact family members.
How many acres are included in the wildfires?
Officials estimate that as many as 115,000 acres have been scorched already. As an acre is 43,560 square feet, that means more than 5 billion square feet are affected already.
Why is the fire season so bad this year?
Although California is in the midst of a long drought, last year was a surprisingly wet year. But that means there was much more natural green growth, which dried out and has become a tinderbox in the hotter, less humid weather.
October is also when the Diablo winds and the Santa Ana winds kick up in the north and the south, respectively. These dry winds help spread any small fire into a large conflagration.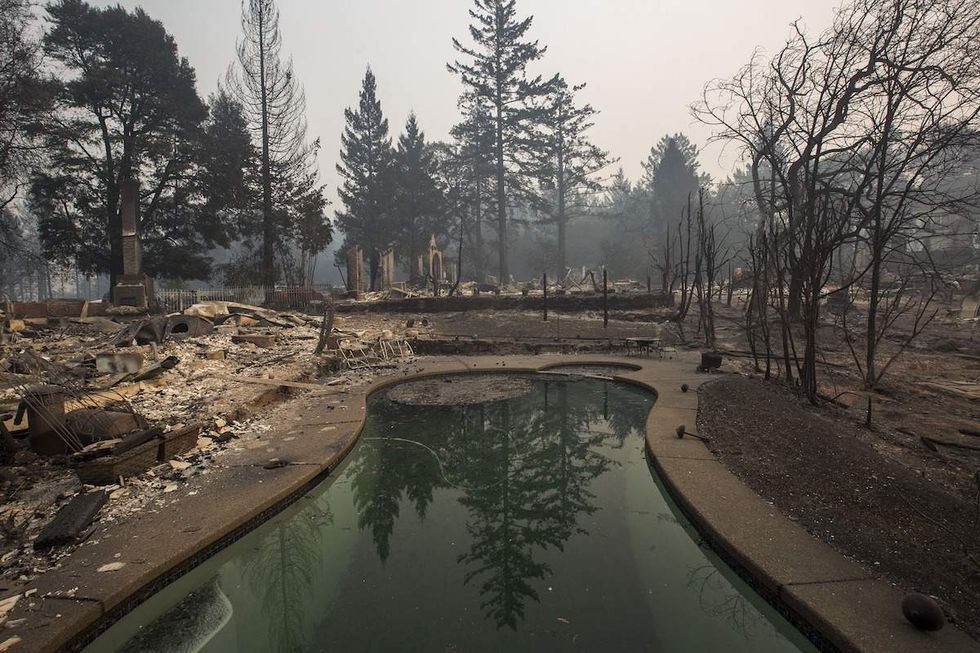 A neighborhood is destroyed by fire in the area of Foxtail Court, on Oct. 10 in Santa Rosa, California. In one of the worst wildfires in state history, at least 1,500 homes have burned as more than 14 wildfires continue to spread in eight Northern California counties. (David McNew/Getty Images)
How has President Trump responded?
President Donald Trump assured California Gov. Jerry Brown that the federal government would do its part to alleviate the situation.
"I want to say a few words to the people of California," Trump said. "Great state. Especially with those in Napa. Napa has been hit so hard. And Sonoma. As they deal with the tragic loss of life and property to devastating wildfires.
"I spoke with Governor Brown last night to let him know that the federal government will stand with the people of California and we will be there for you in this time of terrible tragedy and need," he added. "And I just want to pay my warmest respects. They are going through a lot."
What can I do to help?
There are many charities online that you can donate to if you want to help relief efforts in California. Be careful to only support those with excellent reputations, as there are many scams trying to take advantage of well-meaning people.
In this photo, a man picks up an American flag that fell from a flagpole during a fire on October 9 in Santa Rosa,… https://t.co/LTtk3dbGjt

— Fox News (@Fox News)1507635818.0