A California sheriff's deputy was called a hero and awarded a medal of valor for saving the life of a fellow deputy who was stabbed in September 2013, KCBS-TV reported.
But a panel of federal judges ruled last week that Orange County Deputy Michael Higgins can be sued for excessive use of force after he fatally shot the knife-wielding suspect and then stomped on his head three times, the station said.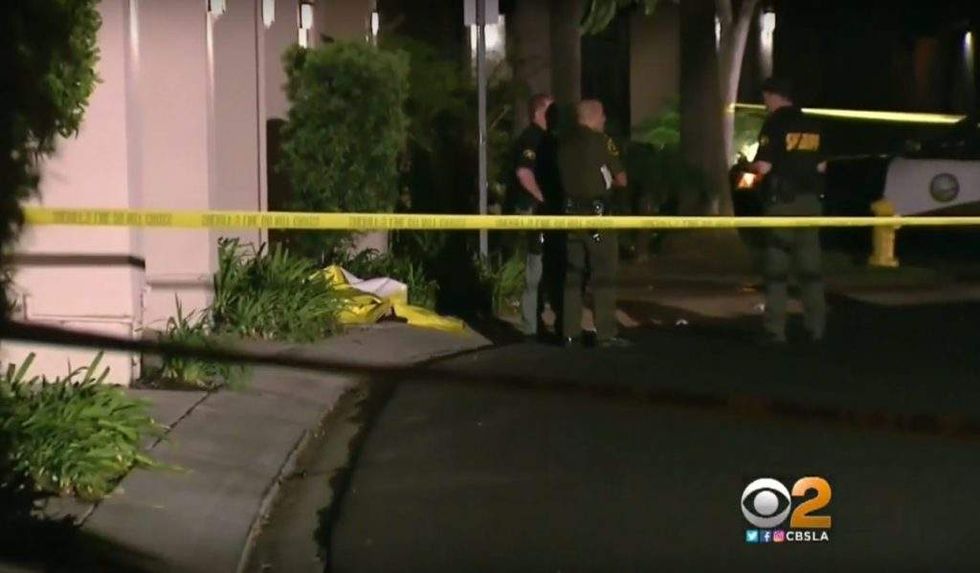 Image source: YouTube screenshot
What happened that night?
Connor Zion, then 21, reportedly cut his mother and a roommate with a knife.
Neighbor Mike Shackelford told KCBS he called 911 after seeing the pair on the ground bleeding from stab wounds outside an upscale Laguna Niguel condominium.
Shackelford also told the station he saw Zion use a large butcher knife to stab deputy Juan Lopez after he arrived on the scene.
"The kid came up behind him and hit him, and that's when [the deputy] went down and then he just started stabbing at him," Shackleford told KCBS. "When the second officer pulled up [and] told him to stop ... he wouldn't."
That second officer — Higgins — called for backup and fired nine shots at Zion, the station said, adding that dashcam video released by the court shows Higgins firing nine more shots at the suspect.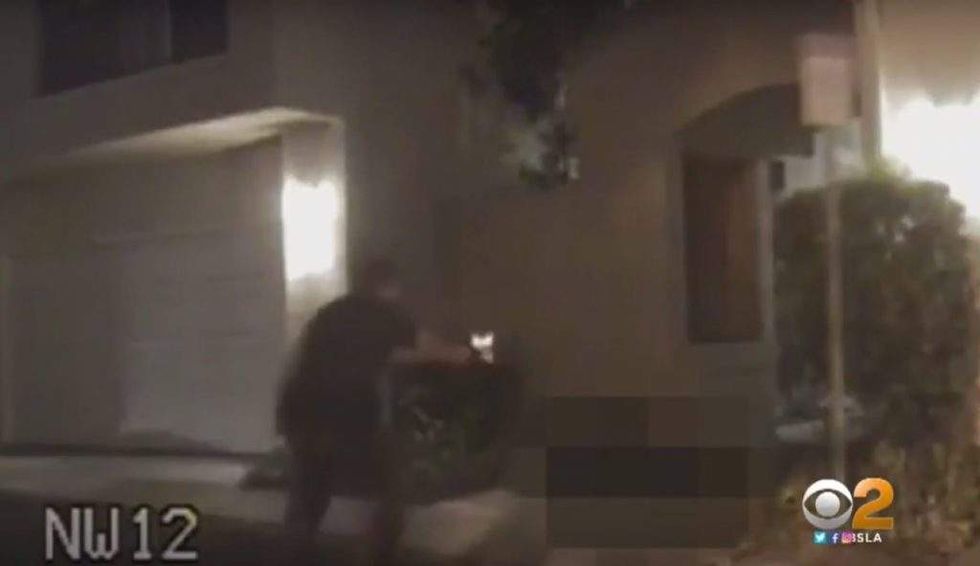 Image source: YouTube screenshot
What happened after the incident?
The district attorney ruled Higgins used justifiable force, and the deputy even was awarded a medal of valor for saving Lopez's life, KCBS said.
But Zion's mother claimed Higgins kicked her son in the head, the station added, and filed a lawsuit.
The 9th Circuit Court of Appeals panel unanimously ruled Wednesday that Zion's mother can sue Higgins for excessive force, the Orange County Register reported.
The panel noted that "like forced stomach-pumping, head-stomping a suspect curled up in the fetal position is bound to offend even hardened sensibilities," the paper said.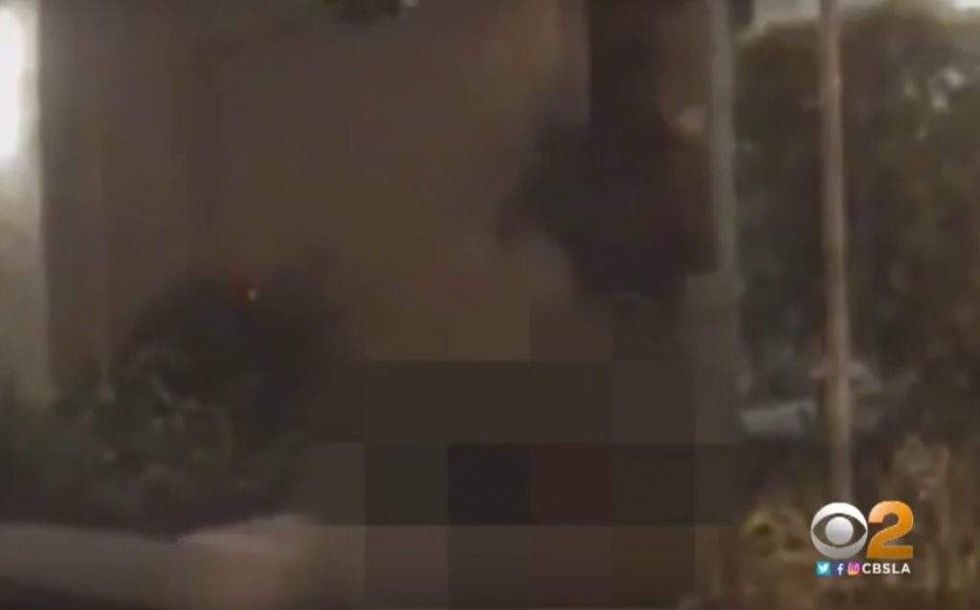 Image source: YouTube screenshot
The appellate justices said the first nine bullets that left Zion alive might have been enough to stop him from hurting anyone else, the Register said.
But Higgins shot Zion — who was still moving — another nine times, the paper reported.
"A reasonable jury could find that Zion was no longer an immediate threat, and that Higgins should have held his fire unless and until Zion showed signs of danger or flight," the appellate ruling noted, the Register said. "Or, a jury could find that the second round of bullets was justified, but not the head-stomping."
How did the sheriff's office react to the ruling?
"We stand by the District Attorney's July 2014 investigation into this officer-involved shooting, which concluded Deputy Higgins did not commit a crime," the sheriff's office said in a statement, the paper said. "According to their review, he used justifiable force and saved the life of a fellow deputy (Juan Lopez) and potentially prevented injuries to others."
What are those outside the sheriff's office saying?
"I don't believe anyone would tell you that kind of continuation of force is appropriate after having put a suspect down with a firearm," Ron Lowenberg, dean of the police academy at Golden West College, told the Register.
"If an officer who engages in wholly unjustifiable conduct gets a medal, it boggles my mind," Larry Rosenthal, a law professor at Fowler School of Law at Chapman University, added to the paper. "Why has the Orange County Sheriff's Department not disciplined this guy?"
But witness Shackelford told KCBS of the ruling, "I don't think it's fair really at all" and that "they put their lives on the line, they were protecting us, they were protecting all the kids that lived in this neighborhood that were out at the time. And I don't know what they want them to do."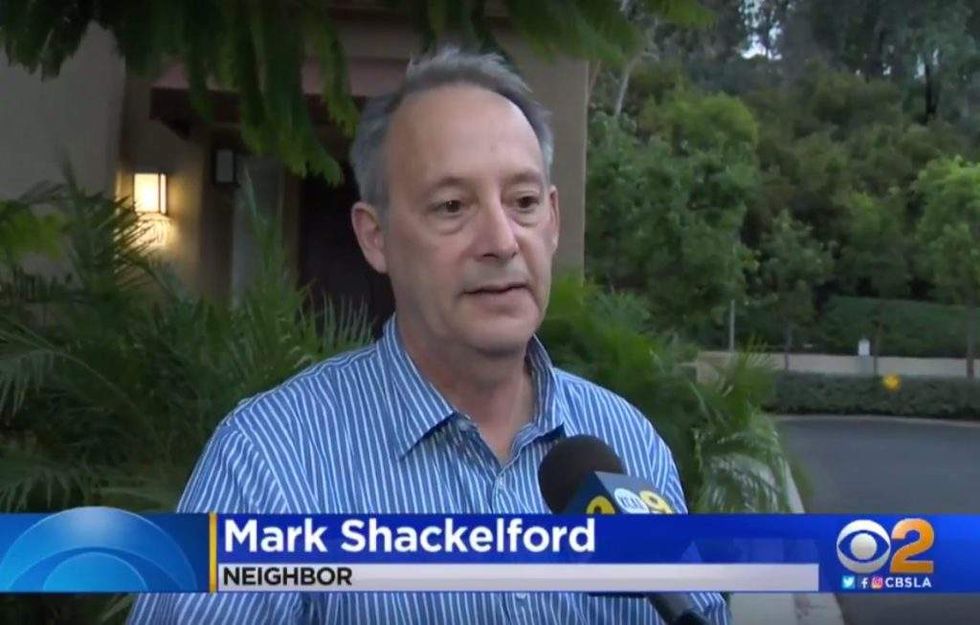 Image source: YouTube screenshot
What else do we know about Zion?
According to court records, the district attorney's investigation and two sheriff's videos, Zion had a history of seizures and was apparently in the midst of one when he cut his roommate and mother with a 12-inch, serrated kitchen knife, the Register reported.
An autopsy shows Zion was hit 11 times and died from his gunshot wounds, the paper said, adding that methamphetamine and amphetamine were found in his bloodstream, citing the district attorney's investigation.
Zion was arrested numerous times for being under the influence of a controlled substance, threat to kill, malicious mischief, assault and possession of dangerous weapons, the Register added.
He told his mother earlier on the day of the shooting that he would die at the hands of police, the paper said.
(H/T: Blue Lives Matter)