The third Global Atheist Convention titled, "Reason to Hope" — scheduled for February in Melbourne, Australia — has been canceled due to "lack of interest," the Sydney Morning Herald reported.
The author of the piece — Michael Jensen, rector of St. Mark's Anglican Church Darling Point — wrote that the reason for the cancellation came from his sources.
Indeed, the convention's website said "ticket sales have been substantially below expectations and below the levels for previous conventions, so, unfortunately, the Convention cannot proceed."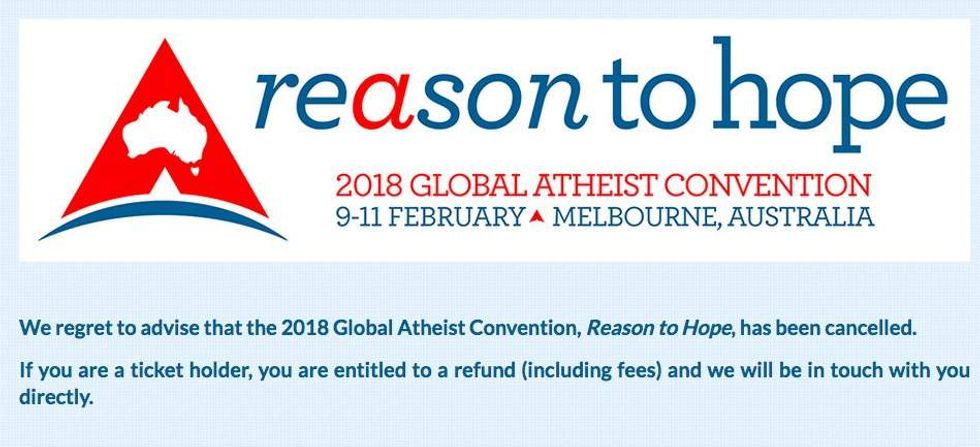 Image source: atheistconvention.org.au screenshot
Famed author Salman Rushdie was to headline the convention, the Herald said. Iran's Ayatollah Khomeini in 1989 called on Muslims to kill Rushdie over his novel "The Satanic Verses." Also onstage would have been atheist "entertainers" — namely comedians, the paper said.
But don't get the idea that Jensen is pleased about the cancellation. On the contrary, he said it's "a great shame there's a lack of interest. I say that as someone who believes in God and thinks that it is the most reasonable thing to believe. I say that as someone who is very much in the sights of the Atheist Foundation of Australia as an active theist. I think faith, and in particular Christian faith, is good for Australia."
More from Jensen:
But I also think that the full and frank discussion of fundamental ideas is part of what a healthy culture promotes and enjoys. A Global Atheist Convention is to be welcomed, because every time people think about God and about the meaning of life is a time we more deeply consider the value and purpose of human life. It makes us better citizens.

At one level, this is just because it becomes competitive. One of the most difficult things for an atheist to describe is how, if there's no God, right and wrong have any meaning. Without God, how can we meaningfully speak of the ethical? The effort that atheists deploy to show that they are good, and love the good, surely promotes more ethical behavior.

But what really is the poison in the blood is not religion: it is apathy. Human beings don't need religion to be vile. We can be vile perfectly well without it. Even viler, I'd argue.
This writer's perspective
TheBlaze on Wednesday didn't immediately hear back from convention representatives regarding why "Reason to Hope" was chosen for the now-defunct 2018 event's title, particularly given that such a phrase normally is associated with belief in God or used by someone arguing for belief in God.
It's possible the word "reason" — italicized on the event website — is highlighted to emphasize the use of reason as opposed to faith in God in day-to-day life, which is a common refrain among atheists.
Not that reason and faith are mutually exclusive:
"Come now, and let us reason together," says the

Lord

, "Though your sins are as scarlet, They will be as white as snow; Though they are red like crimson, They will be like wool." (Isaiah 1:18)

"And according to Paul's custom, he went to them, and for three Sabbaths reasoned with them from the Scriptures ..." (Acts 17:2)

"And [Paul] entered the synagogue and continued speaking out boldly for three months, reasoning and persuading them about the kingdom of God." (Acts 19:8)

"But the wisdom from above is first pure, then peaceable, gentle, reasonable, full of mercy and good fruits, unwavering, without hypocrisy.

" (James 3:17)
UPDATE 4:17 p.m.: A convention representative told TheBlaze late Wednesday afternoon that the "Reason to Hope" moniker was chosen because "science and evidence-based reasoning provides the best hope for humanity in a 'post-truth'/'alternative facts; world.  Accordingly, 'reason' leads to 'hope' ..."
The rep added: "While we are of course disappointed to cancel the Convention, with 30% of Australians identifying as having 'no religion' in the 2016 census — the largest single 'religious' group — it's clear that the godless are a substantial proportion of the population and a prominent voice in society."
(H/T: The Daily Wire)