The New York Times found itself at the center of much outrage on Saturday after the nation's leading newspaper published a profile on a Nazi sympathizer and white nationalist. The profile, critics said, was one step further toward normalizing Nazi-hate.
What did the profile say?
Indeed, the profile — before the Times edited it — was titled, "In America's Heartland, the Nazi Sympathizer Next Door." It profiled Tony Hovater of southwestern Ohio. It said:
In Ohio, amid the row crops and rolling hills, the Olive Gardens and Steak 'n Shakes, Mr. Hovater's presence can make hardly a ripple. He is the Nazi sympathizer next door, polite and low-key at a time the old boundaries of accepted political activity can seem alarmingly in flux. Most Americans would be disgusted and baffled by his casually approving remarks about Hitler, disdain for democracy and belief that the races are better off separate. But his tattoos are innocuous pop-culture references: a slice of cherry pie adorns one arm, a homage to the TV show "Twin Peaks." He says he prefers to spread the gospel of white nationalism with satire. He is a big "Seinfeld" fan.
The profile's author, Richard Fausset, emphasized Hovater's relatively normal life as a married, working man in his late-20s. The one part of Hovater's life that isn't normal, Fausset noted, is Hovater's online presence. That is where Hovater spews his white nationalist hate and Nazi propaganda.
Fausset later wrote in the Times' Insider page — a page for its staff — that the question he wanted to answer with the profile was: "Why did this man — intelligent, socially adroit and raised middle class amid the relatively well-integrated environments of United States military bases — gravitate toward the furthest extremes of American political discourse?"
In the end, Fausset admitted he was unable to answer that question. However, that didn't stop the criticism from pouring in.
What did critics say?
It is completely insane that big U.S. media keep printing the anti-Semitic garbage of *actual Nazis* without even b… https://t.co/LV6wfjCLyk

— Daniel Dale (@Daniel Dale)1511633028.0
Imagine a profile like this for an antifa activist. For a street medic. For a BLM organizer. https://t.co/xdagdJ5qwA

— Angus Johnston 😷 (@Angus Johnston 😷)1511635893.0
Someone needs to tell this guy that real Americans fight and defeat Nazis. Being a Nazi sympathizer should never be… https://t.co/YifnZ2iyVw

— Renato Mariotti (@Renato Mariotti)1511638808.0
The journalist in me understands that your job sometimes is to explain why awful people are so awful. It's a delic… https://t.co/qwpwBtL3Tl

— Jemele Hill (@Jemele Hill)1511638697.0
The danger in this article lies not in its portrayal of Nazis as "normal," but in its failure to convey how many at… https://t.co/if5argNy1F

— Caroline Orr (@Caroline Orr)1511668081.0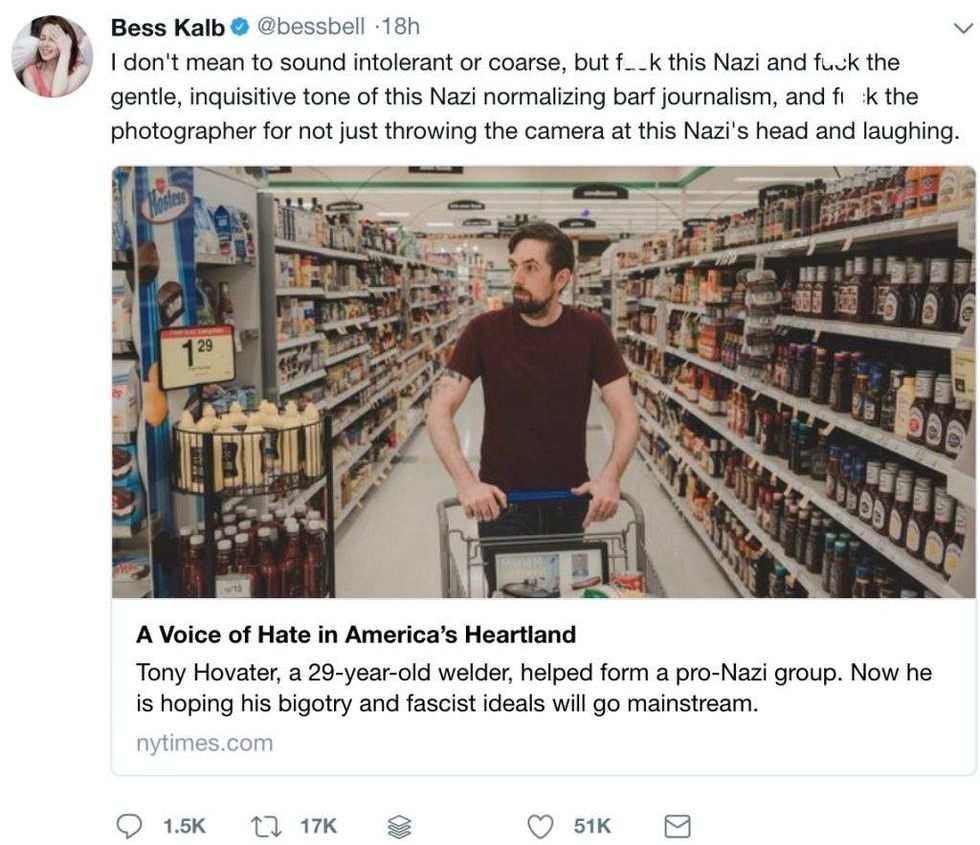 Image source: screenshot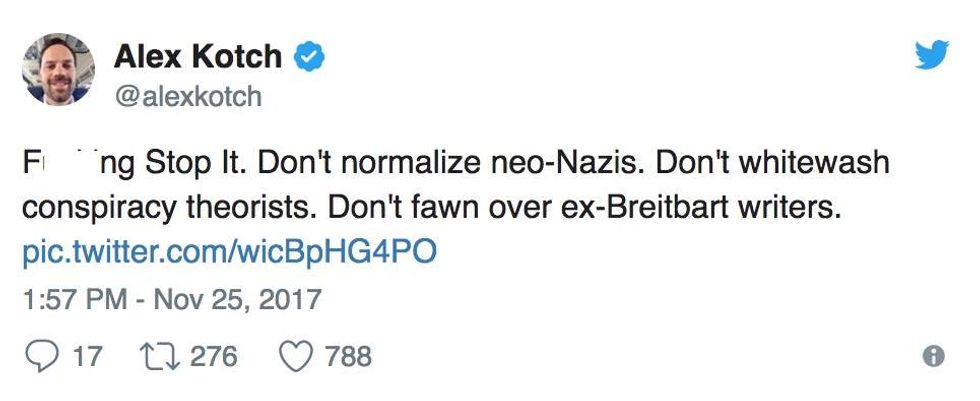 Image source: screenshot