That woman who stole a conservative speaker's notes from a podium at a University of Connecticut event last week? Turns out she's an administrator at a community college in the state.
What else do we know about her?
The woman is associate director of career services and advising at Quinebaug Valley Community College in Danielson, Connecticut, WVIT-TV reported.
Attorney Jon Schoenhorn told WVIT the woman in question is his client, Catherine Gregory, and that she was against the speaker's "hateful, racist statements." The speaker — Lucian Wintrich, White House correspondent for The Gateway Pundit — was on campus to give a talk titled, "It's OK to Be White."
The school told the station she has received death threats and that officials added extra security at the community college in response.
What's being said about the woman's behavior?
As to the charge that Gregory stole Wintrich's notes, Schoenhorn told WVIT "a theft requires an intent to steal to permanently deprive. There's no evidence of that and that was certainly not Ms. Gregory's intention."
Schoenhorn added to Inside Higher Ed that Gregory never intended to keep the speech but was trying in a "mild and measured way" to calm the situation: "What Ms. Gregory did was the equivalent of unplugging a microphone. It was not to stop a speech."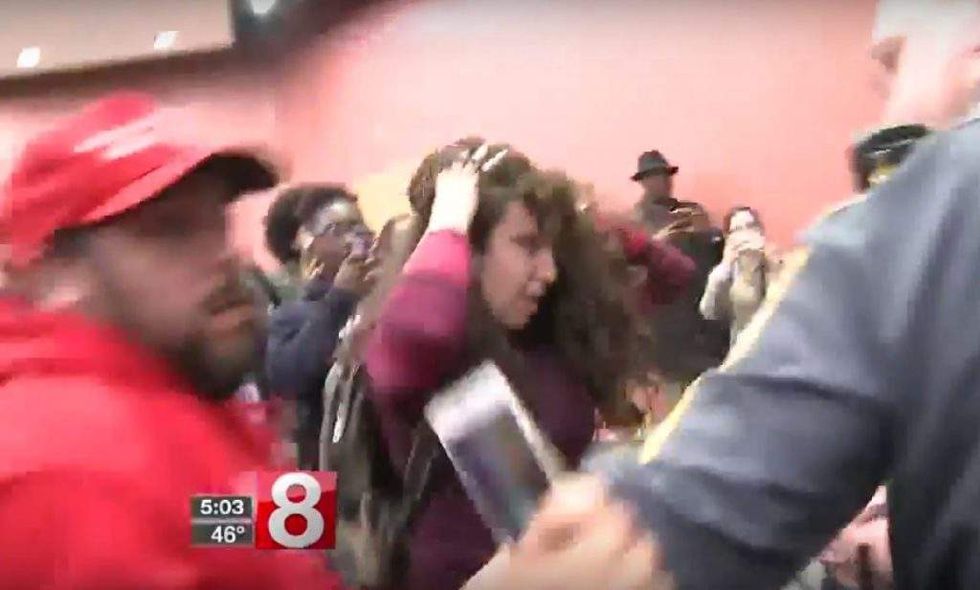 Image source: YouTube screenshot
Quinebaug Valley Community College's president released a statement without naming Gregory, admitting a school employee attended Wintrich's speech "on her personal time ... as a private citizen" and that the school learned about incident via the media.
"The College does not condone the behavior and encourages peaceful discourse and compassionate debate," the statement added.
What did a noted newspaper have to say?
The Hartford Courant ran an editorial titled, "College Adviser Acted Like A Delinquent At Lucian Wintrich's Speech."
The editorial added that Gregory "isn't fit to advise students at her day job at Quinebaug Valley Community College" and "should face disciplinary action" over her "shameful behavior."
The editorial also blasted the school's statement on Gregory as "cowardly."
"We abhor Mr. Wintrich's message. It is baleful," the editorial added. "On one thing, though, we have to say that he's right: 'Even if you disagree with a speaker, they have the right to finish their speech unmolested.'"
"There are time-honored ways to practice nonviolent civil disobedience at speeches: signs, walk-outs, audience members turning their backs on a speaker," it concluded. "But grabbing his speech off the podium isn't one of them."
What is UConn's president saying?
Susan Herbst said Monday the school "will not allow events or other programming to take place ... if the university determines that an individual involved represents a danger to our community and the safety of our campuses," she wrote in an email to the campus community, the Courant reported.
What else happened during Witrich's speech?
After Gregory took Wintrich's notes, he chased her down and grabbed her around the neck in an attempt to get his notes back — after which he was restrained and arrested.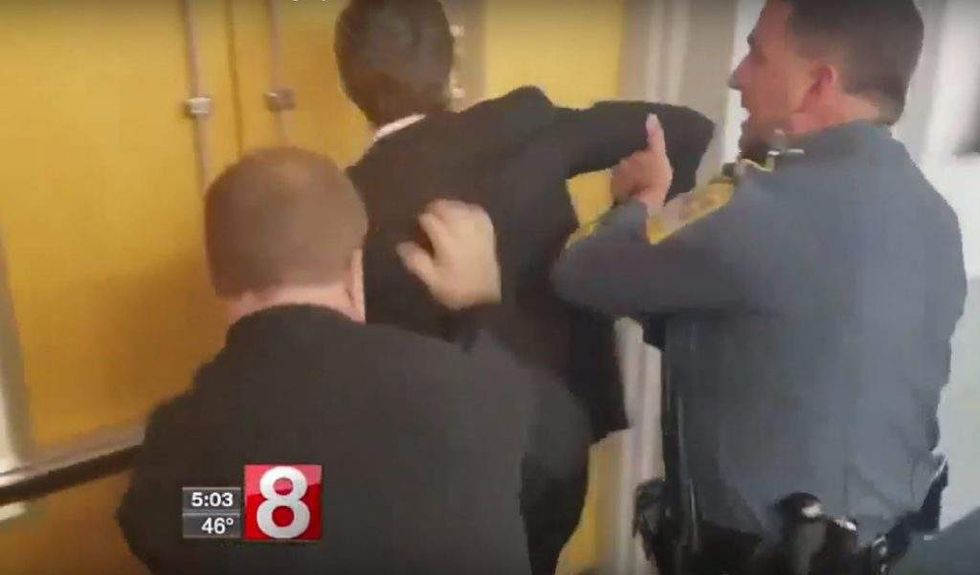 Image source: YouTube screenshot
Wintrich, 29, was charged with breach of peace and was escorted from the building, along with another arrested attendee who was charged with breaking a window.
After his release on bail, Wintrich vowed to pursue legal action.