The liberal mayor of New York City, Bill de Blasio, has an $800,000 program in place that uses taxpayer money to pay defendants with gift cards in exchange for taking a survey about the friendliness and comfort of Manhattan's courtrooms, the New York Post reported.
The survey asks participants to rate the courteousness of judges and prosecutors — and even courtroom temperature, the paper said. Those who complete the 144-question survey get a $15 Dunkin' Donuts gift card, the Post added.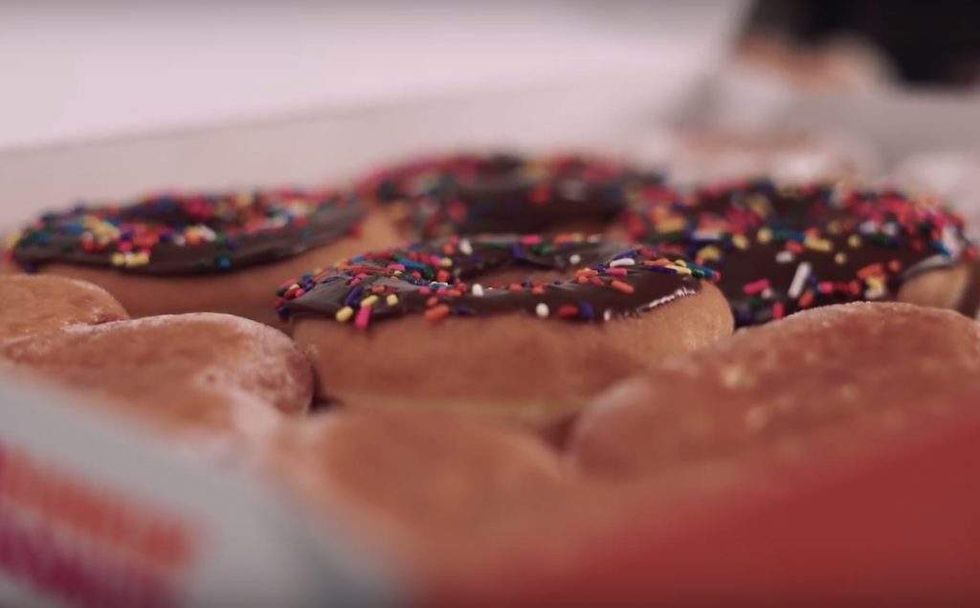 Image source: YouTube screenshot
The program is from the Mayor's Office of Criminal Justice, the paper reported.
The revelation comes on the heels of an October report that inmates at Riker's Island prison were given pizza parties in exchange for not fighting.
What are police saying about the program?
"Once again, the mayor wants to appease the criminals at taxpayers' expense," a source in the city's police department told the Post. "Next thing they'll be giving out Macy's cards so these perps could do their holiday shopping."

The Post quoted a "high-ranking NYPD source" who said de Blasio's gift-card reward "crazy," adding that appearing in court "isn't supposed to be fun."

"You want these people not to want this to happen again," the source told the paper. "It's not supposed to be a positive experience to get locked up or get a summons."
What are other opponents saying?
Michael Palladino, president of the NYPD detectives union, told the Post that defendants getting gift cards is like "a nice Christmas present for our participants in the criminal-justice system."

Ed Mullins, president of the sergeants union, recalled to the paper the "long-standing statement that crime doesn't pay. We've now proved it does."

"It now pays for a $15 Dunkin' Donuts card," he added to the Post. "Maybe we can give them confiscated firearms, too. Where is this coming from? We're all singing Kumbaya together? Maybe it's time we process criminals over tea and biscuits."

Dennis Quirk, president of the Court Officers Association, told the paper he's insulted by the idea that defendants are essentially grading court officials on their job performance: "We don't need any training, judges don't need any training. We all know how to do our jobs, and we already treat people with courtesy."

"Next, City Hall is going to want us to hand out ice cream cones and candy bars," Quirk added to the Post. "Many of these people committed crimes. How much more do we want to coddle them?"
What do defendants who took the survey have to say?
"I spoke and shared my honest opinions and was awarded with a gift card, which was great," Keith Ware, a 34-year-old personal trainer who was charged with disorderly conduct, told the paper. "One of the questions was something about, do you feel like the judges and everyone in there did everything they had to do? I feel like, some days, but not all days."

Juan Cruz, who the Post said was up against a "bullcrap misdemeanor charge," seemed pleased with his reward: "I told them I've been here too many times to not understand the process. But hey, got me a doughnut and cup of coffee when I get out of here."

62-year-old Rodney Jones told the paper he was charged for carrying an imitation cap gun and said the program is good as "some people come here and don't have money to eat lunch."

"A lot of people are going to stop for the gift card, and they're going to tell you anything to get the gift card," Ebony Drake told the Post. "I live in [public] housing, so I could say that money could go to a thousand other things."
How did the Mayor's Office of Criminal Justice respond?
The gift cards are "compensation" for the participants' time in completing the survey, and the cost was a "minuscule" part of the overall budget, one official told the paper.

"If the design of our courts can enhance respect for the law, it will potentially reduce future contact with the justice system, improving our city for everyone," Criminal Justice Director Elizabeth Glazer added to the Post in a written statement.