Seattle Seahawks defensive lineman Quinton Jefferson tried climbing into the stands Sunday in Jacksonville after fans threw drinks at him following his ejection at the end of the game, which the Seahawks lost to the Jaguars 30-24.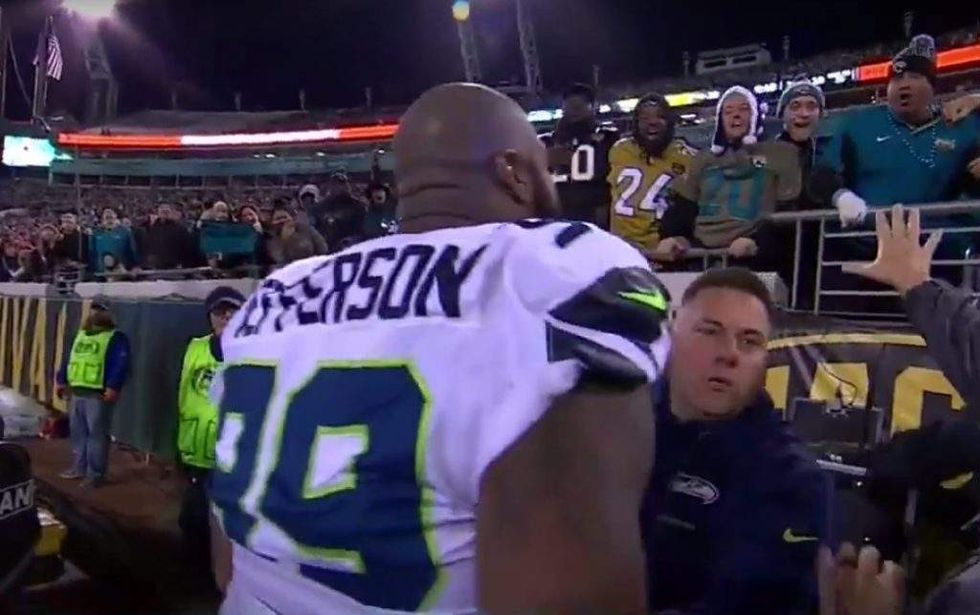 Image source: YouTube screenshot
As Jefferson jogged toward the visiting locker room, an object was thrown at him. Then Jefferson stopped, took off his helmet, approached the stands and began arguing with fans. Soon two drinks were thrown at Jefferson, along with what appeared to be filled plastic bag that almost hit him in the head.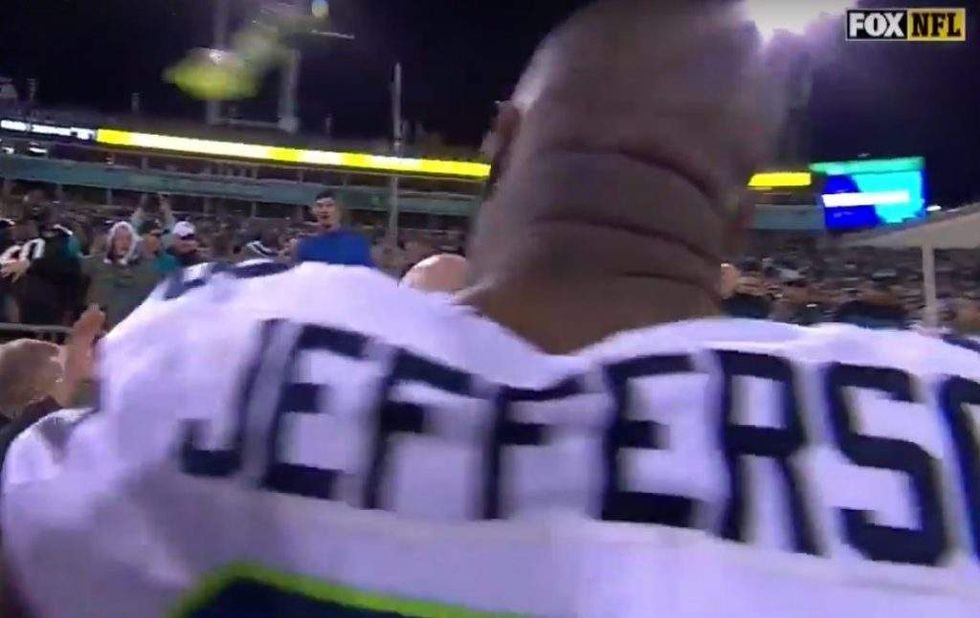 Image source: YouTube screenshot
He then ran toward the stands and got his hands on the railing, but ESPN said a Seahawks equipment staff member pulled him down before other team employees escorted him into the tunnel.
As Jefferson sat in front of his locker, a reporter asked him if it was the right call to go after the fans — and he replied, "I'm just wondering if it was the right call for him to throw a beer on me ... I'm not talking to nobody. I'm walking out. Somebody throws a beer, and somebody throws another drink. What would you do?"
Seahawks defensive lineman Jarran Reed noted on Twitter that Jefferson was called the N-word during the melee, ESPN reported.
"I'm not going to let somebody disrespect me, throw a beer on me," Jefferson added, ESPN said. "Just because I'm playing football, I'm still a human being. I'm still a man. I'm out there playing a game, and at the end of the day, it's a game, and I'm a man. I'm not going to let somebody disrespect me like that."
ESPN commentator Stephen A. Smith posted a YouTube video after the incident, telling viewers "I'm gonna come to this brother's defense."
"Most of us can't say we wouldn't have done the same thing," an angry Smith continued. "It's very rare that we come to the defense of the athlete in situations like that. Well, damn it, I'm gonna do it tomorrow."
Of Jefferson's actions, Smith added that "we can't look at the big, bad black athlete" and believe they're "villains all the time."
"Because he's not. Not in this case," Smith continued. "He did absolutely, positively nothing to warrant the reaction that those fans gave him. He was headed into the tunnel with his helmet on going to the locker room when stuff was thrown at him. It is inexcusable. And y'all gotta be willing to step up as fans, as people, as human beings, and call it for what it is."
Smith then slammed the "punks in the stands" for their "bulls**t."
Here's the clip. (Content warning: Strong language):
This writer's perspective
Obviously professional athletes can't go after fans and fight them. But the other side of it, in this case the fans started it and carried out behavior that ought to result in permanent bans from every NFL stadium forever, as well as their arrests and fullest prosecution the law allows. Heck, Jefferson should sue them, too — if they can be found, that is.
And that's the thing that's on many minds. The fans who threw drinks and other objects at Jefferson did so from the relative safety — and anonymity — of the stands. TV cameras caught the incident, but it's hard to tell who threw what — so they may get away with their behavior. But here's a question for those fans: How many of you would agree to meet the massive defensive lineman in a locked room and pull that same nonsense?
Thing is, every time fans toss objects at players and get away with it, future misbehavior is emboldened. So maybe it was a sobering sight for the next idiot who might want to toss a cup of beer at an athlete to see the clip of Jefferson start climbing the railing.