Students at the University of Tennessee Knoxville for decades have painted messages and artwork on a boulder known as "The Rock" — and the words and images are replaced with new ones in a constant cycle of expression on any given topic.
Well, last week the Rock was spotted with "white pride" painted on it — and that didn't sit well with some students.
@UTKnoxville this was seen on the rock approx 30 minutes ago and is not okay. https://t.co/QgpXSmxGt4

— McKinley Merritt (@McKinley Merritt) 1513287019.0
UT student McKinley Merritt added on Facebook that after the "white pride" message was spotted, she took it up with "the fastest source I could think of" and "the school responded with indifference. This is the reason why people continue to feel unsafe in the world. Don't be indifferent," Knox News reported.
What was the university's response?
Merritt included a screenshot on Facebook of the school's reply: "Hi McKinley, While we sometimes disagree with what appears on the Rock, those who paint it are protected by the First Amendment. We trust that the Volunteer community will take care of this quickly."
What was the reaction to the school's free speech defense?
Merritt was not happy.
Does this response cover someone's ass while meanwhile this message is making students feel MORE unsafe? Stand up f… https://t.co/VHWO49XnZ1

— McKinley Merritt (@McKinley Merritt) 1513292687.0
Allies of Knoxville's Immigrant Neighbors — an organization dedicated to immigrants' rights, Knox News said  — tweeted that it "shouldn't be hard" for the university "to take a firm stance against hate speech on campus."
"Free speech is great, but on a university campus shouldn't there be a line that needs to be drawn?" grad student Aleah Vassell asked WATE-TV.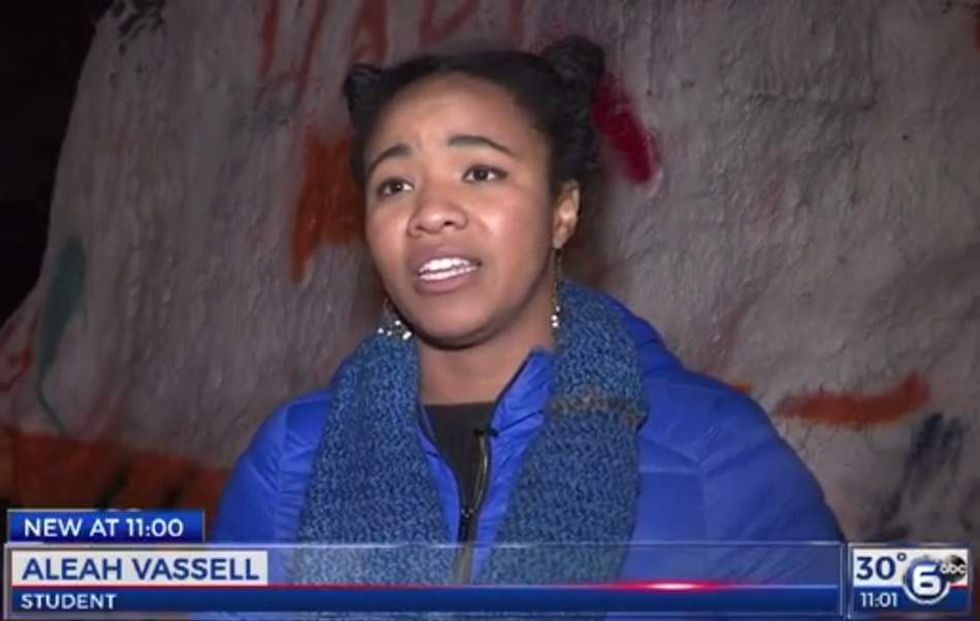 Image source: WATE-TV video screenshot
Another Twitter user wondered why the school "won't paint over messages that empower racism" but does so when the "negative messages" are "about the athletics department."
@UTKnoxville @merrymerritt Why is it that UT has staff sent over to paint over negative messages about the athletic… https://t.co/82NRp4t118

— ryan colbert, MM.🍋 (@ryan colbert, MM.🍋) 1513297238.0
That sentiment was echoed by another individual:
What did the school do next?
UT Knoxville's tweet that backed the First Amendment was deleted Thursday.
The school said in a statement that the tweet was deleted "because we felt like it didn't convey our position about racism," Knox News reported.
"As Chancellor [Beverly] Davenport has said on numerous occasions, there's no place at the University of Tennessee for racism, bigotry and prejudice," the statement said, according to the paper. "The Chancellor is in constant communication with our students and various groups on campus and that dialogue will continue when students return to campus after the break."
What has been the fallout?
Vassell told Knox News she was upset when she saw the "white pride" message Thursday — and that it wasn't the first time she's seen hate speech on the Rock.
"We shouldn't just be covering them up and going on with our lives," she added to the paper. "We need to do something about it."
Knox News noted that there aren't policies in place specifically about the Rock and what's painted on it, but that it's subject to the school's free speech policy and bias guidelines. In addition, what's painted on the Rock is generally self-policed by the campus community, the paper added.
But Vassell told Knox News all of that should be rethought: "What if someone wrote f*** the chancellor? It's inappropriate and disrespectful to the school and would probably be removed. So why would we disrespect our students as well?"
(H/T: The College Fix)