When Roman Catholic priest Rev. Gregory Greiten came out as gay during his homily Sunday, a woman stood up from her pew and shouted, "God bless you, Father!"
And soon the whole congregation of St. Bernadette Parish in Milwaukee gave Greiten a standing ovation, the Journal Sentinel reported.
Greiten also penned a coming out op-ed for the National Catholic Reporter, which was published Monday:
Today, I break the silence and emerge free from the shackles of shame placed upon me at a young age. There is so much to speak about, to repair and to heal — much beyond the limits of these words in print.

I am gay.
In his column, Greiten took the church to task for "choosing to enforce silence," noting it "pretends that gay priests ... do not really exist."
"Because of this, there are no authentic role models of healthy, well-balanced, gay, celibate priests to be an example for those, young and old, who are struggling to come to terms with their sexual orientation," he added. "This only perpetuates the toxic shaming and systemic secrecy."
Greiten's stated commitment to celibacy as a gay priest stands in contrast to gay members of the clergy in more theologically liberal denominations who are in same-sex relationships.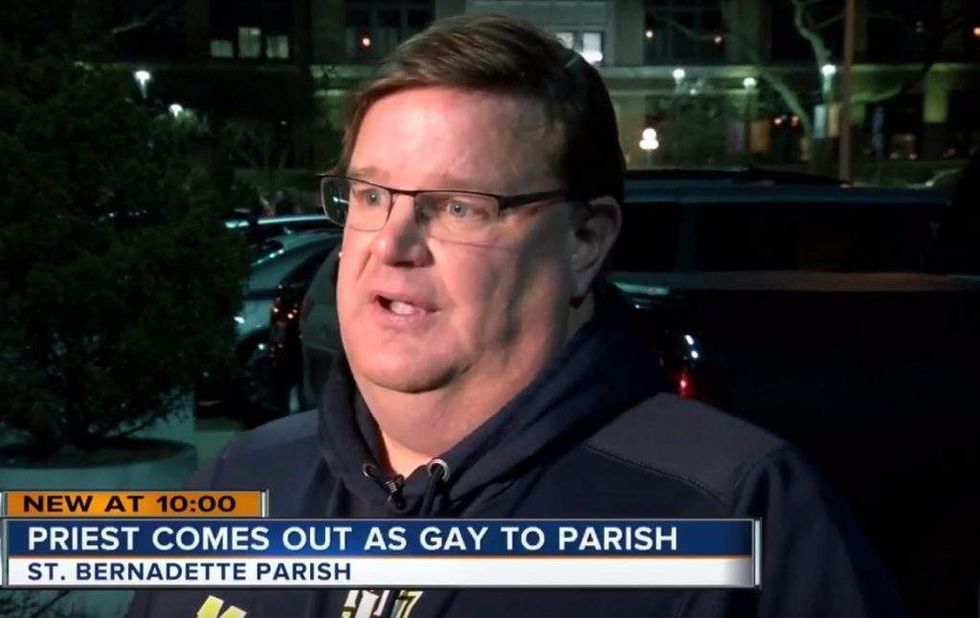 Image source: YouTube screenshot
How difficult has it been for him?
For Greiten, hiding who he is since the age of 24 has taken a toll.
"From my own personal experience, I attest to how exhausting it is trying to remain hidden in the closest pretending to be something other than what we truly are," he noted in his op-ed, in reference to all gay priests. "All of this psychological, emotional and spiritual energy could be redirected into building up our communities of faith. I can only imagine that day in our church when we are accepted for who God created us to be and no longer fearing that we might be dismissed from active ministry."
But Greiten doesn't appear to have that problem. He made a point to meet with Milwaukee Archbishop Jerome Listecki prior to coming out to his parish and the publication of his op-ed.
What did Greiten's boss say?
Listecki is backing him up.
"We support Father Greiten in his own, personal journey and telling his story of coming to understand and live with his sexual orientation," Listecki said in a statement, the Journal Sentinel reported. "As the Church teaches, those with same-sex attraction must be treated with understanding and compassion. As priests who have made a promise to celibacy, we know that every week there are people in our pews who struggle with the question of homosexuality," Listecki said in the statement.
Listecki added that Greiten's "own story reminds each of us of God's call to continue to grow in understanding and to live holy, chaste lives."
More from Greiten's column:
As a priest of the Roman Catholic Church currently serving in the Archdiocese of Milwaukee, I would like to apologize personally to my LGBT brothers and sisters for my part in remaining silent in the face of the actions and inactions taken by my faith community towards the Catholic LGBT community as well as the larger LGBT community. I pledge to you that I will no longer live my life in the shadows of secrecy. I promise to be my authentically gay self. I will embrace the person that God created me to be. In my priestly life and ministry, I, too, will help you, whether you are gay or straight, bisexual or transgendered, to be your authentic self — to be fully alive living in your image and likeness of God. In reflecting our God-images out into the world, our world will be a brighter, more tolerant place.
What did Greiten's parishioners have to say?
Another piece in the National Catholic Reporter published the same day as Greiten's op-ed described the reactions of several of his parishioners.
Madge Powell told the outlet, "I love him for the person he is."
While Shawn Govern doesn't support gay marriage, he told the Catholic Reporter he was impressed by Greiten's honesty: "He made a choice to walk in Christ's shoes, because he's not going to be accepted by everyone." Govern added that St. Bernadette's is "not a liberal bastion."
Margaret Thorn, chair of the parish festival committee, told the outlet she supports Greiten "100 percent," calling him "a kind and caring person."