On New Year's Eve, police in Kingsport, Tennessee, responded to a theft call. Someone had stolen baby Jesus from a downtown Nativity scene.
What's the story?
It's the second time somebody has snatched the $1,200 concrete infant from its manger on Church Circle, but it's the first time someone has ever replaced the baby Jesus.
"It was stolen, I think about eight years ago, the first time it was returned luckily, and we're hoping for that again this time," Kingsport Jaycees Vice President Ashlea Ramey told WJHL-TV.
Five-year-old Sam Teague's grandmother drove him to look at the Nativity scene, and he became upset when the baby Jesus was gone.
So the young boy hatched a plan to replace the baby.
Sam's great-grandmother helped him find a baby doll, WJHL reported.
They swaddled the doll in a small blue blanket and gently tucked him into the manger, along with a note to any would-be thieves.
Sam worried that the new baby might get swiped, too, so with some help from his grandmother he wrote the letter and left it with the baby.
"Please no one steal this very special Baby Jesus. We love him and the real Jesus loves us," part of the note read.
What did the Jaycees say about it?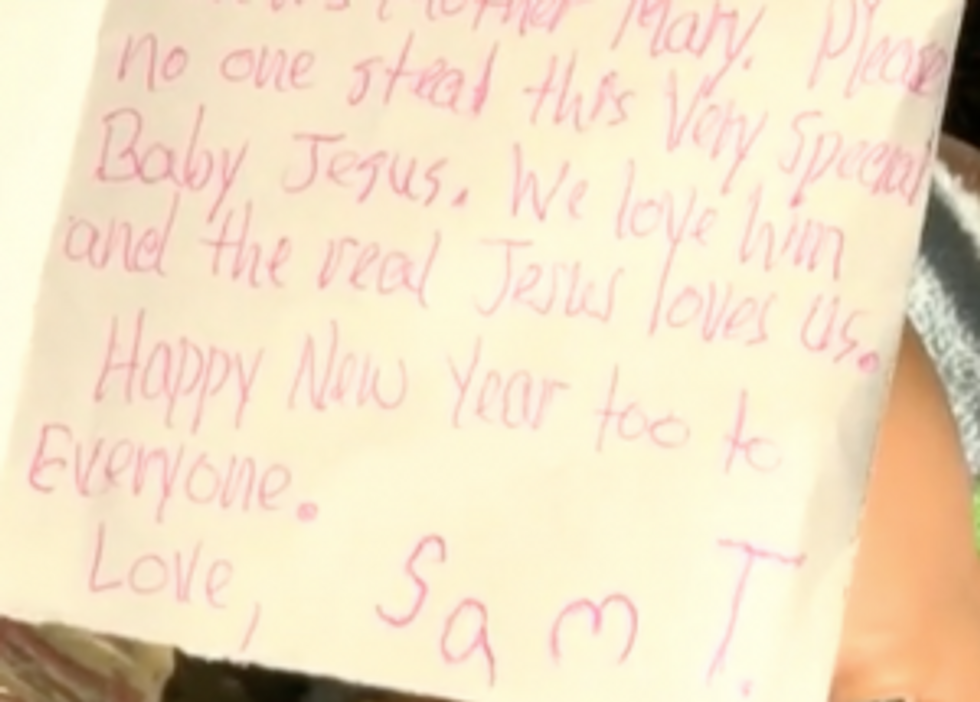 Part of the note Sam Teague left for possible thieves. (Image source: WJHL-TV video screenshot)
Ramey told WJHL that the group was "heartbroken and disappointed" that someone took the original statue, "but to see Sam who cares so much about it come out and replace it, that speaks volumes."