About 40,000 people participated in a March for Life event in Paris on Sunday despite heavy rain, Catholic News Agency reported.
What happened?
Participants in the four-hour event marched from Porte Dauphine to the Trocadero esplanade in downtown Paris and held a moment of silence.
Organizers said about 40,000 participated in this year's event with the theme "From darkness to light."
Event spokesman Emil Dupont told ACI Prensa, a Spanish-language sister agency of CNA, that "it is important to break the silence and speak about the consequences of abortion, which no one [wants] to say anything about. So we've got to do it."
"It is very important to work together for life," he said.
More than 200,000 abortions are performed each year in France, according to the report. This year's event was in protest of those abortions, but also in protest of issues like assisted suicide.
The report noted that although assisted suicide is illegal in France, a bill passed in 2016 allows for "terminal sedation," a practice in which those determined to be near death may undergo "heavy and continuous sedation," until the patient dies either from their illness or from starvation.
Pablo Siegrist from the Jerome Lejeune Foundation in Spain told ACI Prensa that his organization participated because "we believe that life is a treasure regardless of the physical or mental abilities a person may have and that everyone has a lot of [contributions]. We stand up for everyone, no matter what their situation is."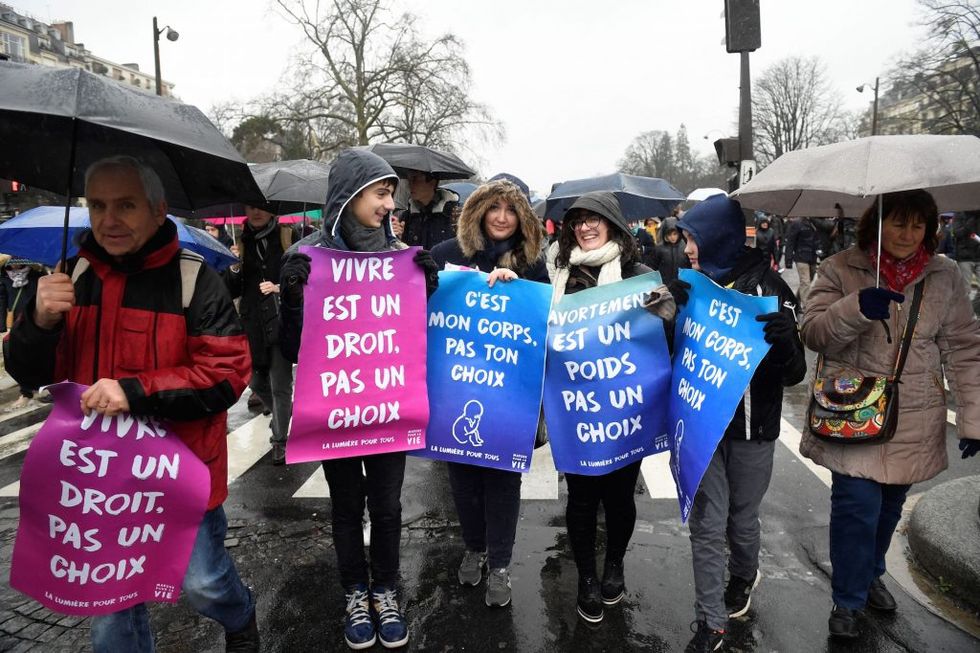 Pro-life demonstrators hold banners reading "abortion is a burden not a choice" in Paris on Sunday  during a "March for life" demonstration against abortion. (Eric Feferberg/AFP/Getty Images)