The son of a homeowner near Eatonville, Washington, told his father an individual threatened him, promising to  "shoot up the house," the News Tribune reported.
With that, the father armed himself and went to the door of his mobile home, which is situated along a lengthy, dead-end driveway, the paper said.
Sure enough, a car pulled up to the trailer just after 7 a.m. Wednesday, and one of the car's occupants opened fire at the bedroom area of the mobile home, Ed Troyer, spokesman for the Pierce County Sheriff's Department, told the News Tribune.
What did the father do?
But Dad returned fire, hitting the gunman who died at the scene, authorities told the paper.
The homeowner called 911 to report the incident, Troyer told the News Tribune, adding that "at this point, it looks like a justifiable shooting."
Troyer also said the suspect's gun was found at the scene.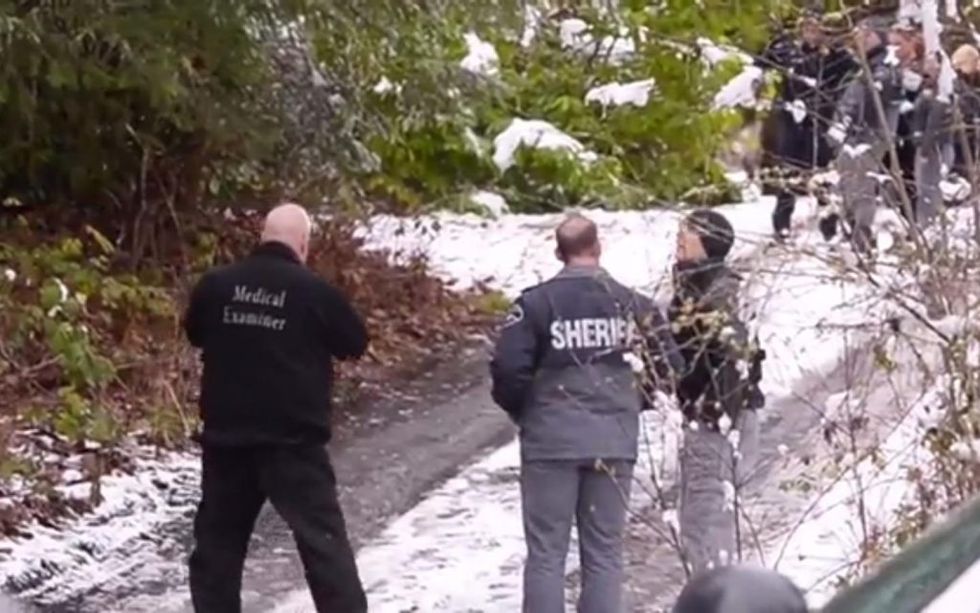 Image source: News Tribune video screenshot
Was the shooter from the car identified?
The fatally shot man was identified as 18-year-old Bryson Smith, the paper reported in a follow-up article, noting that he opened fire on the mobile home in retaliation for an incident involving the homeowner's son.
What happened after the gunman was shot?
The car's remaining occupants fled in the vehicle, which was stopped by sheriff's deputies about 20 minutes after the shooting, the paper said. A 31-year-old man and a 17-year-old boy were arrested in the car, Troyer told the News Tribune, which added that a dog in the car was taken to animal control and the vehicle was towed.
The man was booked into jail on suspicion of first-degree murder, the paper reported, and the boy was booked into a juvenile detention center.
What are prosecutors debating?
Prosecutors are expected to decide Thursday whether to file criminal charges, the News Tribune said, adding that detectives are trying to determine the details of the earlier incident involving Smith and the homeowner's son.
"The people that came up here we believe came up here with the intent to fire upon the people that were in the residence," Troyer told the paper. "Fortunately, the people in the residence aren't hurt, but the people that showed up suffered the brunt of the damage."