Hundreds of students at a New Jersey high school staged a walkout Tuesday morning in protest over a teacher who was suspended for speaking about school safety concerns in the aftermath of the recent deadly mass shooting at a Florida high school.
Students and parents told WPVI-TV they want the reinstatement of history teacher Timothy Locke, a 59-year-old Iraq War veteran who served in the Air Force.
Principal Dennis Perry of Cherry Hill High School East — situated a short distance from Philadelphia across the Delaware River — threatened during a school meeting Monday to suspend students who participated in the walkout, the station said. But by Tuesday morning that declaration applied only to students who ventured off school property, WPVI reported.
What was the initial issue?
Locke was placed on leave last week after a student became upset when he raised concerns about school security and safety, the station said.
"I don't even know who it was, personally," student Molly Phillips, who was in class that day, told WPVI. "But it wasn't right, because what he was doing was [trying] to protect her, not to hurt her."
Senior Ben Schore, who organized the protest, told the station that Locke "brought up a real problem about how our school security lacks."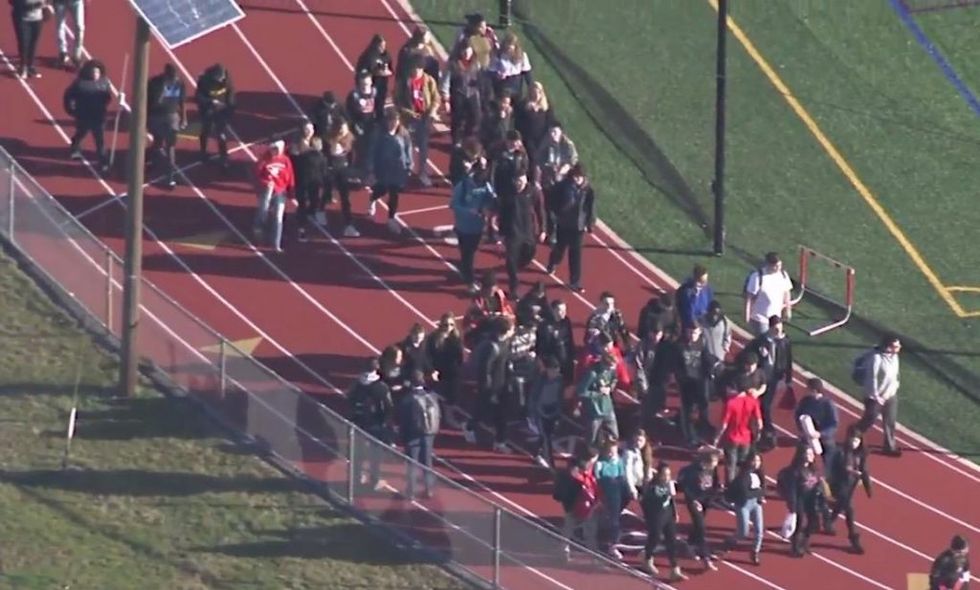 Image source: WPVI-TV video screenshot
"I feel like the school is not safe, and what happened in Parkland can happen to anybody," student Harris Satterthwaite told WPVI. "And Mr. Locke, he was just trying to voice his opinion, and he was treated unfairly."
Students told WPVI there are four security guards at Cherry Hill High School East — but none are armed.
What else allegedly happened to the teacher?
Locke told parents his bag was searched for weapons and that he was ordered to undergo a psychiatric evaluation, the station said.
"The idea of requiring him to take a psychiatric evaluation, it seems that they're trying to twist this around now and use this against him," parent Eric Ascalon told the station. "It's disgusting."
How did parents and others react to the protest?
"This is what democracy looks like," Pamela Barroway of Cherry Hill told WPVI. "It's awesome. I think it's a bright future, I think it's really hopeful. It makes me hopeful."
Parent Eric Satterthwaite added to the station that he attended the protest "in support, solidarity... my son with the students. It's all about activism. I think we need more of that now."
How are school officials reacting to the protest?
WPVI said calls to the superintendent, school district and teachers' union weren't returned, but the issue is expected to be discussed at a Tuesday night meeting.
WCAU-TV said it reached out to the school principal, who also didn't respond.
What else are students saying and doing?
"A lot of what the school here is doing is trying to shut out what happened in Florida, instead of saying 'This is what we have to do, this is what we're going do next, how we can fix what we are doing,'" student Debbie Goldberg told WPVI.
In addition, a petition requesting Locke's reinstated was signed by 500 students, WCAU reported.