Some Chicago parents want the city to shut down a Fox TV pilot filming in town because a rooftop sniper scene takes place near several schools, WBBM-TV reported.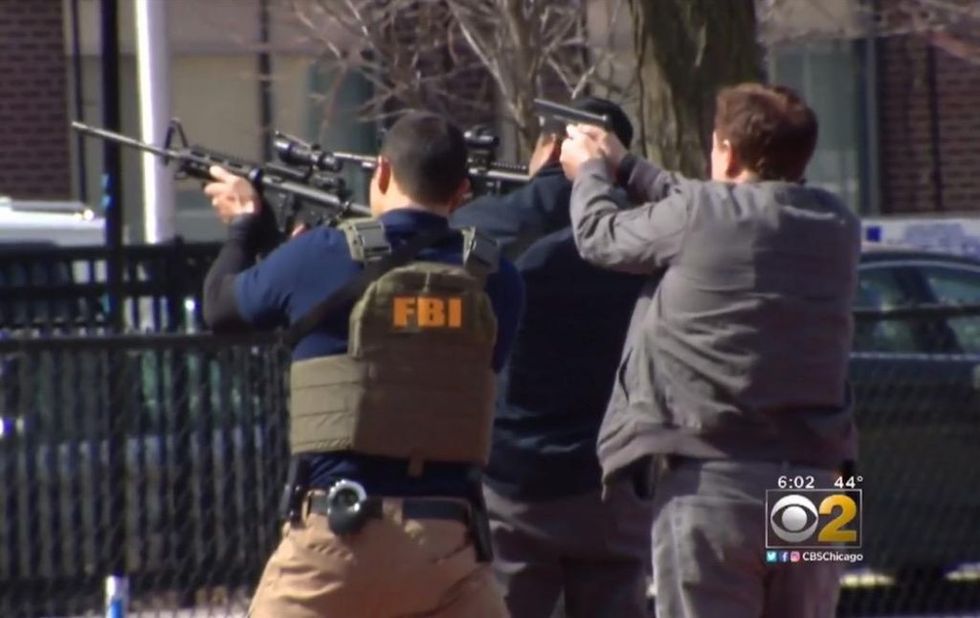 Image source: WBBM-TV video screenshot
It's a hard pill to swallow for some in the wake of the high school shooting massacre in Parkland, Florida, nearly two months ago, the station said.
The untitled pilot — which stars Katie Holmes as FBI agent Hazel Otis — was filming Tuesday at a park, WBBM said, adding that parents and school administrators said the scene involves a sniper shooting from a nearby residential building at a group of congressman playing basketball in the park.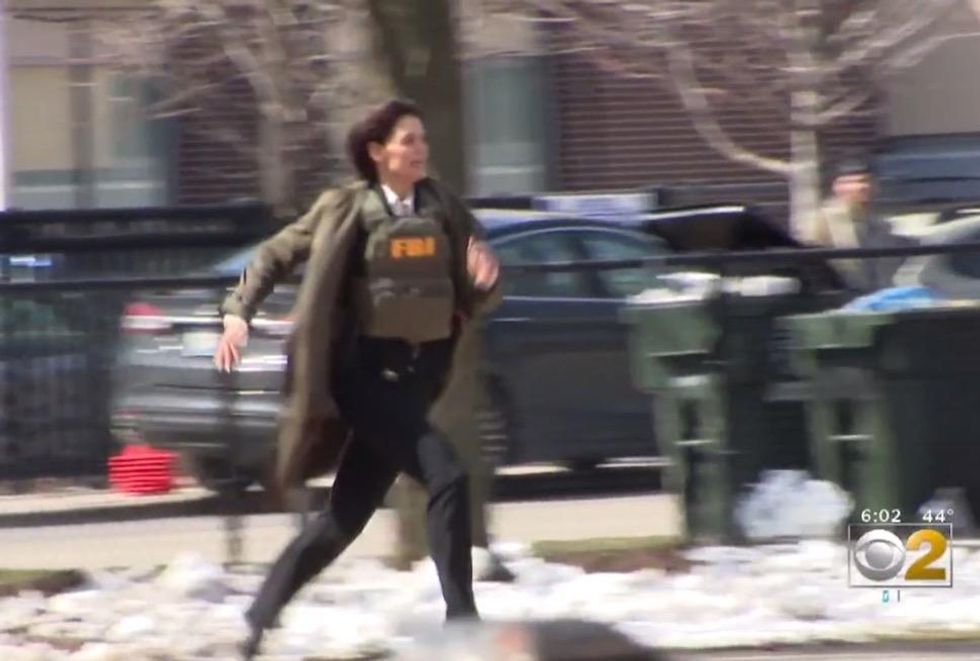 Image source: WBBM-TV video screenshot
The worst part for some parents, the station said, is that students at Immacuate Conception St. Joseph school are in class during production — and the school borders the park, which has some parents concerned that students will be frightened.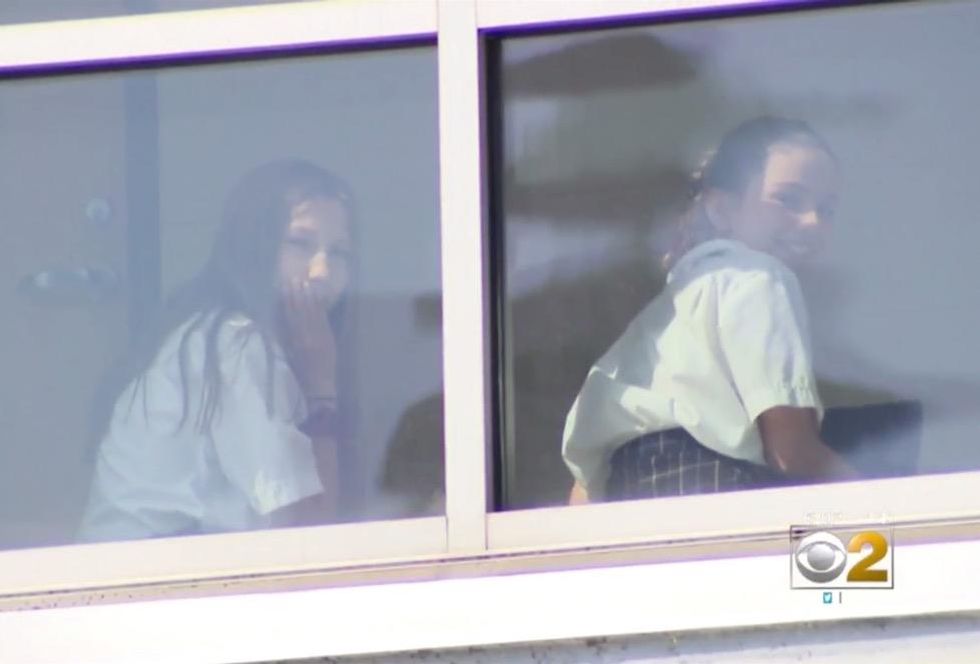 Image source: WBBM-TV video screenshot
Jenner Elementary School and Walter Payton College Prep also are located about a block from the production, WBBM said.
"These kids are subject to this violence on a daily basis in the news," parent Jennifer Kotecti told the station. "Why do we have to come and see it simulated in a park where children play every day?"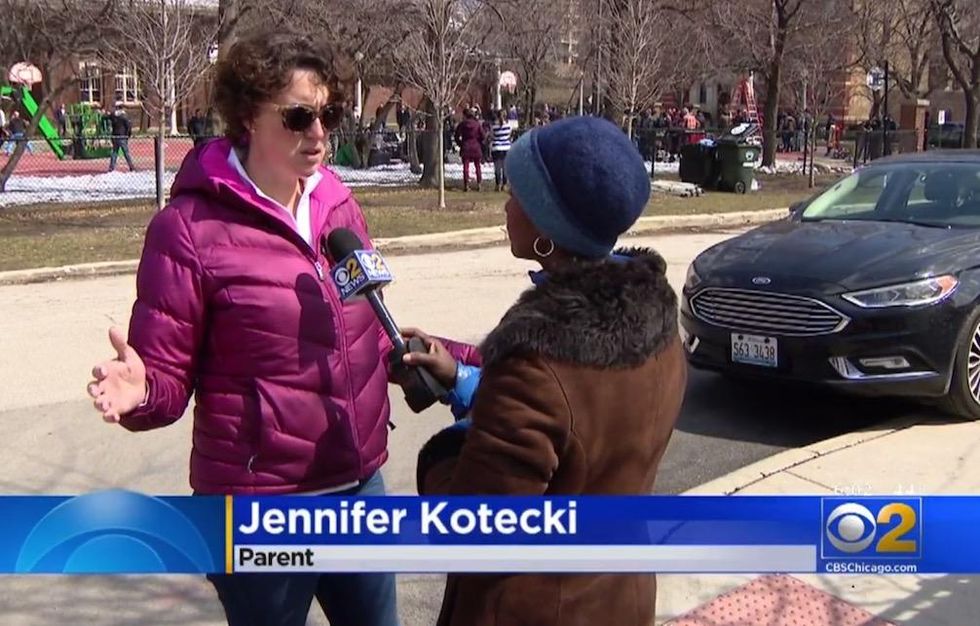 Image source: WBBM-TV video screenshot
What did other parents have to say?
Another parent took to Facebook to write, "I think it's not only insensitive based on recent events at other schools, but also the crime/real shootings in our neighborhood," WBBM said.
And another parent was livid that Chicago officials "would allow the filming of a TV show involving a sniper scene in the immediate vicinity of a school on a school day," the station reported.
What did one school tell parents?
Immacuate Conception St. Joseph school administrators sent this note to parents on Monday, WBBM said:
We learned late today that a scene for a FOX television pilot will be filmed during most of the day tomorrow at Seward Park on and near the basketball courts. Parents picking up their children at Hill Street today may have noticed vehicles with government and DC license plates which are all a part of the scene that will be filmed.

We also learned that the scene involves an individual depicted as a sniper shooting down onto the basketball courts. We learned that the actor will be positioned on the roof of the residential building located next to the firehouse on Orleans. Please do not be alarmed and please understand that all safety and security measures will be practiced during the day tomorrow while filming is taking place. The off duty officers at our school will be informed in the morning of this information and will monitor the school building and property very diligently.

Please note that traffic on Orleans Street and Hill Street will be heavily congested. As of this evening we were informed that the arrival and dismissal procedures at the Hill Street Campus will not be impacted by the filming. However, if that changes, we will inform families as soon as possible of any revisions to the normal procedures. We understand that this information may be frustrating or concerning and we share your concerns. We will work very hard to maintain normal procedures for students and parents and ask for your patience tomorrow.
What did a city official have to say?
Alderman William Burnett came to the school Tuesday and told the station he was assured students were OK.
"You couldn't hear a gun shot," Burnett told WBBM. "They're probably going to put the sound effects in later."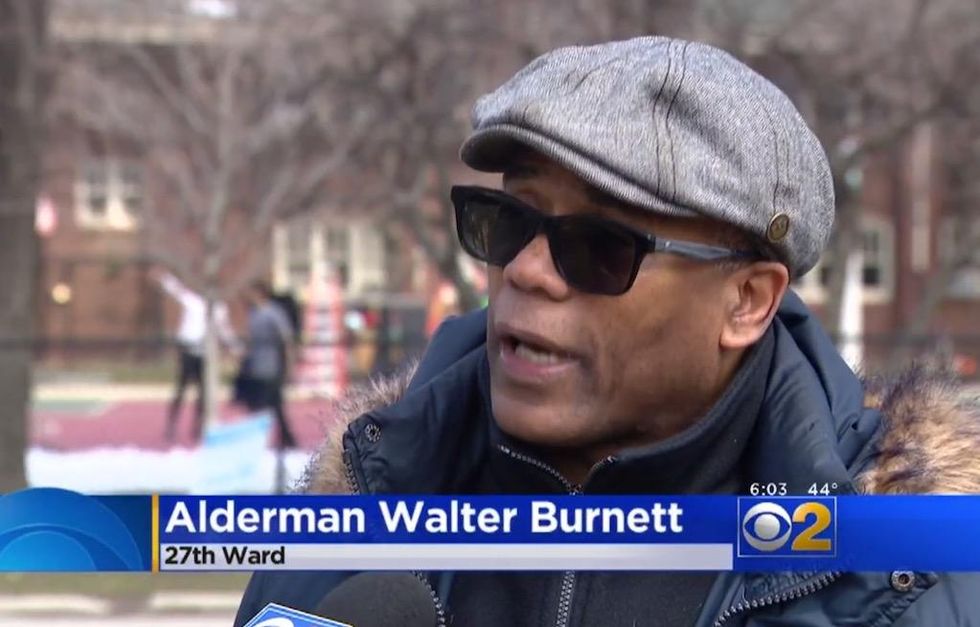 Image source: WBBM-TV video screenshot
But he added to the station that, in line with parental concerns, he'll ask the production team to shoot future scenes when the kids aren't in school.