Students from the City University of New York School of Law disrupted and heckled a conservative law professor's speaking engagement recently, Campus Reform reported.
And considering the reception he received, you might say the topic that Josh Blackman addressed was more than a little ironic: His talk was on the "Importance of Free Speech on Campus."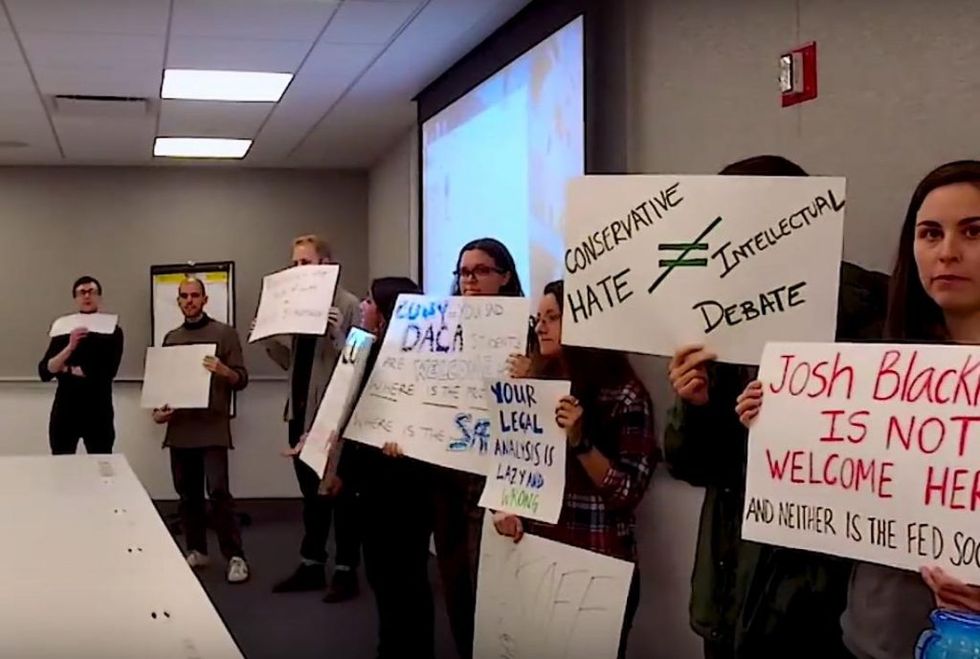 Image source: YouTube screenshot
As Blackman — of South Texas College of Law Houston — walked toward the venue entrance, video he apparently shot showed a crowd of students waiting for him and chanting "shame on you!" and carrying signs that read "conservative hate ≠ intellectual debate."
Another sign called Blackman a "racist" — and echoed the sentiment for the campus group that invited him to give his March 29 speech, the Federalist Society.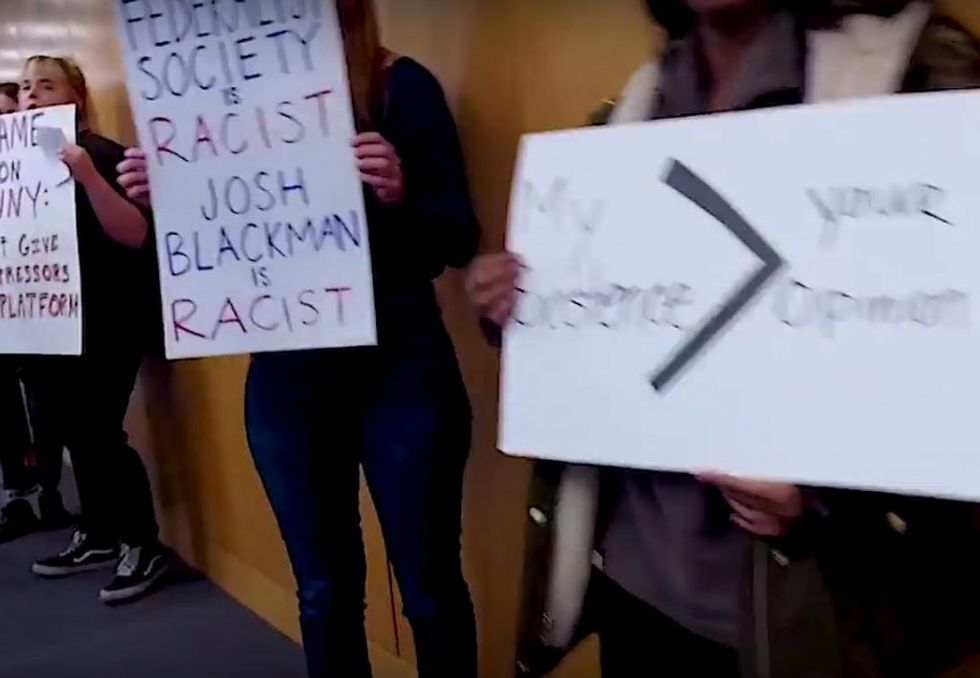 Image source: YouTube screenshot
More verbal declarations from the protesters — including "legal objectivity is a myth" and "white supremacist" — came as Blackman entered the venue and stood at the podium.
Soon a CUNY administration official issued a warning to protesters, the outlet reported.
"All right, listen. Everybody stop! Let me tell you something. The university rules are people get to speak. You may protest. You may protest. But you may not keep anyone from speaking," the individual warned the demonstrators. "If you do — I have other things to do, I will be back. Or you can resolve this yourselves. Or you can have me resolve it."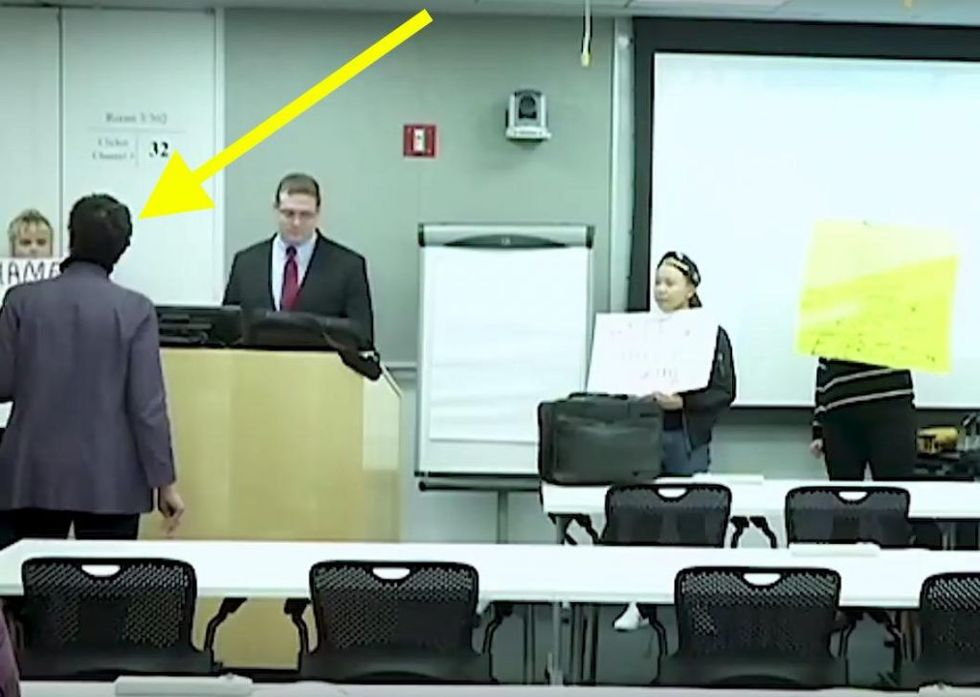 Image source: YouTube screenshot
But the students continued to disrupt Blackman's speech, as one declared "F*** the law." Blackman retorted quickly, calling the outburst "bizarre" for law students, of all people. Another student was heard calling Blackman a "white supremacist."
In addition, the demonstrators confronted a black student who attempting to listen to the speech, asking him, "Why aren't you with us?" Campus Reform said.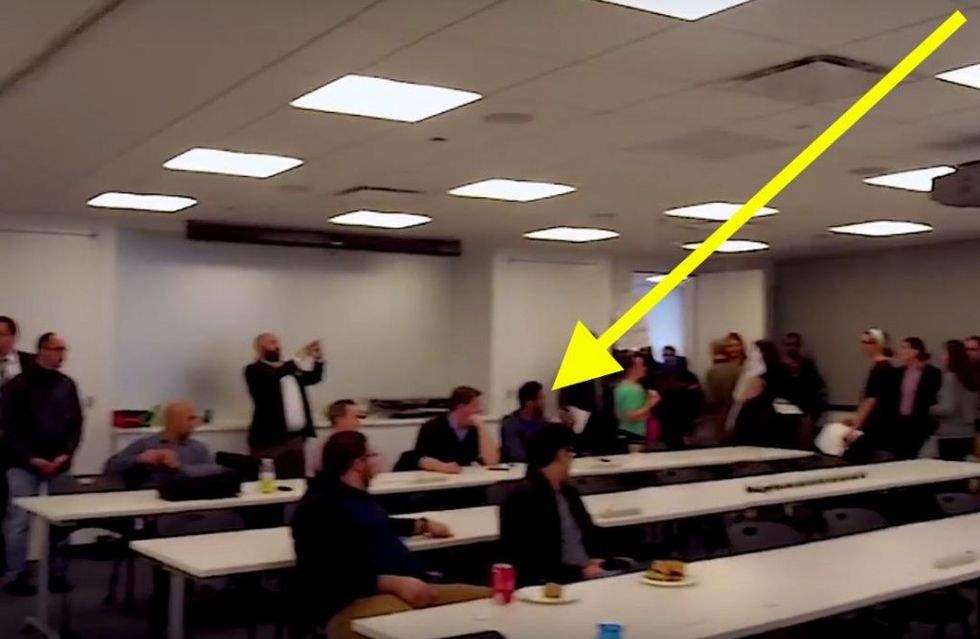 Image source: YouTube screenshot
"I don't support this guy," the student replied, before telling them "I want to hear him speak."
Here's the clip. (Content warning: Some strong language):
What did Blackman have to say after the dust-up?
Blackman told Campus Reform he was "shocked" by the the students' actions, noting it was the first time he was protested.
"I had hoped they would protest before my speech and ask me tough questions afterward," Blackman told the outlet. "Instead they decided to heckle and interrupt me. At the time, I had no idea if or when they would stop heckling. Fortunately, it did not last the entire time."
Blackman added to Campus Reform that he believes the protesting students view free speech as a cover for white supremacy, noting their actions reflect a growing lack of respect for the First Amendment on American campuses.
"Sadly, this demonstration is representative of a broader movement," Blackman said. "Students are free to peaceably protest, but they cannot interrupt or heckle speakers."
Campus Reform said it reached out to CUNY School of Law to ask if it's pursuing disciplinary action against the students who disrupted Blackman's speech but noted it hadn't received a response.
You can read Blackman's account of his experience at CUNY in an op-ed he penned for National Review.