"Queer rights activist" and "biblical scholar" Matthew Vines "reinterpreted" Scripture verses that typically condemn homosexuality in an LGBT-"affirming" reading of the Bible at Harvard University, the Crimson reported.
Who is Vines?
Vines is a prominent speaker on pro-gay topics in the context of Christianity and authored "God and the Gay Christian: The Biblical Case in Support of Same-Sex Relationships." The book's controversial content resulted in WaterBrook Multnomah — which shared staff with the book's publisher Convergent — resigning its membership with the National Religious Broadcasters in 2014.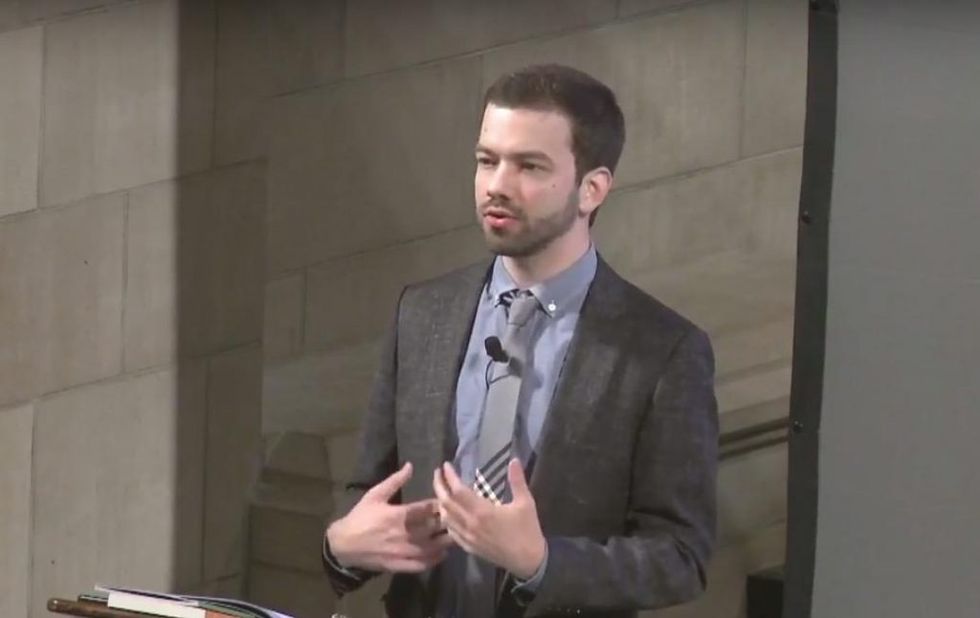 Matthew Vines gave a speech in Chicago last October. (Image source: YouTube screenshot)
What did he say at his Harvard talk?
During his talk Saturday, Vines "discussed six Bible verses that some religious leaders assert condemn homosexuality; he reinterpreted the verses through the lenses of more 'affirming' readings that place the lines in cultural and temporal contexts," the Crimson reported. The paper didn't say what verses Vines discussed.
In addition, Vines "argued that long-term, monogamous homosexual relationships were not a well-known cultural phenomenon until recently, and that, therefore, no Bible verse responds directly to these relationships," the Crimson added.
Vines also responded point by point to a talk an "ex-gay" speaker and critic of homosexuality gave at a Harvard College Faith in Action meeting in February, the paper said, which occurred just prior to administrators placing the Christian student group on probation allegedly for pressuring a female leader to resign after she began dating another female.
Vines said Jackie Hill-Perry's talk in front of Harvard College Faith in Action was one of his motivations  for coming to speak, the Crimson said.
"This type of message has done unfathomable harm and destruction to LGBTQ people around the world — broken so many relationships, broken so many lives," Vines told the crowd, the paper reported.
Vines — a Harvard student himself before leaving as a sophomore in 2010 — also discussed his experiences as a member of conservative Christian student groups at the school, the Crimson said.
"Despite some of the tensions and challenges that I had with those groups, it really was the best community that I found in my first year here," Vines said, according to the paper. "I actually felt like I was able to get to know people and be seen and not be completely invisible."
How did one student react?
Student Aidan L. Stoddart helped organize Vines' talk and said his detailed reading of Scripture "creates a bridge" between Christians of differing stripes, the Crimson noted.
"I think Matthew's a really important figure because he has a critical and mature and very deeply life-giving relationship with Scripture that is centered on love," Stoddart added to the paper. "Because it's based on a love of Scripture that we all share."
(H/T: The College Fix)