At New York City's Barnard College — where a third of students are Jewish — a whopping 64 percent of students who voted on a referendum on whether or not to tell the administration to divest in companies doing business with Israel voted yes, WCBS-TV reported.
The pro-Palestinian, anti-Israel Boycott, Divestment, Sanctions movement is behind the referendum at Barnard, an all-women's school affiliated with Columbia University, the station said.
The referendum noted eight companies — including Caterpillar, Boeing and Hewlett-Packard, saying they're all tied to the Israel Defense Forces — and then asked students to decide if Barnard should divest its endowment, funds, and stocks in those companies, WCBS reported.
"Companies like Caterpillar, which make heavy machinery that here is used for general construction. In Palestine and the West Bank, they're used for extrajudicial home demolitions," Caroline Oliver of Students for Justice in Palestine told the station.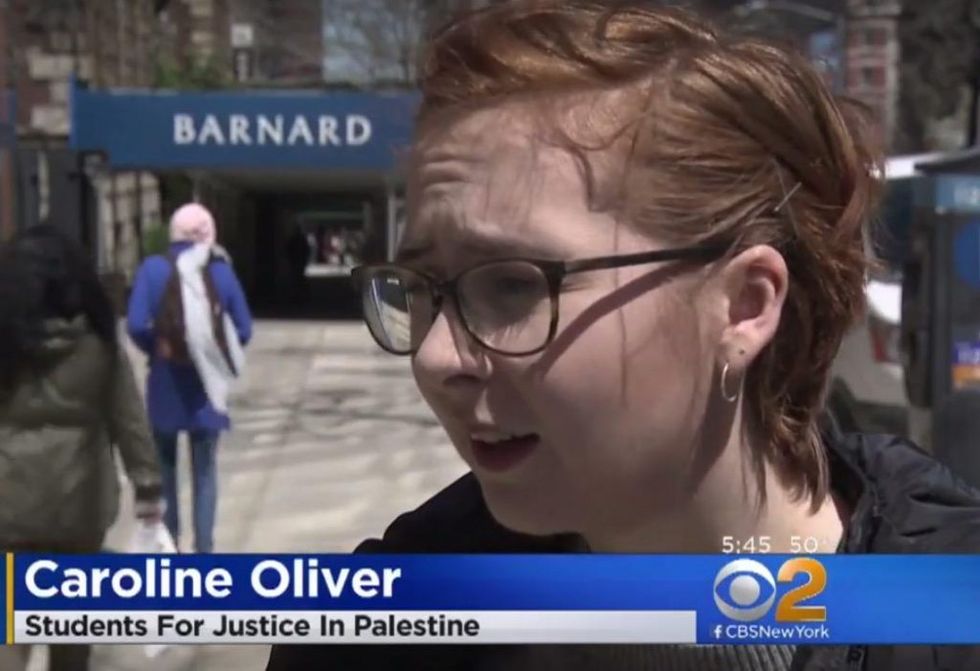 Image source: YouTube screenshot
But another student didn't seem convinced.
"The way the referendum was presented on the [Student Government Association] vote was basically saying, 'Here's these companies that are doing horrible human rights violations' and not giving any nuanced opinions whatsoever," Rachel Meyer told WCBS.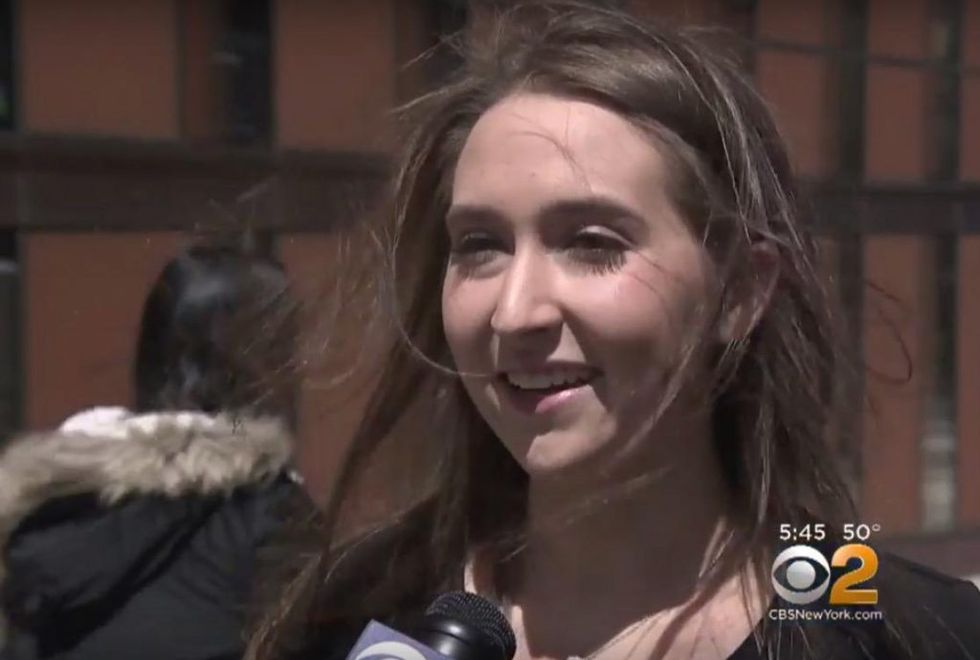 Barnard student Rachel Meyer (Image source: YouTube screenshot)
About half of Barnard's 2,500 students participated in the vote, the station said.
"What it does do in the public sphere is delegitimize Israel, give Israel a bad reputation and make it increasingly uncomfortable for pro-Israel supporters, including Jewish students on campus, to publicly identify with Israel," Dov Waxman, professor of political science at Northeastern University, added to WCBS.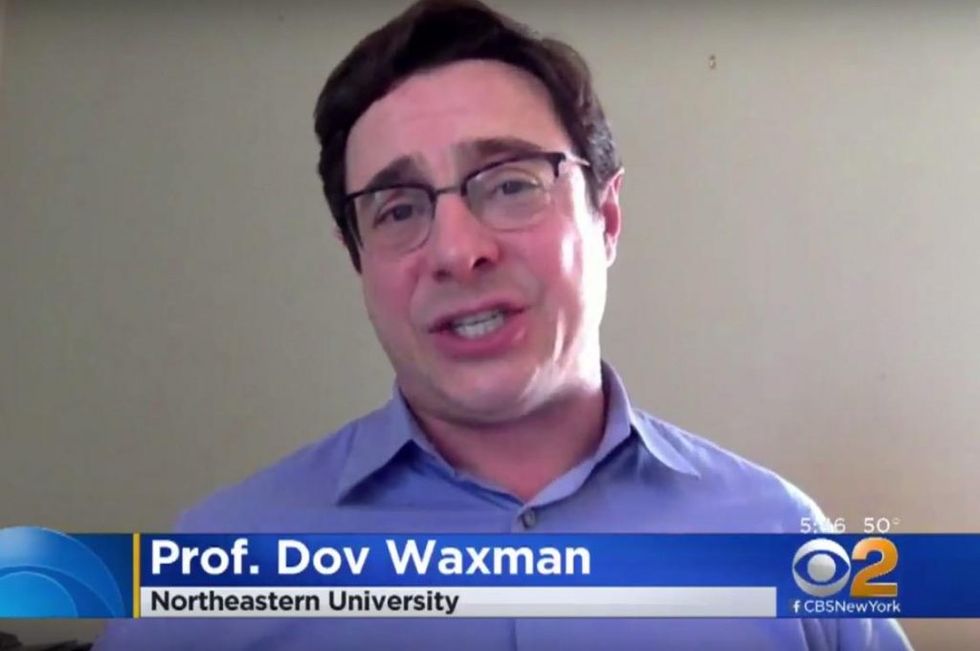 Image source: YouTube screenshot
The Anti-Defamation League said it's concerned about BDS and is educating high school students and parents about the movement before they arrive on campus, the station said.
"We feel at the macro level that BDS is something that inherently is written with antisemitism," Evan Bernstein, director of the New York ADL, told WCBS.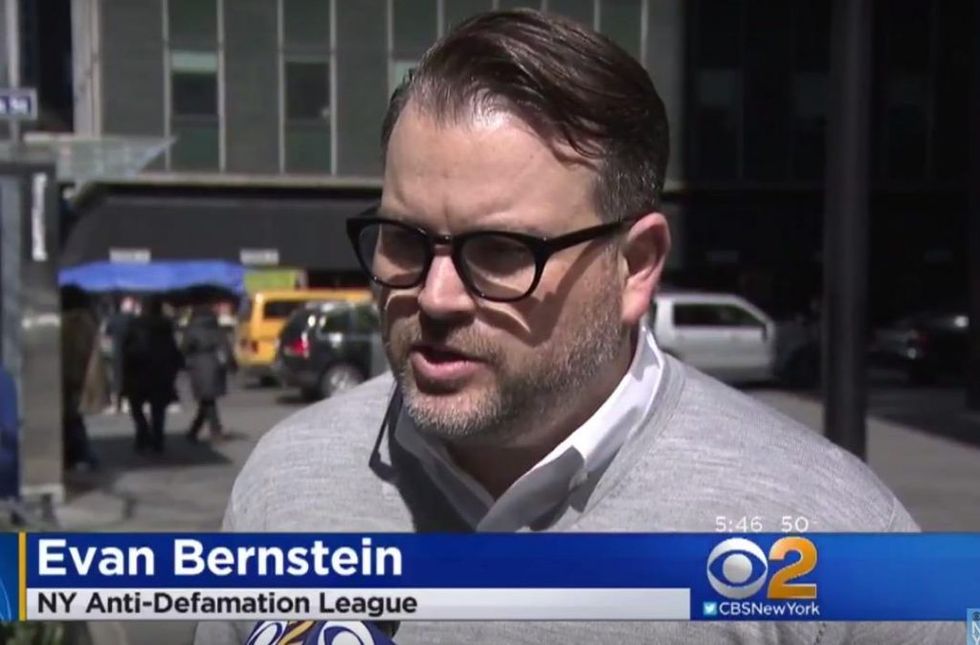 Image source: YouTube screenshot
What are Barnard alumni saying?
More than 2,000 Barnard alumni — including board of trustees members — have signed a petition urging school officials to reject the referendum, Forward reported.
"By presenting a nuanced and complex issue as one sided and simple, it has biased the student body and failed in its duty to act as a neutral arbiter," the petition reads. "BDS is a hateful movement that pushes peace further away and stifles discussion through a misleading and one-sided portrayal of the conflict in the Middle East."
What are Barnard officials saying?
College officials said in a statement that the school isn't compelled "to take a specific action" in response to a student referendum, the station said.
But the school's president, Sian Leah Beilock, most definitely put her foot down in a message to the SGA:
For any referendum related to Barnard's endowment to be considered by the Board of Trustees, it should meet two exacting standards. The issue under discussion must relate directly to Barnard's mission, and there must be a clear consensus across the Barnard community that the recommended approach is the best means to address the issue at hand.

The referendum you are currently considering does not meet these two standards. First, taking an institutional stand amid the complexities of the Mideast conflict would risk chilling campus discourse on a set of issues that members of our community should be able to discuss and debate freely. Choosing a side therefore would be inconsistent with our mission. Second, there is clearly not consensus across the Barnard community on whether or how to address the issue. While a majority of students who voted support the referendum, this is less than 30% of Barnard's student body. Thousands of alumnae have also voiced their opposition to the referendum. For these reasons, Barnard will not take action in response to this referendum.
What's next?
The SGA will vote Monday on whether it will send a letter to the administration asking for divestment in those companies, WCBS reported.
Barnard last year became the first United States college to divest from companies that deny climate change, the station said.