Colorado Mesa University officials demanded that a student get rid of references to Jesus and the Bible in her graduation speech to fellow nursing students — that is, until she got a Christian legal firm involved, the Daily Sentinel reported.
How did this all start?
Karissa Erickson's classmates chose her to speak at a pinning ceremony — which takes place Friday and is a separate graduation ceremony for the nursing program at the Grand Junction college, the paper said.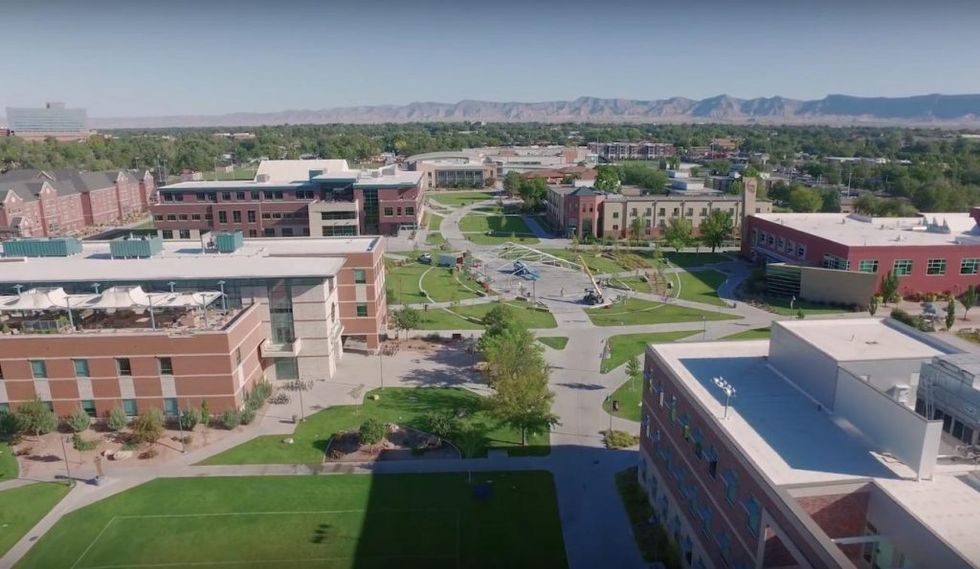 Colorado Mesa University (Image source: YouTube screenshot)
But then CMU nursing faculty reviewed Erickson's speech and took issue with a few of its words, according to a May 4 letter Alliance Defending Freedom sent to the school.
Seems Erickson shared a story about overcoming adversity and then noted, "God always has a purpose." She followed that up with, "I find comfort in Jesus' words, and I pass them on to you. John 16:33. 'These things I have spoken to you, that in Me you may have peace. In the world you have tribulation, but take comfort, I have overcome the world.'"
How did the school react to the Jesus and Bible references?
A school official emailed Erickson and told her to take out the part saying "you find comfort in Jesus' words and cite a [B]ible verse," ADF's letter noted, adding that the official also said "speeches should be free of any one religious slant" and that "some people don't appreciate those references."
When Erickson inquired further, another school official told her that several years earlier students took offense at Bibles being distributed on campus, the ADF letter explained, adding that "due to the ensuing negative publicity it received, CMU no longer allows Bible verses or remarks about any specific religion because someone might be offended."
That official added to Erickson that she had to remove the religious references from her speech or "there will be repercussions. This program will not tolerate it," the ADF letter said.
How did Erickson respond?
Erickson contacted Alliance Defending Freedom, the legal outfit said in a news release — and once CMU received the letter from the law firm protesting the speech censorship, school officials backed down.
"When they were confronted with what the law required, they quickly backtracked and allowed the student to speak freely," Alliance attorney Travis Barham told the Daily Sentinel. "I am genuinely impressed the university corrected its actions so quickly."
What is the college saying now?
CMU spokeswoman Dana Nunn told the paper that university faculty were "trying to do the right thing, but made a mistake" in ordering Erickson to remove religious references.
"It was a well-intentioned misunderstanding of what was appropriate," Nunn added to the Daily Sentinel. "I think it's fair to say that a lot of people have their own interpretations of the separation of church and state, and the faculty member that initially asked for the change was just trying to do the right thing, she was just not correct legally."
Nunn told the paper she could not speak to ADF's claims that Erickson was threatened with "repercussions" but said there is no university ban on talking about religion.
'This sort of thing pops up with alarming frequency...'
"This sort of thing pops up with alarming frequency, where university officials come under the mistaken conclusion that the First Amendment requires them to purge all speech of anything that's religious," Barham added to the Daily Sentinel. "They think they're fulfilling the commands of the First Amendment, but they're actually violating it."
Barham added in the news release that, "America's Founding Fathers regularly opened public ceremonies with prayer, and federal appeals courts have consistently ruled that universities can do the same at their graduation ceremonies."
ADF Senior Counsel Tyson Langhofer, director of the firm's Center for Academic Freedom, concluded: "Today's university students will be tomorrow's voters and civic leaders. That's why it's so important that public colleges and universities exemplify the First Amendment values they are supposed to be teaching to students. Colorado Mesa University has shown it wants to do that by taking quick corrective action in agreeing to let students speak without unconstitutional censorship."