Ahead of the opening of the United States embassy in Jerusalem on Monday, President Donald Trump was honored and celebrated throughout the historic city.
Trump, of course, promised to move the U.S. embassy from Tel Aviv to Jerusalem during his 2016 campaign. He delivered on that promise late last year when he recognized Jerusalem as Israel's capital city, which spurred the embassy's relocation.
What happened?
Plastered on the front of the Jerusalem Post Monday morning was a picture of Trump with the words: "Promises made. Promises kept."
This morning's Jerusalem Post. #USA #Israel #USEmbassyJerusalem https://t.co/egzd2BinqX

— Joel B. Pollak (@Joel B. Pollak) 1526284868.0
According to Breitbart's Joel Pollak, who is in Israel covering the opening of the new Jerusalem embassy, a "thank you" message was projected onto the walls of ancient Jerusalem last night. He reported the projection was of a combined American and Israeli flag with the message "Thank you President Trump."
On the walls of #Jerusalem tonight! #USEmbassyJerusalem #USEmbassy #USA #Israel "Thank you President Trump"… https://t.co/h1mpk4wW8A

— Joel B. Pollak (@Joel B. Pollak) 1526237419.0
Numerous signs were also posted throughout Jerusalem in recent days that declared: "Trump make Israel great." The signs were created by the Friends of Zion Museum, which is located in Jerusalem.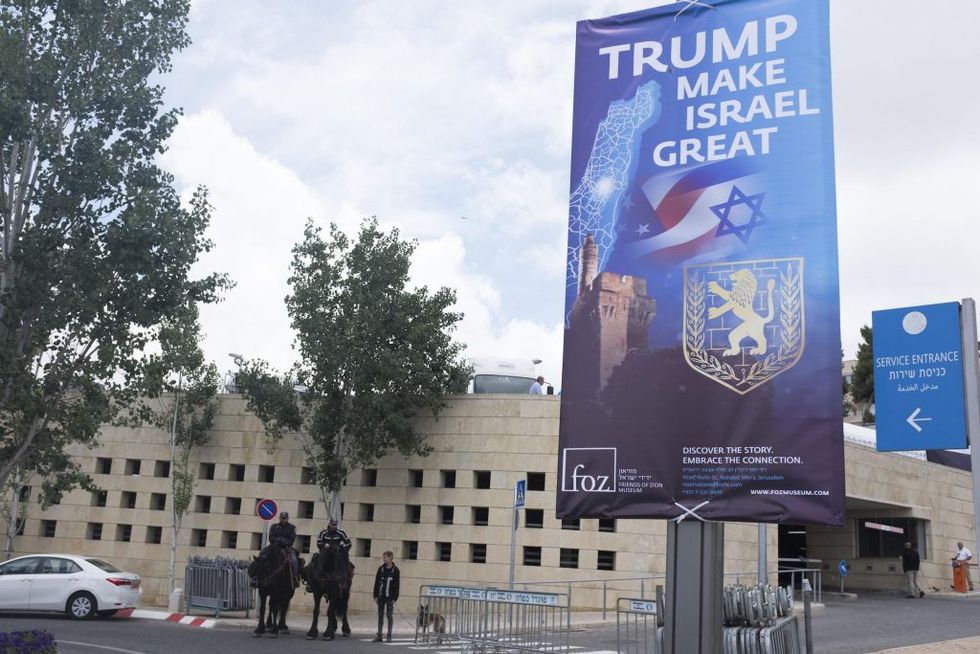 Banners honoring President Donald Trump were hung in Jerusalem ahead of the opening of the U.S. embassy there. (Lior Mizrahi/Getty Images)
Why is the embassy move such a big deal?
Israel is ecstatic about Monday's events for a very good reason. Prior to Trump recognizing Jerusalem as the capital of Israel, no other country in the world recognized it. Instead, most saw Tel Aviv as Israel's capital.
But that was not because Israel sees Tel Aviv as its capital. In fact, Israel has always declared Jerusalem as its capital city, but the rest of the world did not recognize it because the Palestinian government also claims Jerusalem. And recognizing Jerusalem as Israel's capital was long believed to be a trigger point for violence in the region and the shutdown of peace talks between Israel and Palestine.
However, Trump was determined to keep his promise, and Monday's events prove he planned to make good on them. In addition, Trump's actions have also spurred other countries, such as Guatemala, to move their embassies to Jerusalem.
Many major U.S. allies remain unhappy with Trump's decision, but with the U.S. leading the way, many other powerful nations may soon make the long overdue decision and recognize Jerusalem as Israel's capital.