A dad holding his baby daughter was walking back to his car outside a McDonald's in Memphis, Tennessee, on Tuesday afternoon when police said four men attacked him, WREG-TV reported.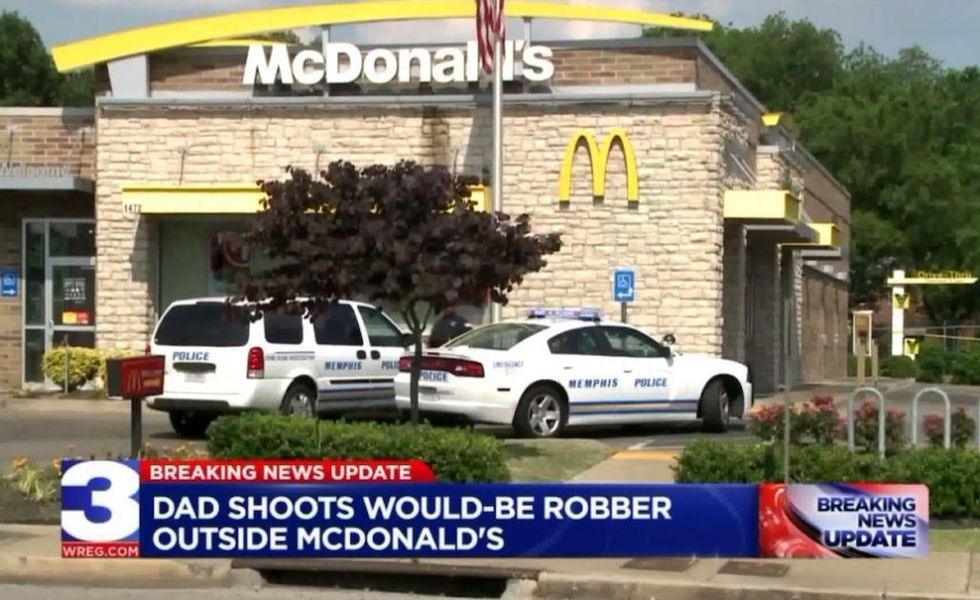 Image source: WREG-TV video screenshot
"They jumped out of the car and they started fighting him and trying to take his wallet and stuff," witness David Chase, who called 911 from across the street, told the station in an earlier story.
The victim told police he was put in a headlock and choked, WREG reported.
But he fought back, Chase told the station: "He dropped his baby and started fighting them and the child was just sitting on the concrete."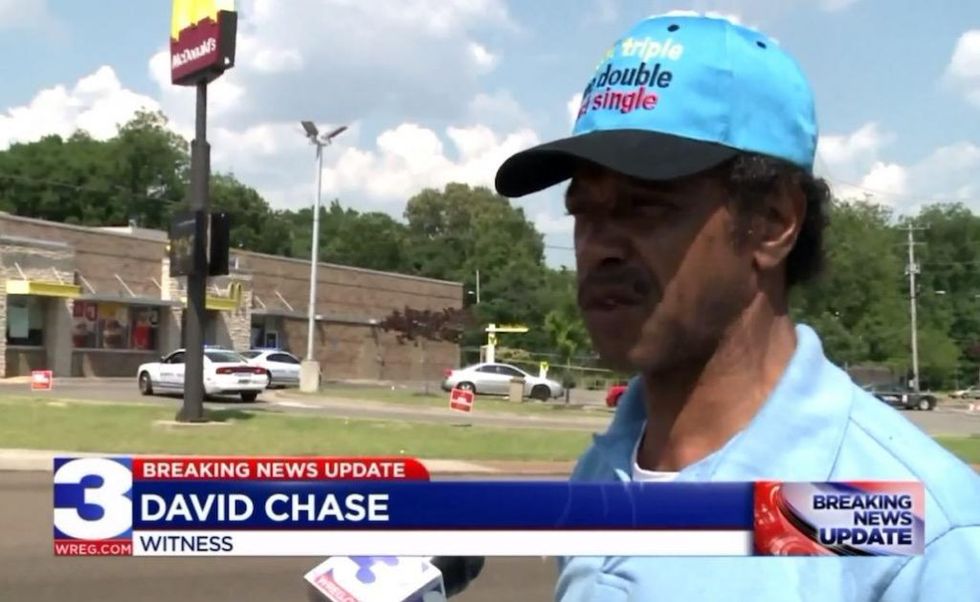 Image source: WREG-TV video screenshot
What did the father do next?
Then Dad added a little firepower to the battle when he grabbed a gun from his car and fired shots, striking one of his assailants, the station reported. Chase told WREG he heard three to four gunshots.
The victim said the suspects ripped his gun away from him and then fled in a black Infiniti, the Commercial Appeal reported.
But minutes later police found the car at a Memphis fire station where the suspects went for help for their wounded comrade, the paper said.
What happened to the suspects?
Cortez Cole, 25, Ladarius Pugues, 21, Terrell Pullen, 22, and Quinton Webb, 25, have been charged with robbery, the Commercial Appeal reported.
Cole, Pullen and Webb were taken to jail, the paper said, while Pugues was hospitalized for his gunshot wound. Pugues' injury was non-critical, and he's expected to be OK, WREG reported.
What are people saying about the dad who fired his gun?
Memphis police won't say if the dad will face any charges for shooting the suspect, WREG reported, adding that the consensus on the street is leaning in favor of the father.
"If I'm being robbed and I fire back, that ain't my fault," Karl Shields told the station.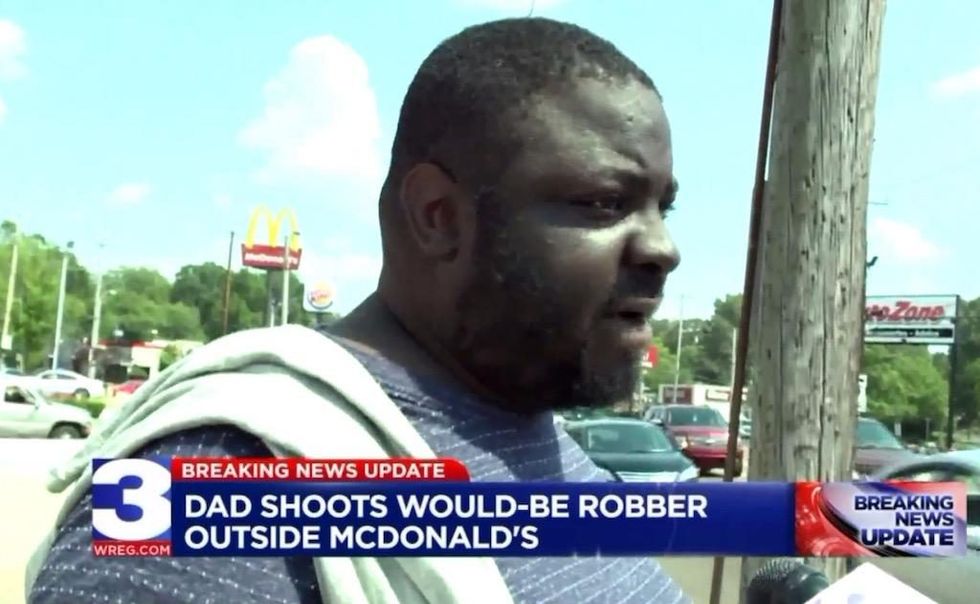 Karl Shields (Image source: WREG-TV video screenshot)
Chase agreed and the dad "was doing what any father should have did: protect his child. And I also told the police whether he had a gun license or not, it was a righteous shot. He did what any man would do for his kids."

What did a relative of three of the suspects have to say?
Pughes, Webb and Pullen all have the same listed address, WREG reported, and a man there who didn't want to give his name — but said he's Webb's father and Pullen and Pugues' grandfather — claimed the incident wasn't random.
"Everybody knows each other," the man told the station.
He added that the group has had problems, and the suspects went to talk to the victim when the incident unfolded, WREG reported.
(H/T: Blue Lives Matter)