Liberty High School senior Addison Barnes knew his People and Politics class would be discussing immigration one day back in January — so he decided to express his views on a T-shirt, KGW reported.
Barnes' shirt features a logo reading "Border Wall Construction Company" and notes President Donald Trump's controversial quote, "The wall just got 10 feet taller."
"The T-shirt was just a representation of my political beliefs," Barnes told the station.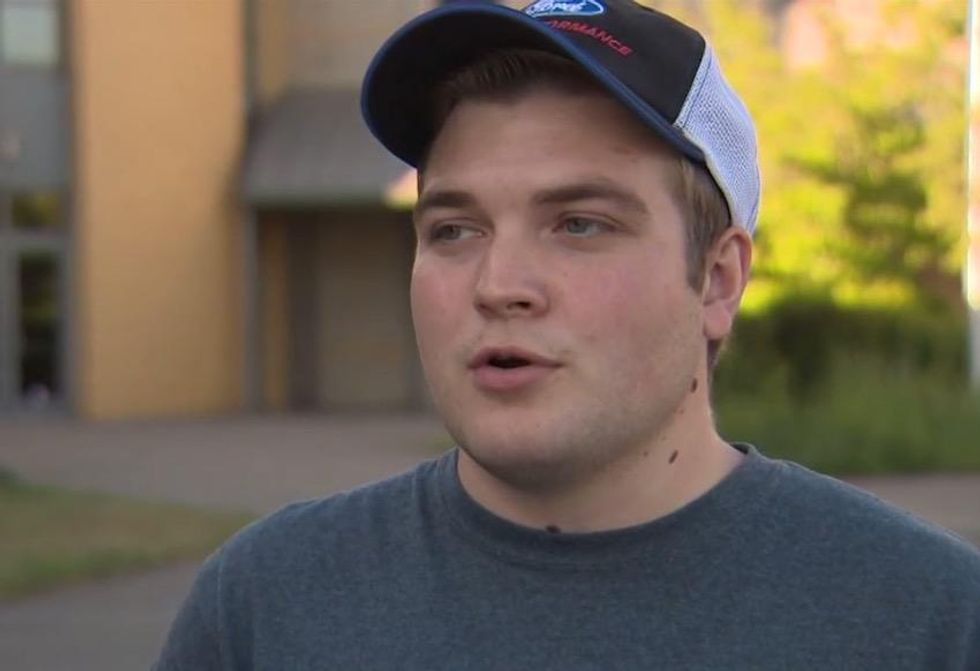 Addison Barnes (Image source: KGW video screenshot)
But in the minds of officials at the Hillsboro, Oregon, school, the T-shirt's message reportedly went too far.
What allegedly went down?
Assistant Principal Amanda Ryan-Fear allegedly removed Barnes from the classroom and directed him to cover the shirt because she said at least one other student and a teacher complained his attire "offended" them.
Barnes complied and covered his shirt with a jacket, KGW reported — but soon he was considering his freedom of speech.
"I thought to myself, 'You know this isn't right, this is my First Amendment right to be able to wear this shirt,'" Barnes told the station. "So I took off the jacket, and the assistant principal had seen that and sent for a security guard to escort me out of class."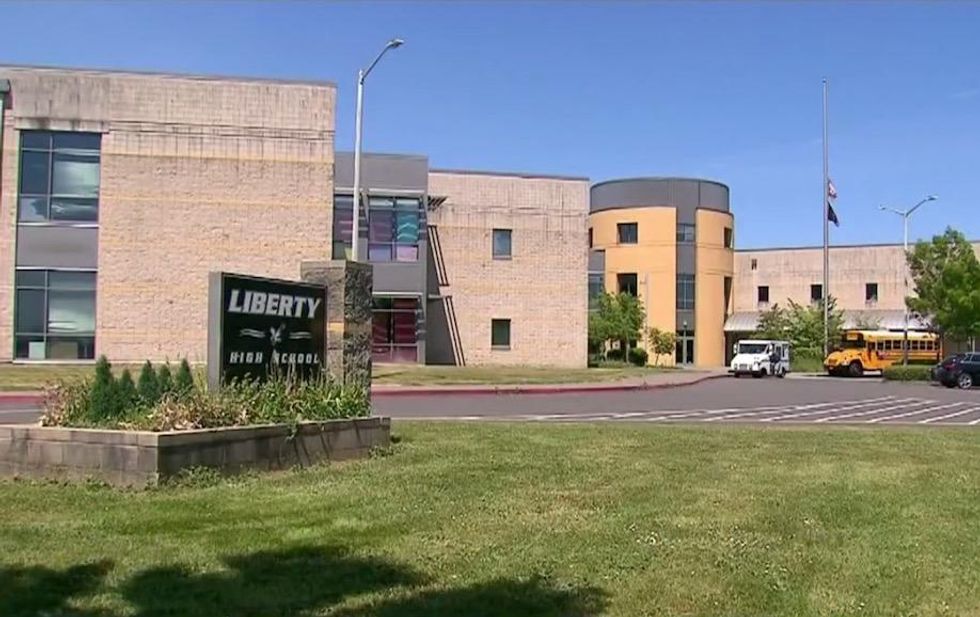 Image source: KOIN-TV video screenshot
Barnes was brought to Ryan-Fear's office where he was allegedly threatened with suspension for "defiance."
"She gave me the option to cover the shirt or get sent home," Barnes told KGW — and with that, he went home, and the school treated his absence as a suspension.
What's good for the goose...
Thing is, the school tolerates other political views with no problem, Barnes told KGW.
"I had a teacher who had a pro-sanctuary city poster in her room which was up all year," Barnes told the station, "yet as I wear a pro-border wall shirt I get silenced and suspended for wearing that."
The poster read, "Sanctuary City, Welcome Home," KOIN-TV reported.
What did a fellow student have to say about the T-shirt?
"This school is very Latino populated," senior Mark Guzman told KGW. "[The shirt] offended a lot of people. In the hall, kids would ask me if I'd seen it."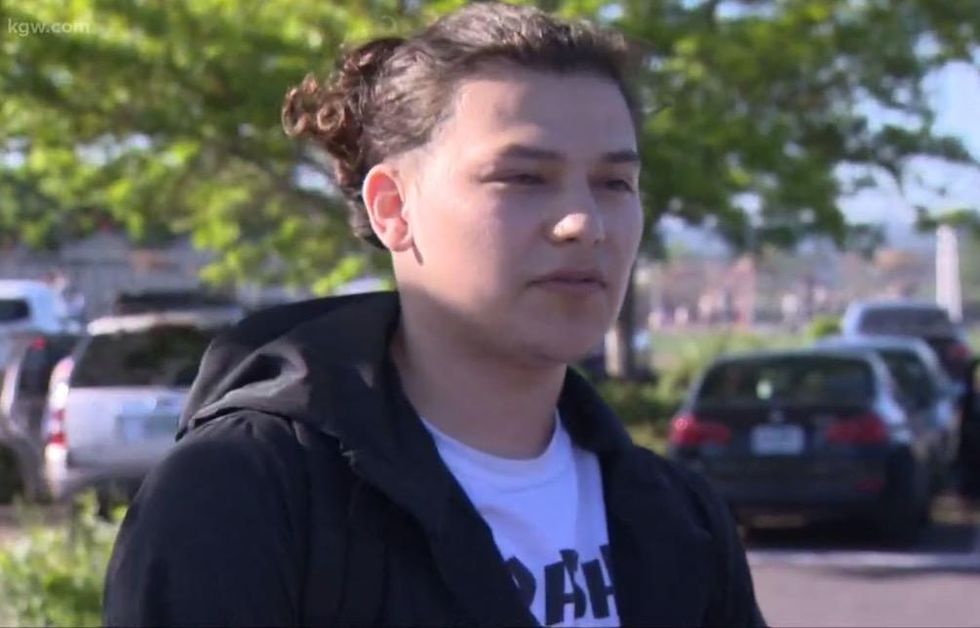 Mark Guzman (Image source: KGW video screenshot)
What is Barnes doing about all of this?
Barnes filed a federal lawsuit against Liberty High school for nominal damages last week, the station said, in which he argues that his First Amendment rights were violated.
"The high school, ironically named Liberty High School, had violated his free speech rights," Barnes' attorney Mike McLane told KGW.
While the school's dress code bars clothing with disruptive phrases, McLane added to the station that the school's reaction was improper.
"He was told he offended them, but that's a far cry from being disruptive, and it is certainly a far cry from violating school policy, let alone what is clearly First Amendment free speech law," McLane noted to KGW.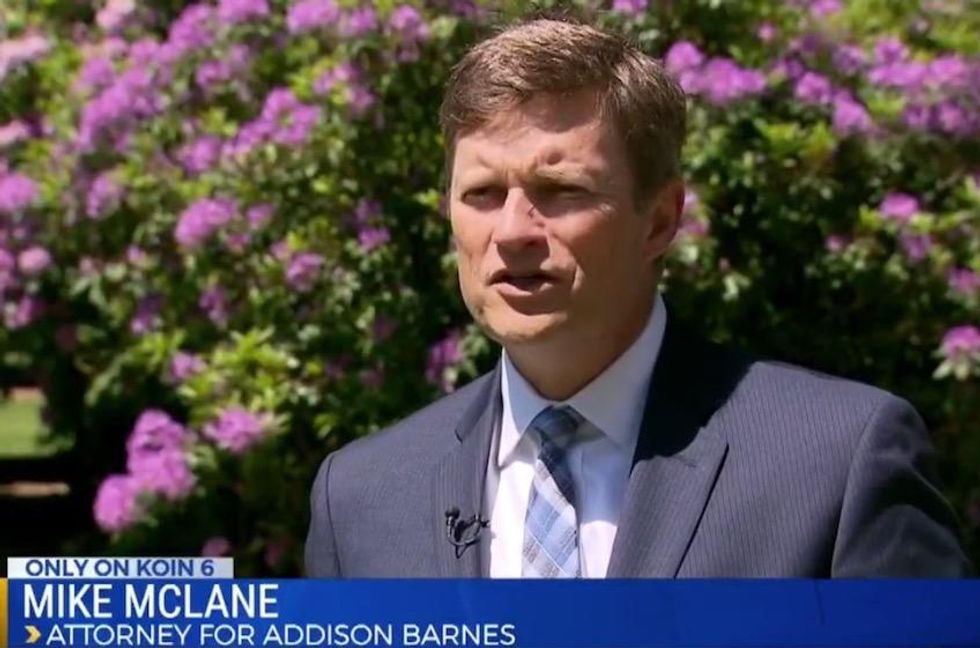 Image source: KOIN-TV video screenshot
The attorney added to KOIN, "He has a right to free speech, just like liberals have the right to free speech."
What does the ACLU have to say?
Mat dos Santos, legal director for the ACLU of Oregon, told the station the school was in the wrong:
The school clearly crossed the line when it required a student to remove a T-shirt that voiced support for Donald Trump's border wall or face a suspension. This shirt is mean spirited, but it isn't a "disturbance" under First Amendment case law.

It is disappointing that Liberty High School decided to censor the student instead of inviting the student body to discuss immigration, the freedom of speech, and the impacts of xenophobic rhetoric. Schools have a responsibility to teach our youth how to engage in thoughtful conversations about difficult and potentially offensive subject matters. Censorship doesn't work and often just elevates the subject the government is trying to silence.
How is the school reacting to the lawsuit?
A Hillsboro school district spokesperson told KGW that officials "are still reviewing this lawsuit and respectfully decline the opportunity to comment at this time."