When President Donald Trump sat down to meet with North Korean dictator Kim Jong Un on Tuesday, he screened a fake movie trailer starring the two world leaders and how they could save the world.
What's the fake movie trailer?
According to Reuters, Trump told reporters that he urged Kim and his North Korean officials to watch a short video produced by a Los Angeles-based company called Destiny Pictures. The president said Kim and his team sat around an iPad to watch the video, which was produced in Korean and English.
The White House screened the video for the media at a news conference following the conclusion of the Trump-Kim meetings. Trump told reporters that he thought Kim "loved it."
What did the video show?
Trump's playing of the four-minute video — which had more of a Hollywood vibe than an international-denuclearization-diplomacy vibe — was not a scripted event. The president reportedly decided to play it for the dictator and the media in order to highlight a possible prosperous future for the Hermit Kingdom.
The video, which showed repeated images of Trump smiling and of Kim acting like a benevolent, Western-style leader, explained that it was up to the two leaders to write the future of the world.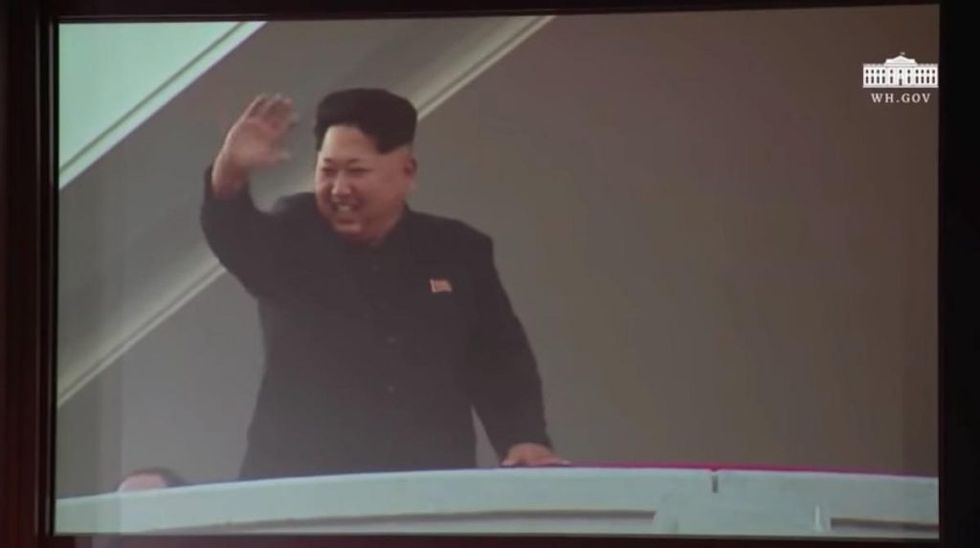 Image source: YouTube screenshot
The propaganda video began with the narrator explaining that while some countries — like North Korea — seem to be stuck in a negative cycle, the rest of the world is developing and prospering:
Seven billion people inhabit planet earth. Of those alive today, only a small number will leave a lasting impact. And only the very few will make decisions or take actions that renew their homeland and change the course of history.

History may appear to repeat itself for generations — cycles that never seem to end. There have been times of relative peace and times of great tension. While this cycle repeats, the light of prosperity and innovation has burned bright for most of the world.

History is always evolving, and there comes a time when only a few are called upon to make a difference. But the question is: What difference will the few make? The past doesn't have to be the future.
As the video plays of Kim meeting with South Korean President Moon Jae-in at the Demilitarized Zone in April, the trailer asks the viewer to imagine "what if" the North and South Korean people can find a common future and suggests that Kim holds in his hands the chance for a "new beginning."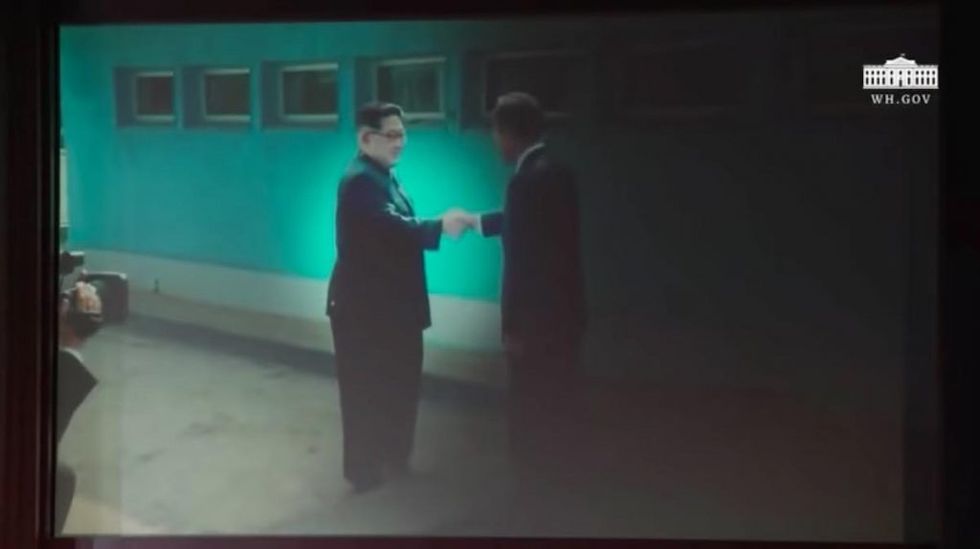 Image source: YouTube screenshot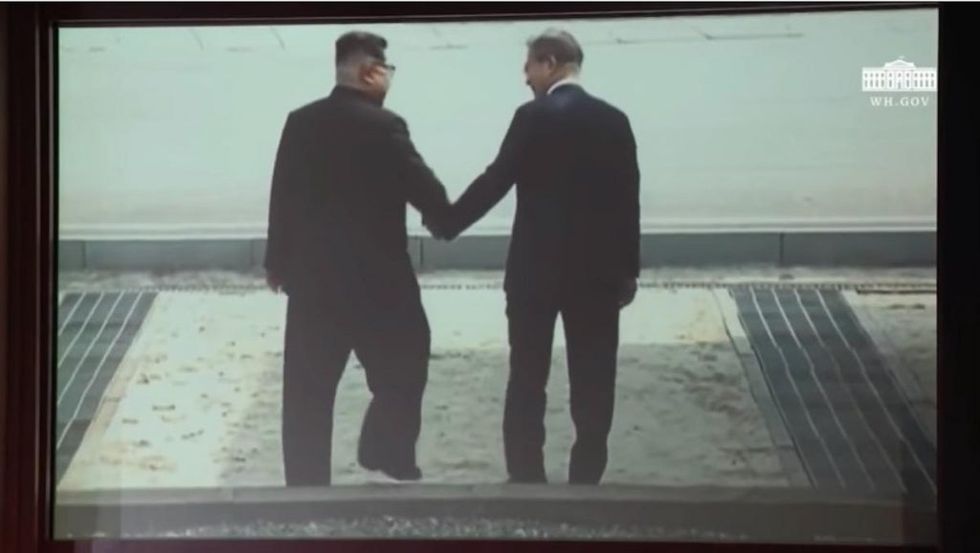 Image source: YouTube screenshot
"Two men. Two leaders. One destiny," the narrator states over footage of Trump and Kim preparing for their "story of opportunity."
Then, as video rolls of a basketball player dunking a ball, the trailer asks whether Kim will choose to accept his "one chance that may never be repeated ... to show vision and leadership — or not."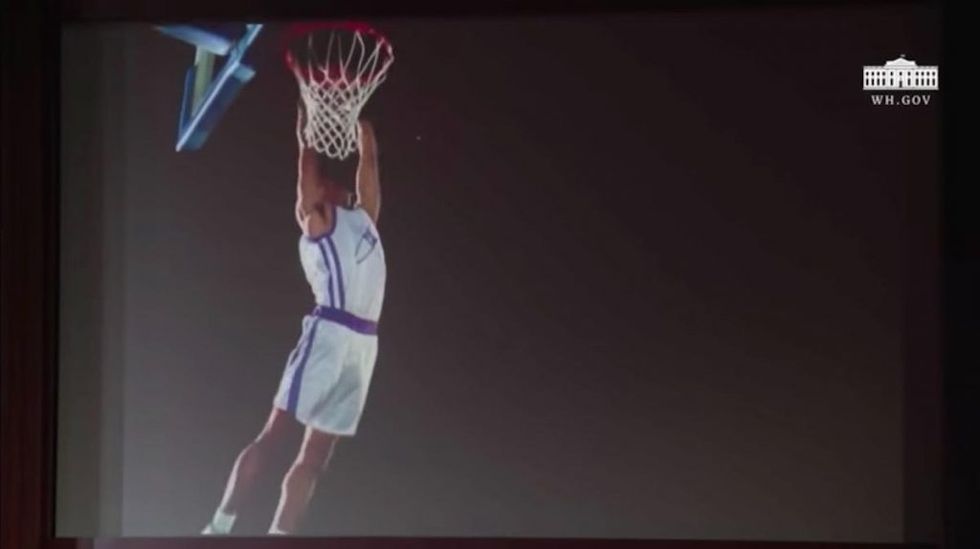 Image source: YouTube screenshot
The result of the wrong choice, the trailer reveals, will be desolation, invasion, war, and misery. But the right choice will result massive friendship, respect, growth, opportunity, and investment from around the world.
It's all on Kim and whether he will shake Trump's "hand of peace":
Can history be changed? Will the world embrace this change? And when could this moment in history begin?

It comes down to a choice — on this day, in this time, at this moment. The world will be watching, listening, anticipating, hoping.

Will this leader choose to advance his country and be part of a new world? Be the hero of his people?

Will he shake the hand of peace and enjoy prosperity like he has never seen? A great life or more isolation?

Which path will be chosen?
The video ends by making sure the viewer understands who are the real stars of this movie: "Featuring: President Donald Trump and Chairman Kim Jong Un in a meeting to remake history, to shine in the sun. One moment. One choice."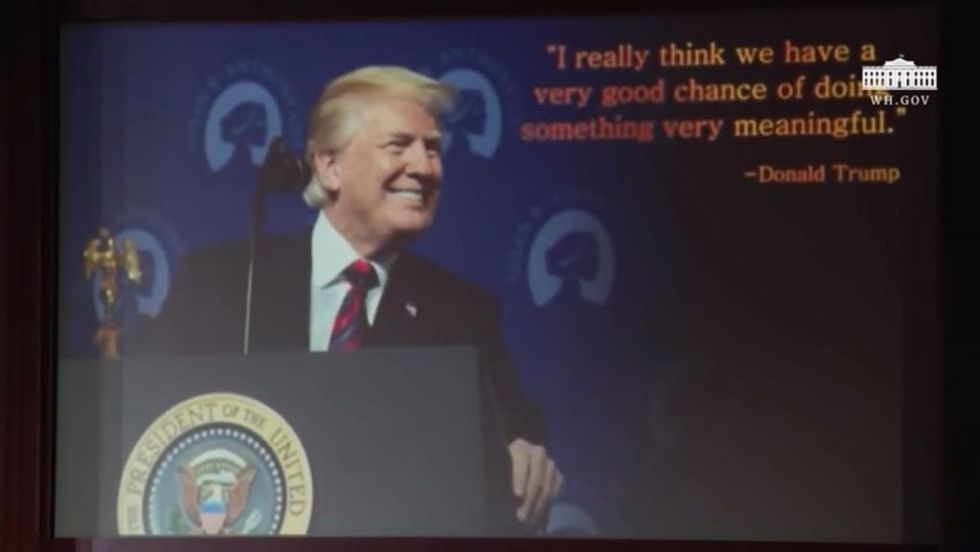 Image source: YouTube screenshot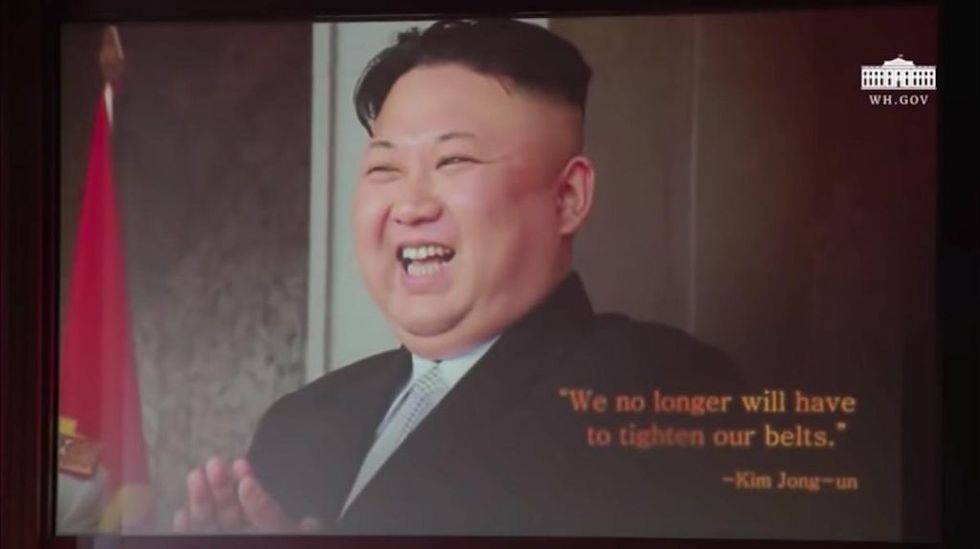 Image source: YouTube screenshot
Here's the full, four-minute trailer:
According to Reuters, Destiny Pictures could not be reached for comment.
'They have great beaches'
After showing the video to reporters at a news conference in Singapore following his meeting with Kim, Trump noted the "tremendous potential" North Korea had to be a "great place."
The president touted the agreement he and Kim signed and the other steps Kim has said he is willing to take for peace.
He went on to note that Kim liked the video — and the device it was played on: "I tell you what, he looked at that tape, he looked at that iPad. And I'm telling you they really enjoyed it, I believe."
And Trump, who made his fortune in real estate, saw opportunity on the shores of North Korea and said he tried to get Kim to envision the same things he saw — both in pictures of North Korea and in the movie trailer video:
I told him, "You may not want this. You may want to do a much smaller version of this. I mean, you're going to do something, but you may want to do a smaller version. You may not want that, with trains, super everything at the top. And maybe you won't want that."

It's going to be up to them. It's going to be up to the people, what they want. And they may not want that, and I understand that too. It's a version of what could happen, what could take place.

As an example, they have great beaches. You see that whenever they're exploding their cannons into the ocean, right?

I said "Boy, look at that view. Wouldn't that make a great condo?"

And I explained, I said, instead of doing that you could have the best hotels in the world right there. Think of it from a real estate perspective. You have South Korea, you have China and they own the land in the middle. How bad is that, right? It's great.
President Trump: "They have great beaches. You see that whenever they're exploding their cannons into the ocean. I… https://t.co/kvjhE4Ys9v

— CSPAN (@CSPAN) 1528811143.0
You can watch the president's full remarks to the media here: