North Korean President Kim Jong Un and South Korean President Moon Jae-in pledged a "common goal of realizing, through complete denuclearization, a nuclear-free Korean Peninsula" by the end of the year, ABC News reported.
South Korea literally rolled out a red carpet for Kim and welcomed him with plenty of pomp and circumstance at Friday's historic summit that would mark the end of a war that began more than 65 years ago.
The two leaders had not met in more than a decade, and Kim became the first North Korean leader to step foot on southern soil since the two nations signed an armistice in 1953.
What's the story?
The leaders smiled and met each other with a handshake in the Demilitarized Zone, which divides the two Koreas. Moon invited Kim to come across to the South, and he did.
"You've come to the South today, when can I go to the North?" Moon said to Kim, ABC News reported.
"Why not try now?" Kim responded.
They joined hands and crossed together into the North.
The nations agreed to collaborate and "change the order of the Korean peninsula."
"We talked about peace and prosperity," Moon said. "A bold decision has been made. Big applause should be given to Kim Jong Un."
Moon said he has confidence in Kim, adding, "There is no turning back."
Kim, dressed in a black Mao suit, also praised Moon.
"Same people, same blood, so we cannot be separated and should live together in unification," Kim said. "I hope we live together soon as a new path forward."
There were plenty of photo ops and laughter throughout the visit.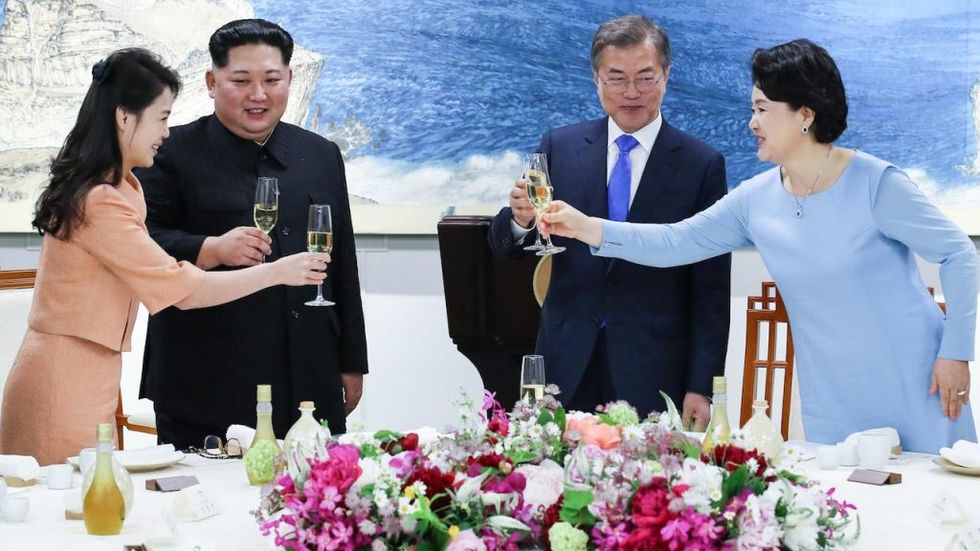 The Korean leaders celebrate peace. (Korea Summit Press Pool/Getty Images)
Kim joked that he would no longer wake Moon early in the morning with his missile tests.
The leaders chatted for more than half an hour at a table on a newly painted blue bridge and they planted a pine tree together as a sign of peace.
"We will never repeat the past mistakes," Kim said.
They plan to unite the nations for cultural and sporting events.
Families separated by war will likely reunite in mid-August as part of a celebration of liberation from Japanese colonial rule at the end of World War II.
The two nations plan to convert the 1953 armistice to a peace treaty by the end of the year.
What made Kim change his position?
South Korea Foreign Minister Kang Kyung Wha told CNN that she acknowledged President Donald Trump played a major role in bringing the two nations coming together.
"I think, clearly, credit goes to President Trump," Kang told CNN during an interview in Seoul. "He's been determined to come to grips with this from day one."
She said the presidents, Moon and Trump, have worked closely together and that the level of confidence between the two has been instrumental in bringing the Koreas to where they are today.
"At the end, the message was that North Korea will not be accepted, never be accepted, as a nuclear power," Kang said. "But if you change course, there's a better future and that we are offering to work with you."
Trump was consistent in his message that every provocation by Kim would be met with further sanctions against the nation.
"I think the consistency of that message was certainly, but certainly the pressure of the sanctions that was increasingly being implemented in a unified manner by the international community I think the combination has worked in Mr. Kim's calculation," Kang said.