An outspoken conservative student has been suspended by the University of Denver after being accused of uttering racist and homophobic slurs — but Addison Puffer told KCNC-TV the accusations against her are hearsay and that she has a good idea of why it all happened.
Puffer said a professor told her "this was the burden that I had to bear because I was an open conservative and supported a bigot of a president," the station reported.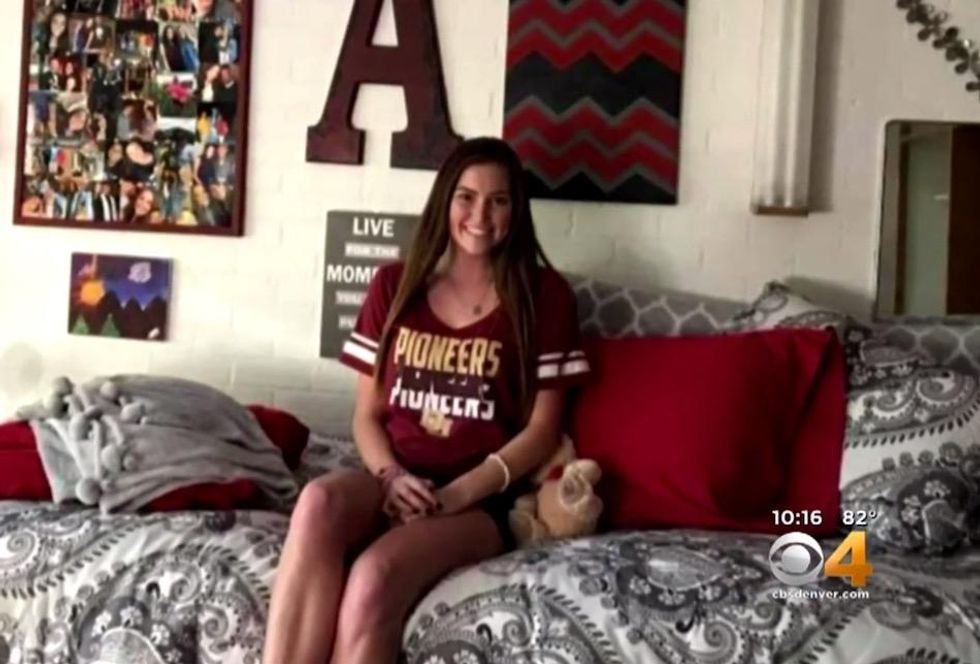 Addison Puffer (Image source: KCNC-TV video screenshot)
What happened?
Puffer — a student government senator, according to the College Fix — told KCNC school officials suspended her nine days before the spring semester ended, forcing her out of classes and her dorm room.
The international business student told the station she was carrying a 4.0 grade point average at the time but now won't get 18 credits for classes she almost completed at the end of her freshman year.
"It's like they're trying to ruin my career before it even gets started," Puffer told KCNC. "This is going to haunt me 20 years from now."
Puffer is suspended for the 2018 fall semester for harassment, the station said. She told KCNC that 13 people came forward and accused her of using the N-word as well as a homophobic slur (which begins with the letter "f").
But Puffer told the station the accusations were hearsay and don't reflect who she is as a person.
"The people who genuinely know me know that I'm not a bad person," she told KCNC. "I don't have bad intentions, and I don't have a cold heart."
School documents allege Puffer's language created "a hostile environment of divisiveness and disrespect" among peers, the station reported.
What did the school have to say?
University officials told KCNC they can't comment on specific students for privacy reasons but offered the following statement:
The University of Denver takes all issues of harassment very seriously. In the event of a complaint, the Office of Equal Opportunity and Title IX meets with all parties involved, and interviews all witnesses with relevant information to help compile a preliminary report. After both parties review the preliminary report and provide additional comments, investigators determine whether a policy violation occurred. Suspensions are not a decision the University takes lightly and only take place when a serious violation of student policy occurs. For the privacy of our students, we cannot speak about specific students or cases. However, factual errors have been made by outlets reporting on this incident.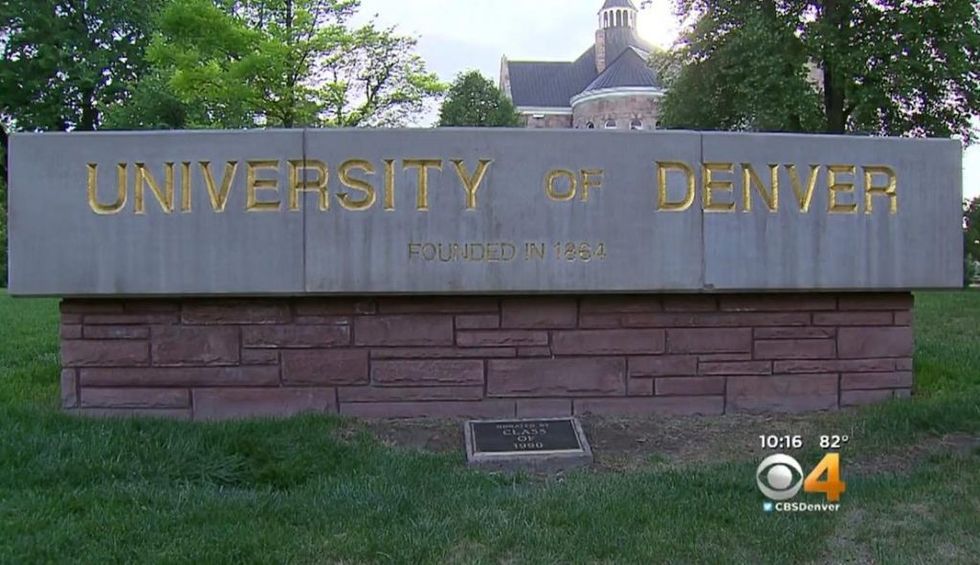 Image source: KCNC-TV video screenshot
What has happened to Puffer since her suspension?
Since her suspension, Puffer told the station she's received threats from peers who wrongly believe she's racist.
"It's created a really toxic environment for not only me but other students as well," Puffer added to KCNC.
She's also working with a lawyer to fight the school's decision, the station said.
What is the university requiring of Puffer?
In addition to being hit with the suspension, the University of Denver is requiring that Puffer watch a documentary about American white privilege and write a paper on the impact of her behavior if she wants to come back to school in the spring 2019, KCNC reported.

What else has been reported about the controversy?
Puffer told the College Fix that she was part of the Pioneer Leadership Program, in which 88 freshmen live together and participate in leadership exercises.
More from the outlet:
Last fall, according to an extensive report commissioned by the school's Office of Equal Opportunity, a "turf war" arose in the hall between conservative students in the program and a Social Justice group in a different wing. One outgrowth of this turf war was the defacement of a student's door when he put up several conservative posters. In response, the resident assistant made him remove the posters and called the entire hall together for an "emergency meeting" to discuss the "inappropriate behavior."

In January 2018, two resident assistants in the program hall made a report to the Office of Equal Opportunity about several students in the dorm, including Puffer, who they claimed continually used racial slurs, creating a hostile environment.

Several days later, Linda Olson, the director of Pioneer Leadership Program, met with Puffer in private, and informed her of the case against her. In her testimony to the university, Olson related that Puffer broke down and started crying.

Puffer told The Fix that during the course of that meeting, Olson told her "this is something you will have to deal with while being white and an open conservative," and counseled her that "you probably would have been safer at CU Boulder."
In regard to the 13 people who made accusations against Puffer, the College Fix said only one claimed to have actually heard Puffer use the slurs.
"Everything that I am aware of I have only heard through other individuals who have told me," one of the accusers, a residential adviser, said at the start of his testimony, the outlet added.
Puffer also told the College Fix that she wasn't afforded the opportunity to confront her accusers.
"If Addison Puffer may be suspended because some people said that other people said that she said offensive things, then students at DU have no free speech rights at all," Samantha Harris, vice president for policy research at the Foundation for Individual Rights in Education, wrote to the school, the outlet reported.