National Right to Life endorsed Pennsylvania Republican U.S. Rep. Lou Barletta in his U.S. Senate race against incumbent Democratic Sen. Bob Casey, lauding Barletta's pro-life legislative efforts and blasting Casey's voting record on the issue and his support of Planned Parenthood.
Barletta's "position on life reflects the true values of Pennsylvania's voters," Carol Tobias, the organization's president, said in a news release.
"There is a stark contrast between Lou Barletta, who supports legal protection for unborn children, and Bob Casey, who has repeatedly voted to give hundreds of millions of tax dollars to Planned Parenthood, which performs about one out of every three abortions in America," she continued.
Then came Tobias' zinger: "Bob Casey is not his father."
Who was Casey's father?
Casey's father — the late Bob Casey Sr. — was Pennsylvania's governor from 1987 to 1994 and was at odds with fellow Democrats over his opposition to abortion, the New York Times said. Casey Sr. died in 2000 at the age of 68.
Townhall broke down more of what Tobias was getting at, noting that Casey Jr. "has attempted to champion the pro-life views" of his father, who "famously fought Planned Parenthood in the Supreme Court ... and is known as one of Pennsylvania's most iconic pro-life leaders."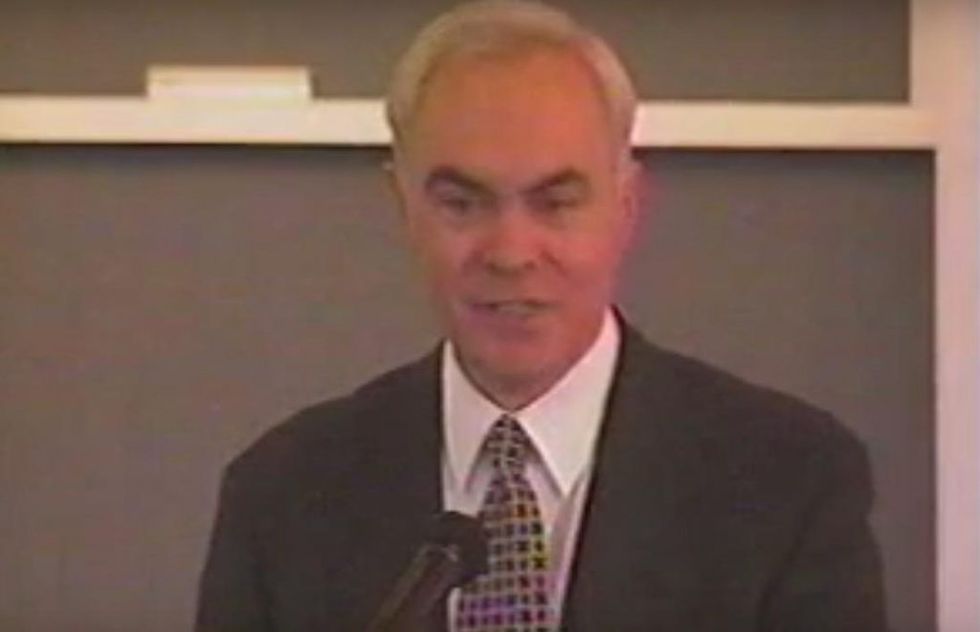 The late Bob Casey Sr. (Image source: YouTube screenshot)
The outlet added that "Casey Jr. ran on a pro-life, pro-gun platform in his initial bid for the Senate in 2006 ... and continues to put forth a pro-life image to his moderate supporters, despite his recent pro-choice voting record. Casey has a 100% approval rating from the pro-abortion group, National Association for the Repeal of Abortion Laws (NARAL), and has a mere 20% pro-life voting record in the 115th Congress. While casting himself as the Senate's iconic blue-collar friendly, pro-life Democrat ... Casey has stood with Planned Parenthood consistently, insisting that the abortion giant will reduce abortions in the United States."
What has Barletta done in connection to his pro-life stance?
Barletta co-sponsored and voted for the Pain-Capable Unborn Child Protection Act — legislation to protect unborn children by prohibiting abortion at 20 weeks, a point by which the unborn child is capable of experiencing great pain when being killed by dismemberment or other late abortion methods, National Right to Life said.
In addition, "Barletta has consistently voted to defund Planned Parenthood, keep the Hyde Amendment intact and make abortion illegal after a baby's viability, earning a 100% pro-life voting record," Townhall said.
Barletta campaign spokesman David Jackson told TheBlaze that NRL's endorsement demonstrates that "Lou Barletta is the only pro-life candidate in Pennsylvania's U.S. Senate race. Not only has Bob Casey abandoned the Pennsylvania values he was sent to Washington to defend, but Casey has also shamelessly stopped fighting for the most defenseless among us."
What did Casey's campaign have to say?
Casey's campaign on Wednesday didn't immediately respond to a request for comment on the National Right to Life endorsing Barletta and criticizing Casey.
Tobias added to TheBlaze that while NRL has never endorsed Casey Jr., his father — the late Casey Sr. — is one of her "heroes."
Here's former Pennsylvania Gov. Ed Rendell calling fellow Democrat Casey Jr. "pro-life" in terms of "religious belief" before adding that Casey Jr. is "not adamantly pro-life."