A Texas junior high school counselor turned herself in to police after allegations she was in an improper relationship with a ninth-grade student, KTVT-TV reported.
Shannon Hathaway, 33, resigned from Harwood Junior High School — which consists of seventh-, eighth-, and ninth-graders — prior to turning herself in to Bedford police last week, the station said.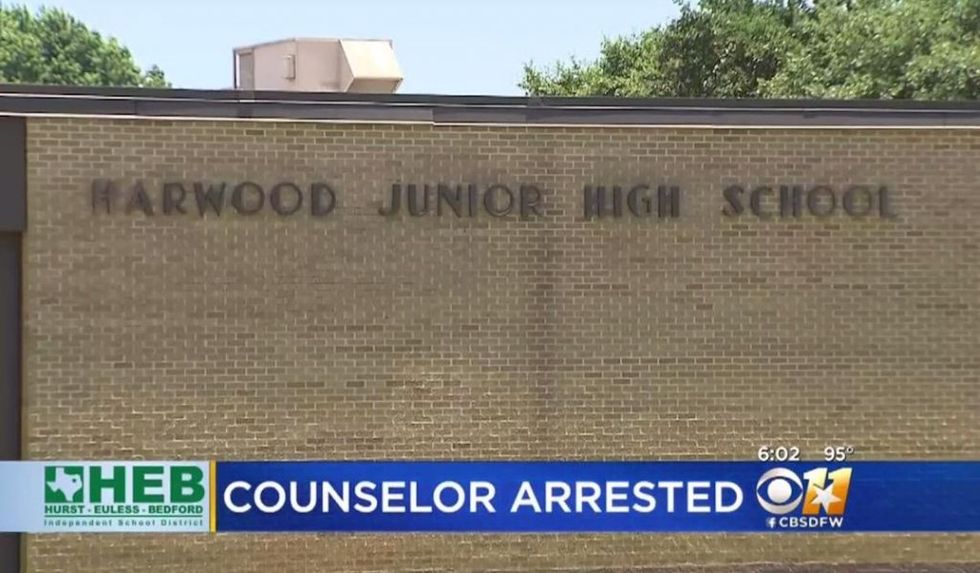 Image source: KTVT-TV video screenshot
What allegedly happened?
Hathaway and the 17-year-old had sex nearly a dozen times during the previous school year — including eight times at his Euless home and another two or three times at her Keller home, KTVT reported, citing court documents.
The boy ended the relationship after his mother caught him and Hathaway naked in bed, KTVT  reported, citing the arrest warrant affidavit, which added that "Hathaway was in love with the student and would leave her husband for him."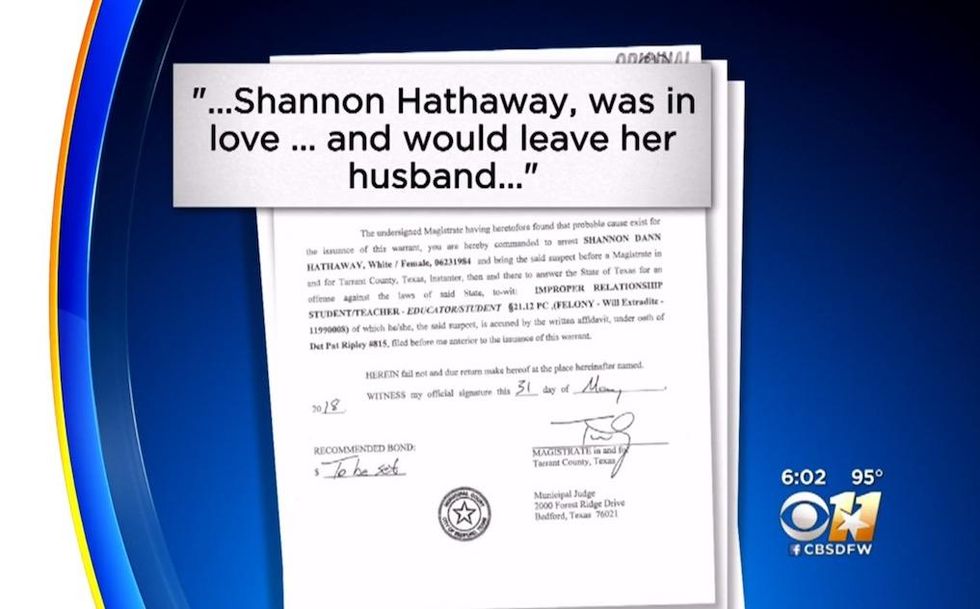 Image source: KTVT-TV video screenshot
The teen's sister reported the relationship to police, the station noted. The sister said during the 2016-17 school year, Hathaway would spend a lot of time with her brother, who is now 18 years old and has since dropped out of school, the Fort Worth Star-Telegram reported.
The sister told investigators her brother confided in her about having sex on numerous occasions with Hathaway, the paper reported, but that she never witnessed inappropriate behavior between the two, aside from Hathaway holding her brother's hand.
After the monthlong criminal investigation was complete, an arrest warrant was obtained for Hathaway for the offense of Improper Relationship Between Educator and Student, KTVT reported.
The Hurst-Euless-Bedford Independent School District said in a statement that the "safety and security of our students" is its "number one priority, and isolated incidents such as this one violate the trust between student, parent and school personnel, and will not be tolerated," the station reported.