Nigel Farage — the iconic Brexit leader and an ally of President Donald Trump — is set to attend a fundraiser for Pennsylvania Republican Lou Barletta's U.S. Senate run, the Citizen's Voice reported.
And the campaign for incumbent Democratic U.S. Sen. Bob Casey — Barletta's rival — is going ballistic over news of next month's event.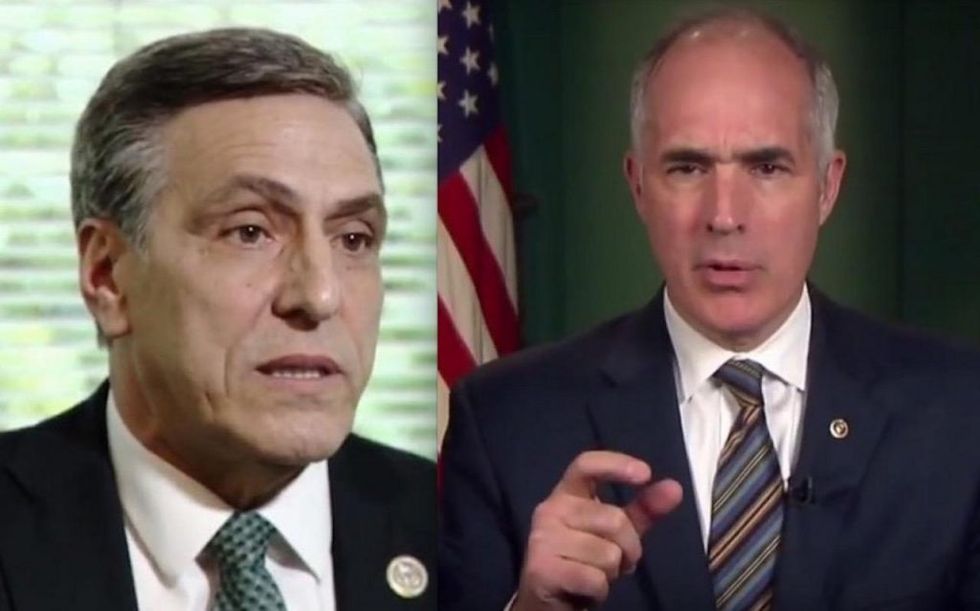 From left: Republican U.S. Rep. Lou Barletta and incumbent Democratic U.S. Sen. Bob Casey are facing off this November for a Pennsylvania seat on the U.S. Senate. (Image source: YouTube screenshot, composite)
Casey campaign spokesman Max Steele told Citizen's Voice that Barletta — a U.S. representative — should cancel his July 20 fundraiser with Farage "to send a clear message that anti-Semitism has no place in our politics" and that the Harveys Lake event "marks a new low for [Barletta's] campaign."
Steele linked news articles in an email saying Farage was criticized for anti-Semitic comments and ties, the paper reported, adding that Steele also said "it's unsurprising" Barletta "is raising money with an anti-Semitic white nationalist."
Say what?
The accusations against Farage appear to stem from comments he made on his radio show about the Jewish lobby in the U.S., but he told Newsweek last month things were taken out of context.
Farage told the magazine he was "dealing with a virulently anti-Semitic caller who said he didn't think it was the Russians that influenced the U.S. election, it was the Jews—that the Jews got Trump elected. To which I said: Well, there is a Jewish lobby, and it is well organized, and they are very professional, but not for one moment do I think they influenced the election result."
What does Barletta's campaign have to say about the issue?
"Mr. Farage is a friend of one of the event hosts [of the fundraiser]," Barletta campaign spokesman David Jackson told Citizen's Voice. "Congressman Barletta is fortunate to have supporters all over Pennsylvania who are willing to host events for his U.S. Senate campaign. Congressman Barletta has not met Mr. Farage, nor has Mr. Farage donated to the campaign because, as a British citizen, he cannot."
As for the Casey campaign's accusations against Barletta and Farage, Jackson told the paper that "the Casey campaign continues to lob outrageous accusations and mudslinging because their candidate has done nothing for the people of Pennsylvania. Name calling instead of leadership is a desperate and losing strategy."
Jewish leaders condemn Casey's tactics
In addition, 17 Jewish leaders from Pennsylvania in a letter condemned Casey for his attacks on Barletta, saying they're a "desperate attempt to deflect attention away from [hi] own record, including his vote for the disastrous Iran Deal — the single greatest threat to Jewish people in Israel and around the world."
The Jewish leaders — among them state Rep. Aaron Kaufer — noted that while "Barletta has worked to unite Pennsylvanians of all faiths, Senator Casey is using these inflammatory tactics to divide us; this is gutter politics at its worst."
Here's a clip of a triumphant Farage speaking at a Trump rally a few months prior to the 2016 presidential election — and shortly after United Kingdom voters decided they should leave the European Union:

This story has been updated.