Hyung Jin Sean Moon of Pennsylvania's Sanctuary Church — who's been deemed an "anti-LGBT cult leader" by the Southern Poverty Law Center — gave the invocation at a meet-and-greet for Pennsylvania Republican gubernatorial nominee Scott Wagner, the Pittsburgh Post-Gazette reported.
But Wagner's campaign on Tuesday told TheBlaze that Moon wasn't invited to the Sunday event and didn't get permission to speak from Wagner or the Pike County Republican Committee.
"Scott does not support Hyung Jin Sean Moon or his beliefs," Wagner spokesman Andrew Romeo told TheBlaze, adding that Wagner didn't want to let "Moon's unsanctioned appearance prevent him from speaking with the others who came out to the event."
Romeo added to TheBlaze that Wagner "purposely avoided speaking with Mr. Moon" and "even left the event early" after making his remarks "to display that he does not want to be associated with Mr. Moon in any way."
Who is Hyung Jin Sean Moon?
Moon is the son of the late Rev. Sun Myung Moon, who founded the Unification Church in the 1950s, CNN said.
Hyung Jin Sean Moon's church in Pennsylvania made headlines earlier this year when it sponsored a service involving hundreds of parishioners — some holding unloaded AR-15 rifles — who exchanged or renewed their wedding vows, WFMZ-TV reported.

Moon and his followers believe the AR-15 symbolizes the "rod of iron" in the Bible's book of Revelation, the station said, and Moon encouraged his followers to bring their guns to the service.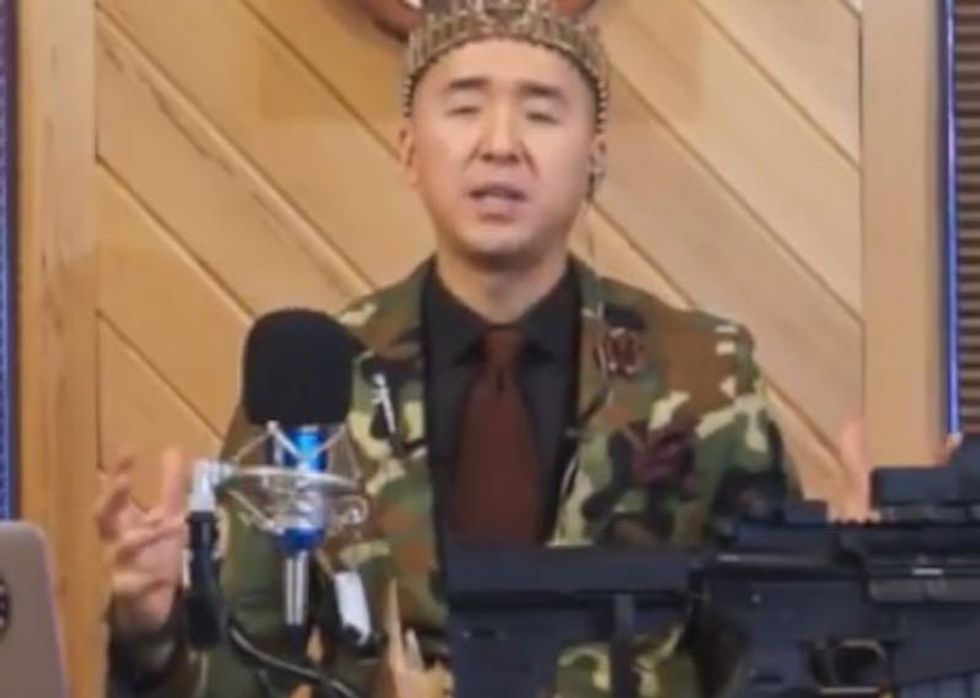 Hyung Jin Sean Moon (Image source: YouTube screenshot)
Church member John Gidney traveled from West Virginia for the ceremony and told WFMZ that Christians need to arm themselves: "The way the world is going today, it's just a form of protection for us. We're not out to harm anyone or cause any chaos or anything."
Moon's brother owns gun warehouse where Wagner event took place
The venue that hosted the Wagner meet-and-greet — Tommy Gun Warehouse in Greeley — is owned by Moon's brother, Justin Moon, CEO of Kahr Firearms Group, the Post-Gazette reported.
"I was the organizer of the event, and I invited [Hyung Jin Sean Moon] to give the invocation," Justin Moon said in a statement, the paper said. He said since the Wagner campaign knew the event was being held at Tommy Gun Warehouse, "it would be natural to assume" that Hyung Jin Sean Moon would be there.
Is there audio of Moon's invocation?
The American Bridge PAC — which advocates for Democratic candidates by monitoring what Republicans say, the Post-Gazette said — released an audio recording of Hyung Jin Sean Moon's invocation, which was preceded by an unidentified voice inviting Moon to "come up here and give his invocation, and get God's blessing for the event," the paper said.
The voice in question belongs to Justin Moon, according to Chris Decker, chairman of the Pike County Republican Committee, the Post-Gazette reported.
After Hyung Jin Sean Moon gave his invocation and prayed for "future Governor Scott Wagner," the paper said Wagner began his speech.
Decker said neither the committee nor the Wagner campaign knew Hyung Jin Sean Moon would give the invocation, and that it "caught me a bit by surprise," the Post-Gazette said, adding that the committee didn't know Justin Moon was related to Hyung Jin Sean Moon, either.
Decker also told the paper the Wagner campaign was "clearly caught off guard by it and panicked."
What did the Wolf campaign have to say?
Beth Melena — a spokeswoman for Democratic Pennsylvania Gov. Tom Wolf who's running against Wagner — ripped the GOP nominee for "campaigning with a cult leader who holds AR-15 blessing ceremonies and thinks public schools are indoctrinating children into the 'homosexual agenda.' This shows how out of touch he is with Pennsylvania families," the paper reported.
But Wagner spokesman Romeo countered to TheBlaze that Wolf "knows it is ridiculous to suggest that Scott supports Mr. Moon or his beliefs. Scott was relentlessly attacked for his support of an LGBT anti-discrimination bill during the primary and refused to back down. He's proud of the legislation he cosponsored."
Wagner criticized primary opponent for Q&A with Moon
Paul Mango — who ran against Wagner in the gubernatorial primary — was sharply criticized for conducting a Q&A with Hyung Jin Sean Moon in January.

Wagner's campaign said Mango was willing to say anything to become governor, the Morning Call reported. Romeo also told the paper Wagner "will be willing to stand up to folks he disagrees with regardless of political consequences."
TheBlaze on Tuesday asked the Wagner campaign if the GOP nominee considered confronting Hyung Jin Sean Moon at Sunday's event, and Romeo replied that Wagner was "just trying to be respectful" of others there who had no idea who Moon was. In fact, Romeo said Wagner didn't know who Moon was "without his bullet crown on."
As to how long Wagner knew Hyung Jin Sean Moon would be at the meet-and-greet, Romeo told TheBlaze "we had no idea he was going to be there."