President Donald Trump is being accused of racism after he tweeted about NBA legend LeBron James and CNN anchor Don Lemon on Friday night.
What did Trump say?
Lebron James was just interviewed by the dumbest man on television, Don Lemon. He made Lebron look smart, which isn… https://t.co/pLmjfeGj6d

— Donald J. Trump (@Donald J. Trump) 1533353856.0
Trump's reference to "Mike" is an apparent nod to NBA legend Michael Jordan.
What spurred the tweet?
Trump's tweet came after CNN re-aired a wide-ranging interview between James and Lemon that originally aired on Monday.
During the interview, the two discussed the recent opening of James' non-charter, public school for at-risk youth in Akron, Ohio, called the "I Promise" school. The school was designed for marginalized children who will attend free of tuition and expenses. The children will even receive free food, uniforms, and a bike.
Later in the interview, James stated that he feels Trump is "using sports to kinda divide us," a comment that apparently irked the president.
It was not the first time James publicly criticized the president. Last September, the NBA star called Trump a "bum" after he rescinded an invitation to the Golden State Warriors to celebrate their 2017 NBA championship at the White House.
What was the reaction to Trump's tweet?
Many, including celebrities and athletes, accused the president of being outwardly racist.
This is apparently what the President of the United States feels the need to share with the world at what should be… https://t.co/vD3BCxfDw0

— Dan Rather (@Dan Rather) 1533358581.0
No matter how bad your life gets, no matter how lonely or isolated you feel, you'll never be the president of the U… https://t.co/z0FTbq7rov

— Mike Drucker (@Mike Drucker) 1533356325.0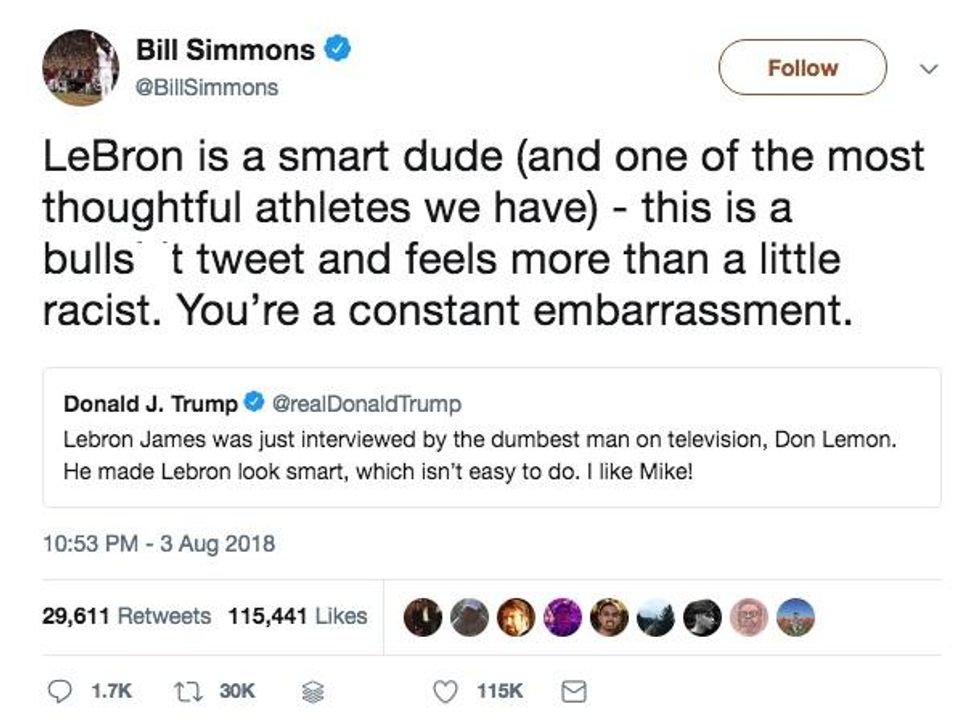 Lemon himself later punched back:
Who's the real dummy? A man who puts kids in classrooms or one who puts kids in cages? #BeBest https://t.co/XO50qVksnR

— Don Lemon (@Don Lemon) 1533387832.0
But what did CNN say?
The network's PR and communications Twitter feed invoked first lady Melania Trump to hit back at the president.
@realDonaldTrump Sounds like @FLOTUS had the remote last night. 📺 We hope you both saw the incredible work of… https://t.co/Gyvfg2xyRe

— CNN Communications (@CNN Communications) 1533387176.0
The tweet was referring to an unverified story that Trump was recently angry after discovering that his wife's TV on Air Force One was set to CNN.