A Muslim student leader at Stanford University who threatened in a Facebook post to "physically fight" Zionists on campus before later taking back his words has resigned as a dormitory residential assistant after fallout over his post.
What's the background?
Hamzeh Daoud wrote in his original post last month that he will "physically fight zionists on campus next year if someone comes at me with their 'Israel is a democracy' bulls**t ... and after I abolish your ass I'll go ahead and work every day for the rest of my life to abolish your petty ass ethnosupremacist settler-colonial state," the Stanford Daily said.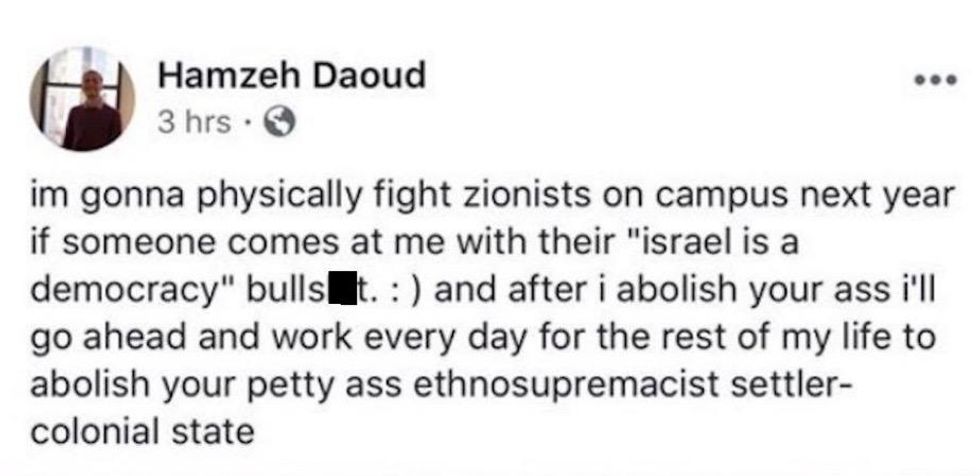 Image source: Facebook, redacted
Daoud — who served on the Undergraduate Senate — included a link in his post to an Israeli news site story with the headline, "Jewish nation-state law makes discrimination in Israel constitutional."
But about four hours later, Daoud altered the phrase "physically fight" by changing the word "physically" to "intellectually," the Daily reported, noting that he added the following sentence: "I edited this post because I realize intellectually beating zionists is the only way to go. Physical fighting is never an answer to when trying to prove people wrong."
What was the reaction?
Stanford's College Republicans demanded the university fire Doud as an RA in a Facebook post of their own the following day.
"Mr. Daoud's statements reveal him to be a danger to the safety of students on Stanford's campus, and such an individual should never be put in any position of authority over other students, particularly in a dormitory that includes freshmen," the post noted, adding that "threatening to assault other students who hold a different point of view is anathema to a free society and any kind of education, let alone the operation of the premier research university in the world."
Daoud — whom the College Republicans said is active in Stanford Students for Justice in Palestine — wrote in an email to the Daily that his post was a "spur-of-the-moment emotional reaction" to the law and that he doesn't deserve punishment for it.
The president of Students for Justice in Palestine, a Jewish Students Association Board member, and others on and off campus defended Daoud while others condemned his words.
'God curse the s**t out of Israel'
A law firm representing a Jewish student at Stanford later provided the College Fix with tweets purportedly from Daoud attacking Israel:
"f***your liberal zionist ass. f*** your jewish state. and f*** the notion that makes you believe that the resiliance [sic] and beauty that embodies judaism, jewish people, and the jewish religion is Israel," he allegedly wrote.
"Israel is a state that needs to be dismantled," Daoud allegedly added. "Any other opinion is complicity."
"God curse the s**t out of Israel!" he allegedly noted.
"Salam!" Daoud purportely wrote. "Your daily dose of f*** Israel and have a nice day!"
The Twitter account in question was soon taken down, the outlet said.
Stepping down
In an op-ed for the Daily last week, Daoud announced he's stepping down from his RA position to focus on his studies and "on processing the repercussions of my post."
"I am a third-generation Palestinian refugee; my grandparents took refuge in Jordan following the Arab-Israeli war," he noted. "I bear with me trans-generational trauma that is beyond the confines of this statement."
Daoud added that he's "begun to work with Stanford University and various members of the Stanford community to take accountability and rebuild trust through education and dialogue. I am also entering trauma-based therapy with the Counseling and Psychological Services Center at Stanford to help me learn how to regulate my emotions when triggered, and how to use my pain to build a new future, not just perpetuate old trauma."
He ended his piece by writing, "From a Muslim, Third-Generation Palestinian Refugee, May Peace Be Upon You, Salam."
How did the College Republicans react to Daoud stepping down?
"VICTORY!! Hamzeh Daoud has RESIGNED as an RA in Norcliffe!" the College Republicans wrote in a Facebook post. "SCR led the charge to get Daoud removed from his RA position over his violent Facebook threat to "physically fight Zionists" at Stanford. We sounded the alarm, contacted countless media outlets, contacted multiple Stanford donors and alumni, and sent countless emails to Stanford administrators demanding his removal. Not only did SCR begin the campaign to fire Daoud, but we saw it through to completion, and to ultimate victory."
(H/T: The College Fix)