Democratic U.S. Sen. Chris Murphy (Conn.) said last week the "survival of our democracy" hinges on social media companies going beyond erasing the presence of Alex Jones' InfoWars and targeting other sites that spread "hate and lies" and try to "tear our nation apart."
Bill de Blasio, the far-left mayor of New York City, appeared to echo Murphy's comments Sunday on CNN's "Reliable Sources," telling host Brian Stelter that if NewsCorp entities like Fox News and the New York Post didn't exist, there would be less racial hatred and division — and Donald Trump wouldn't be president.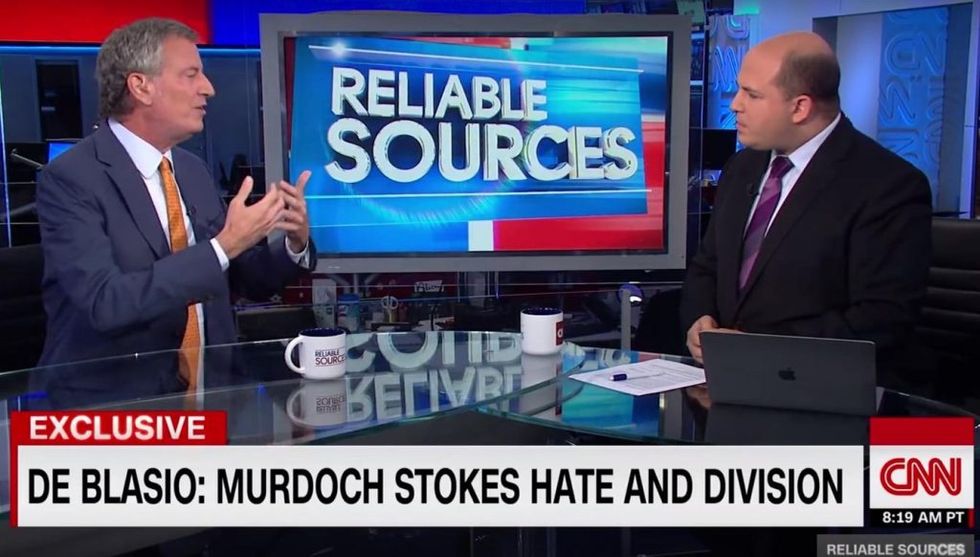 Image source: YouTube screenshot
"There would be less overt hate, there would be less appeal to racial division, I guarantee it," de Blasio said during the interview, adding that "there is no [President] Donald Trump without NewsCorp, I firmly believe that."
He added, "They put race front and center, and they try and stir the most negative impulses in this country" and "today you have one outlet and one outlet only that is constantly sowing division."
What happened when Stelter pushed back?
To his credit, Stelter repeatedly pushed back against de Blasio, saying "politicians make lousy media critics" and that the Democratic mayor singling out NewsCorp sounded like Trump singling out CNN as "fake news."
But de Blasio didn't see it that way.
"When you look at CNN, for example, when you look at the major networks, they do not harbor a daily, hourly political agenda and bias," de Blasio said. "They provide both sides, it's part of their DNA" even if they "may have some values and views."
And while he admitted to harboring "anti-NewsCorp" sentiments, de Blasio said Rupert Murdoch's companies still have a "right to exist" — and offered a backhanded compliment, saying "even the New York Post sometimes writes a story on something happening with a government agency that proves to be right, and we have to address it, we have to fix it."
"I believe in a free, strong media with diverse views. I'll defend it with all I've got," de Blasio told Stelter. "But we have to be able to call out when a particular company has a corporate agenda, has a political agenda, and has very effectively changed the American discourse."
He added, "We have to respect their constitutional rights, of course, but we also are consumers. We're also citizens. If we don't talk about it and they continue to do this to our country, something is wrong."
'A world without NewsCorp'
As Stelter continued his pushback — noting instances when de Blasio has blasted other media outlets besides Fox News and the New York Post — the mayor appeared to gloss over such tidbits and continued his drumbeat.
He also suggested imagining "a world without NewsCorp ... what would we look like today? I guarantee you Donald Trump would not be president, and I guarantee you that what we're seeing in Washington — the right and the alt-right ... feeling it has license, that wouldn't be true. And that's good when those forces feel they don't have license."
A NewsCorp spokesperson didn't respond to CNN's request for comment.

What happened after de Blasio's interview?
Just hours after de Blasio's CNN interview, the New York Post said the mayor watched as two bodyguards physically removed "a credentialed Post reporter who had the temerity to ask him a question in public."
"The unusual muzzling unfolded at the start of the annual Dominican Day Parade in Manhattan, where the reporter sought de Blasio's reaction to The Post's front page story about his administration's many meetings with lobbyists," the paper said.
More from the Post:
Instead of answering or even declining to answer the question, the mayor watched as two members of his NYPD security detail approached the reporter — who was wearing a police-issued press pass around his neck — with one grabbing his shoulder and leading him away from the mayor.
De Blasio lets security haul away Post reporter for asking question https://t.co/giUqNAF5oK https://t.co/GpBtVBi331

— New York Post (@New York Post) 1534118466.0
This writer's perspective
Mayor de Blasio's all-around performance Sunday was a chilling debacle.
He talked out of both sides of his mouth, at once noting NewsCorp's "right to exist" yet imagining a world without the media giant. You know he'd prefer the latter if he had his druthers. And while de Blasio is correct that Fox News leans right, he's dead wrong in saying "you have one outlet and one outlet only that is constantly sowing division" and no other outlets push as much politics. MSNBC, anyone?
The timing of his statements is curious as well, as they came on the heels of Murphy's outrageous call for Facebook and YouTube and other social media giants to deplatform more sites and news sources for the good of America.
De Blasio can try to couch his anti-conservative bent in the guise of just having a conversation, an innocent chat, but it's painfully obvious it's more than that. And he wouldn't lose a minute of sleep if the likes of Fox News suddenly got deplatformed, muzzled, and ultimately shut down.
After all, as Murphy pointed out, what's more important than "the survival of our democracy"?