Drag queens reading to toddlers at public libraries has been making headlines for a while, as such story times have been widely praised in New York City, Boston, and Southern California.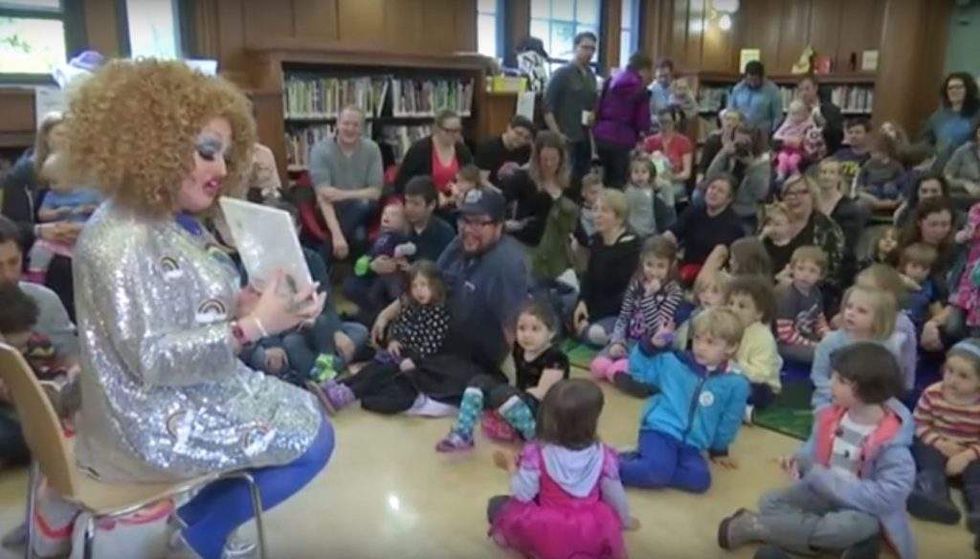 Image source: YouTube screenshot
But now a Drag Queen Story Time is coming to Lafayette, Louisiana — which has been called among the most Republican cities in the state.
The Lafayette Public Library will host the Drag Queen event Oct. 6 for kids aged 3 to 6 years old, KATC-TV reported, and members of the University of Louisiana Lafayette's Delta Lambda Phi fraternity — which caters to gay, bisexual, and progressive men — will dress up and read.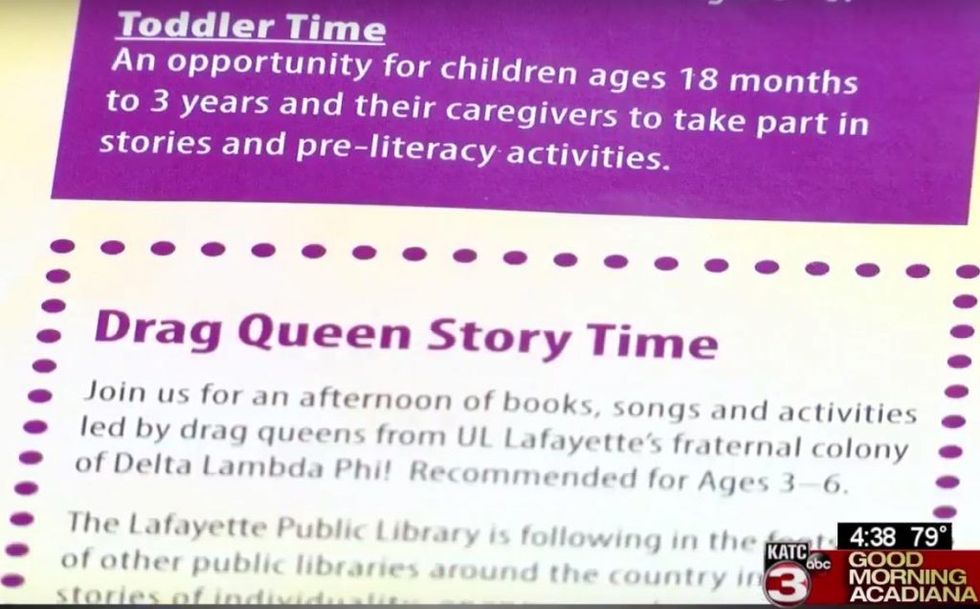 Image source: YouTube screenshot
"It's to educate people, to make them understand that we are just regular people like everyone else," fraternity vice president Brad Parfait told the station, adding that he'll be participating in the program.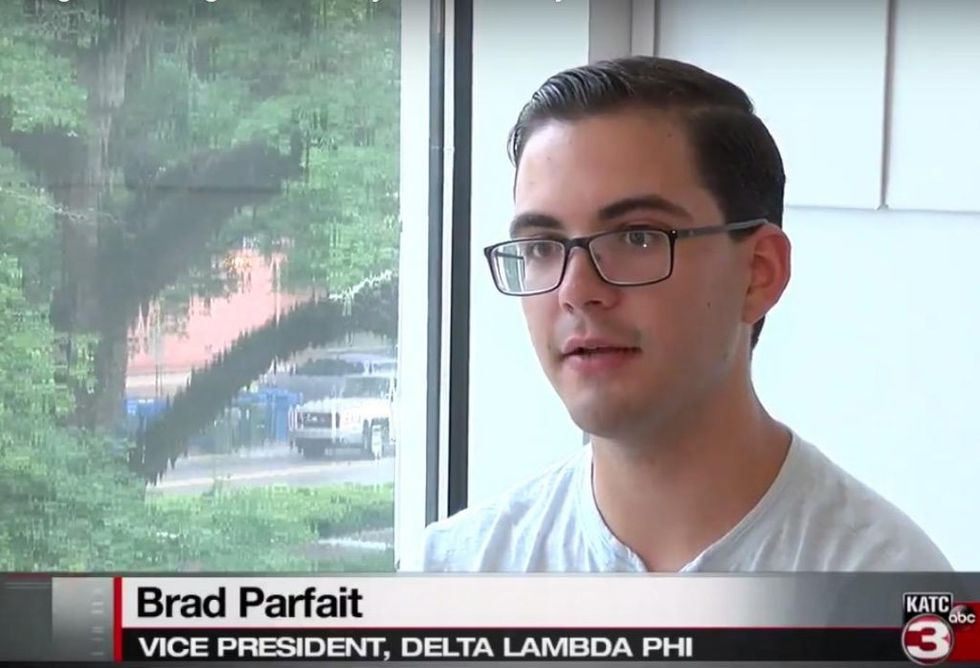 Image source: YouTube screenshot
What's the background?
Library Director Teresa Elberson told KPEL-AM that Delta Lambda Phi volunteered and worked with children's librarians to pick a day to read for the event, although the reading material has yet to be chosen.
"You know we had a lot of questions and a lot of misconceptions about what they were thinking about doing," Elberson told KATC, adding the program's goal is to talk to young children about family issues, accepting people's differences, and preventing bullying over differences.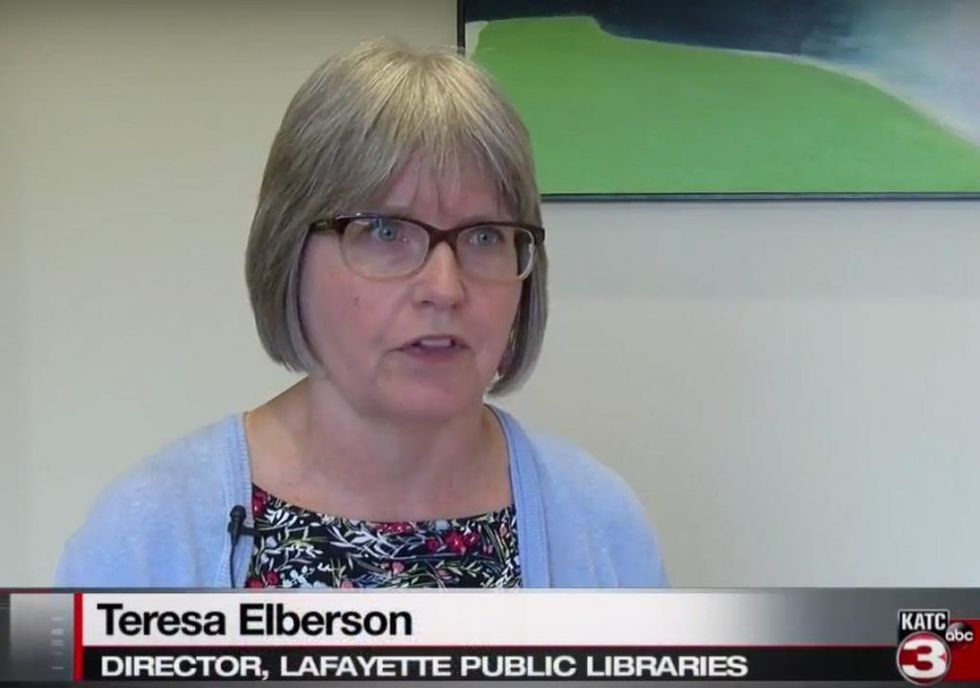 Image source: YouTube screenshot
"We know that the suicide rates for teens is really up when it comes to non-conforming teens, and we just really thought that it was appropriate for us to have this program in an opening, welcoming environment," she added to KATC.
Not everybody is happy about the Drag Queen Story Time
While the reaction to Drag Queen story hours seemed positive in such liberal bastions as New York City, Boston, and Long Beach — where Democrats outnumber Republicans 2-to-1 — the same couldn't be said for conservative Lafayette.
"We were horrified to learn that our public library is planning promote deviant lifestyles in the name of tolerance," one email to Elberson read, the station said, adding that social media comments have characterized the Drag Queen Story Time as "sick," "poisonous," and "disgusting."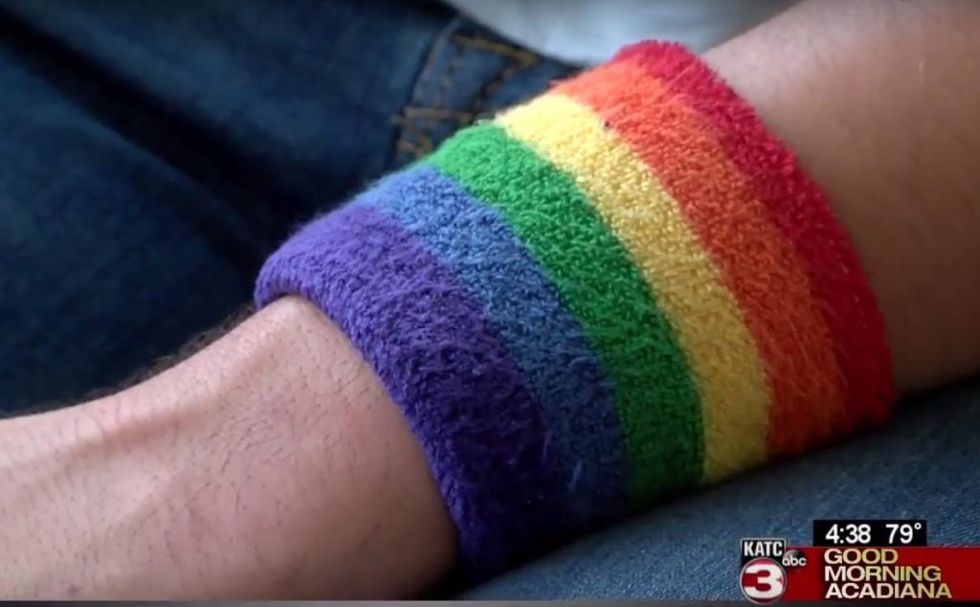 Image source: YouTube screenshot
The librarian sees things differently
Elberson's voice began breaking on camera as she read a positive response: "We need programming like this to show our children how differences are beautiful, insightful, and most importantly, completely normal," KATC reported.
And for the librarian, the issue also is personal.
"My own family has had to go through this in the past two years," Elberson told the station. "I've had to change my own way of thinking, I've had to be more open minded because my family depends on it. We don't have to understand them, but we do have to accept them."
Parfait says people in Lafayette have been open to the Drag Queen event
Parfait on Tuesday told TheBlaze that "a lot of people" in the Lafayette community have shown support for the Drag Queen Story Time and said it's a "beautiful thing we're doing."
The sophomore added to TheBlaze that he and his frat brothers haven't seen "much backlash" and that the event is "right for our community."
(H/T: Red State)