Headline-grabbing White House reporter April Ryan — who called herself "one of the deans of the press corps" and whose clashes with White House press secretary Sarah Huckabee Sanders are well-known — told The Hollywood Reporter she has a bodyguard.
And that Sanders should foot the bill.
"Do I have a bodyguard? Yes, I do. Am I paying for it? Yes, I am," Ryan told the magazine. "And I think [Sanders] should have to pay for it, especially if she's stirring it up with her boss."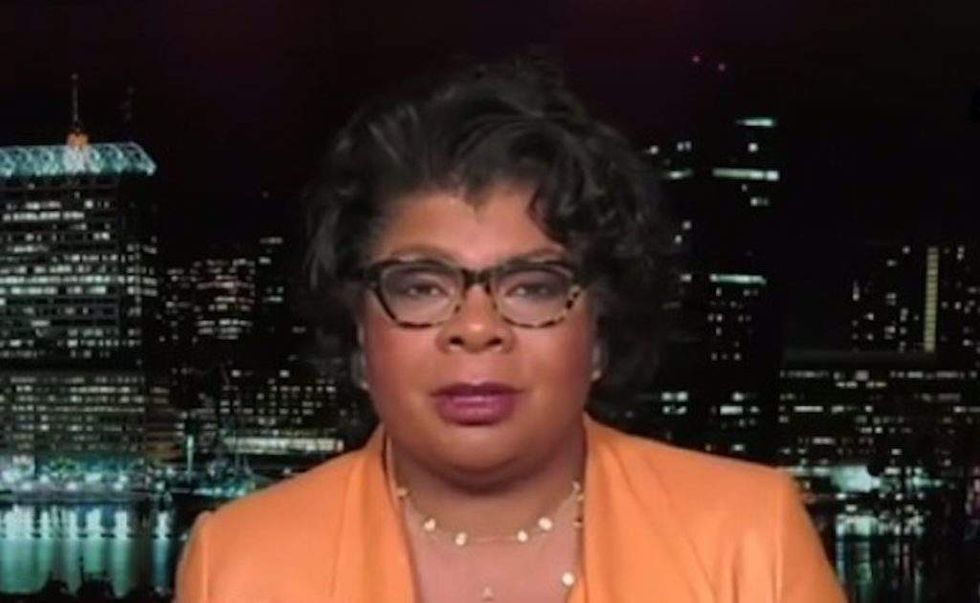 April Ryan (Image source: Truth Revolt video screenshot)
Come again?
By "it" and "her boss," Ryan is referring to President Donald Trump's consistent slamming of the media — notably calling CNN, the network that employs her as a contributor, "fake news."
"Oh, I get approached a lot, when I'm walking from my car, when I'm walking to my car, when I eat. Anywhere I go," she told The Hollywood Reporter. "I mean, they have put a target on my head, and I don't know who's who sometimes."
When the magazine asked if Ryan is concerned that people approaching her might be intending harm, she replied that she's "had some people wait for me outside the White House. ... There is a concern now. I mean, I've had death threats, I've had craziness, so I have a real concern. An honest, real concern."
As for Sanders, Ryan told The Hollywood Reporter she "should be ashamed of herself for going out there, saying some of the things that she's said. She tries to insult my intelligence. And not just my intelligence, the world's intelligence...They always have to go back and press-splain, man-splain the president after he says something. Say what you mean, mean what you say. Words mean something, especially when you get to that level."
More from Ryan, who — not coincidentally — has a book coming out Sept. 1:
What's happening is unprecedented. I am a member of the press corps, one of the deans of the press corps now ... and I've been under attack. And lied on. Treated terribly. And if I don't tell the story, you won't get it. So, I'm putting it out there because people see one side of it. I'm giving you the whole thing. ... The way they've treated me for asking questions that are fair and logical. They're still very angry at me for asking the question, "Mr. President, are you a racist?" And that's why I'm on a list. ... Since when is asking a question of a president making you a criminal? Or making you an "enemy of the people"?
When The Hollywood Reporter asked Ryan to be more specific about the "list," she said it's "the blacklist."
'The White House blacklist'?
"The White House blacklist...Me, [CNN chief White House correspondent] Jim Acosta. We're on the blacklist. [CNN White House correspondent] Kaitlan Collins," Ryan told the magazine. "People they don't like."
And she added that as for what responsibility Trump bears, "it's about the president. The buck stops with the president — if he allows it, or if he sanctions it, or if he calls for it. It all stops and starts with him. And he hasn't stopped it. He's perpetuating it when he goes to the rallies."
(H/T: BizPac Review)