The number of diagnosed sexually transmitted diseases hit an all-time high in 2017. That year saw nearly 2.3 million cases of chlamydia, gonorrhea, and syphilis, according to a new report from the Centers for Disease Control and Prevention.
It's an alarming national trend that's been rising over the past five years. Some experts believe it may be caused by less-frequent condom use, better diagnostics, and even dating apps.
"We are sliding backward," said Dr. Jonathan Mermin, director of CDC's National Center for HIV/AIDS, Viral Hepatitis, STD, and TB Prevention. "It is evident the systems that identify, treat, and ultimately prevent STDs are strained to near-breaking point."
The number of STD cases surpassed the 2016 record by more than 200,000 and marked the fourth year in a row for increased cases, according to the CDC. About a decade ago, STDs were at all-time lows.
"We have seen steep and sustained increases over the last five years," said Dr. Gail Bolan, director of the Division of STD Prevention at the CDC. "Usually there are ebbs and flows, but this sustained increase is very concerning. We haven't seen anything like this for two decades."
How do dating apps contribute to STDs?
Dating apps such as Tinder and Grinder have made it easier for people to find sex partners and engage in high-risk behaviors including sex without condoms.
Building Healthy Online Communities, a public health group that works with apps to support STD prevention, believes dating apps have become "digital bathhouses" and could be increasing the rate of disease.
"We used to think about what we can do with bathhouses and sex clubs to make sure people's risk was reduced," BHOC director Dan Wohlfeiler said in a Vox report last fall.
But many of popular dating apps have been hesitant to support sexual health, according to Jeffrey Klausner, a University of California, Los Angeles STD researcher.
"They realize that their sites could be stigmatized for being associated with STDs. They do as little as possible," Klausner told Vox.
What are the numbers?
The most common condition reported to the CDC was chlamydia, with more than 1.7 cases diagnosed last year. Females between the ages of 15 and 24 made up 45 percent of the cases.
Syphilis diagnoses have spiked by 76 percent since 2013, from 17,375 to 30,644 cases, respectively. Nearly 70 percent of syphilis cases were in gay, bisexual, or other men who have sex with men, the report said.
Diagnoses of gonorrhea rose by 67 percent overall from 333,004 in 2013 to 555,608 cases, according to preliminary data for 2017. The disease nearly doubled among men, and among women, cases increased for the third year in a row.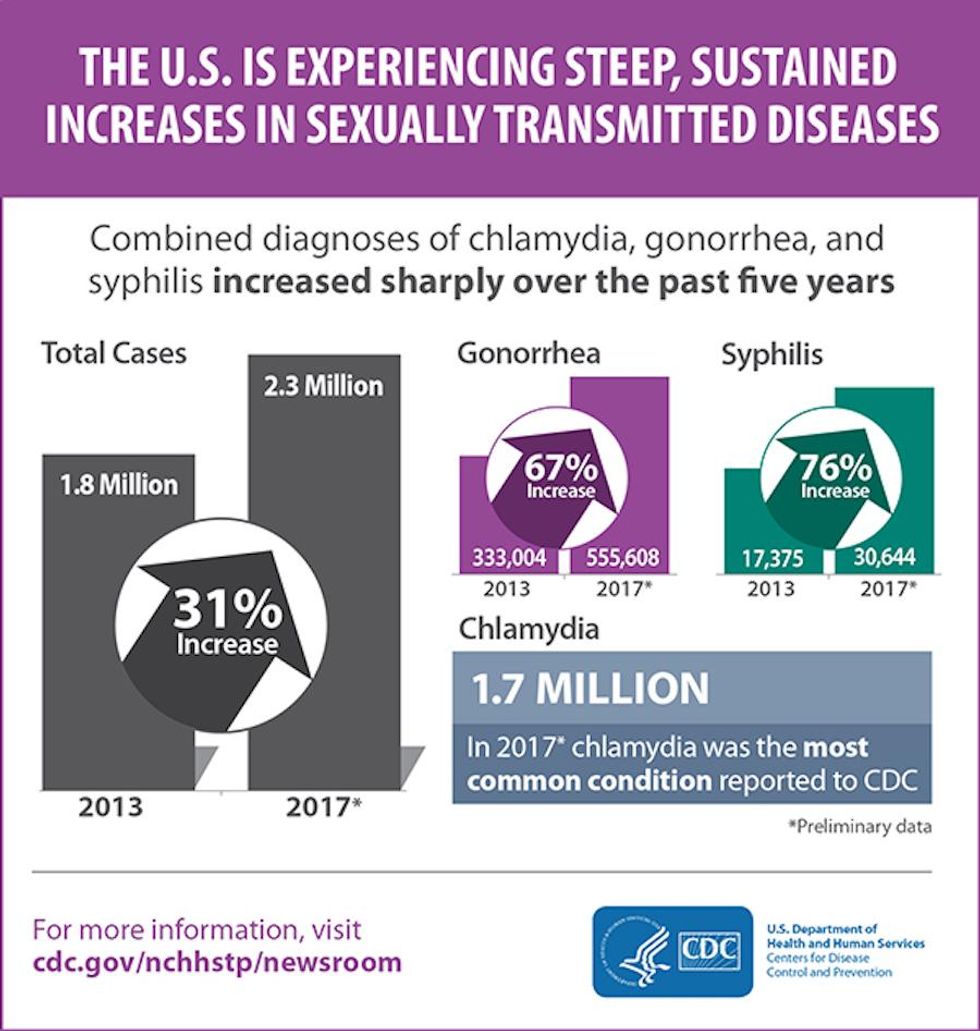 (Graphic: Centers for Disease Control)
Are STDs curable?
When diagnosed, chlamydia, gonorrhea, and syphilis are curable with antibiotics.
"[M]ost cases go undiagnosed and untreated — which can lead to severe adverse health effects that include infertility, ectopic pregnancy, stillbirth in infants, and increased HIV risk," according to the CDC.
What else?
In recent years, gonorrhea has become resistant to nearly every class of antibiotics, except ceftriaxone.
"We expect gonorrhea will eventually wear down our last highly effective antibiotic, and additional treatment options are urgently needed," Bolan said. "We can't let our defenses down — we must continue reinforcing efforts to rapidly detect and prevent resistance as long as possible."