Rep. Beto O'Rourke (D-Texas) has long admitted his past brushes with the law, but now it appears he may have failed to provide some important details about one of his arrests.
In 1995, O'Rourke, who is challenging GOP Sen. Ted Cruz for his Texas Senate seat, was arrested for forcible entry after he jumped a fence at the University of Texas at El Paso, he wrote in an op-ed for the Houston Chronicle earlier this week.
Three years later and just after his 26th birthday, O'Rourke admitted he was arrested for drunk driving, calling it a "far more serious mistake for which there is no excuse."
But that's as far as O'Rourke went into the details surrounding his "serious mistake."
The Chronicle recently obtained a copy of the arrest report from the Texas Department of Public Safety that showed the then-26-year-old O'Rourke had caused an accident and attempted to flee from the scene.
What are the details?
At about 3 a.m., Sept. 27, 1998, a witness told police, according to the arrest report, that he saw a green Volvo driving at a "high rate of speed" in a 75-mph zone along Interstate 10 in Anthony, Texas. Anthony is a suburb of El Paso near the New Mexico border.
The witness told the officer that the Volvo, driven by O'Rourke, had passed him just before it "lost control and struck a truck traveling the same direction." After hitting the truck, the Volvo careened across the center median before it came to a halt facing oncoming traffic.
O'Rourke then reportedly tried to leave the scene but he was stopped by the witness who turned on his overhead lights to try to stop him and warn the oncoming traffic, the report said.
The officer reported that O'Rourke had "glossy eyes and breath smelled of alcohol beverage."
"I then asked the defendant to step out of the vehicle, upon doing so the defendant almost fell to the floor," the officer wrote in his report.
He observed O'Rourke having "extreme difficulty maintaining his balance."
O'Rourke failed a field sobriety test and a breathalizer, the report said. His blood alcohol level was recorded at 0.136 and 0.134. The legal limit at the time was 0.10.
He was arrested, charged with DWI and released after he posted bail.
The charges were later dismissed after he completed a court-approved diversion program, according to the Chronicle.  There were no injuries, according to the police report.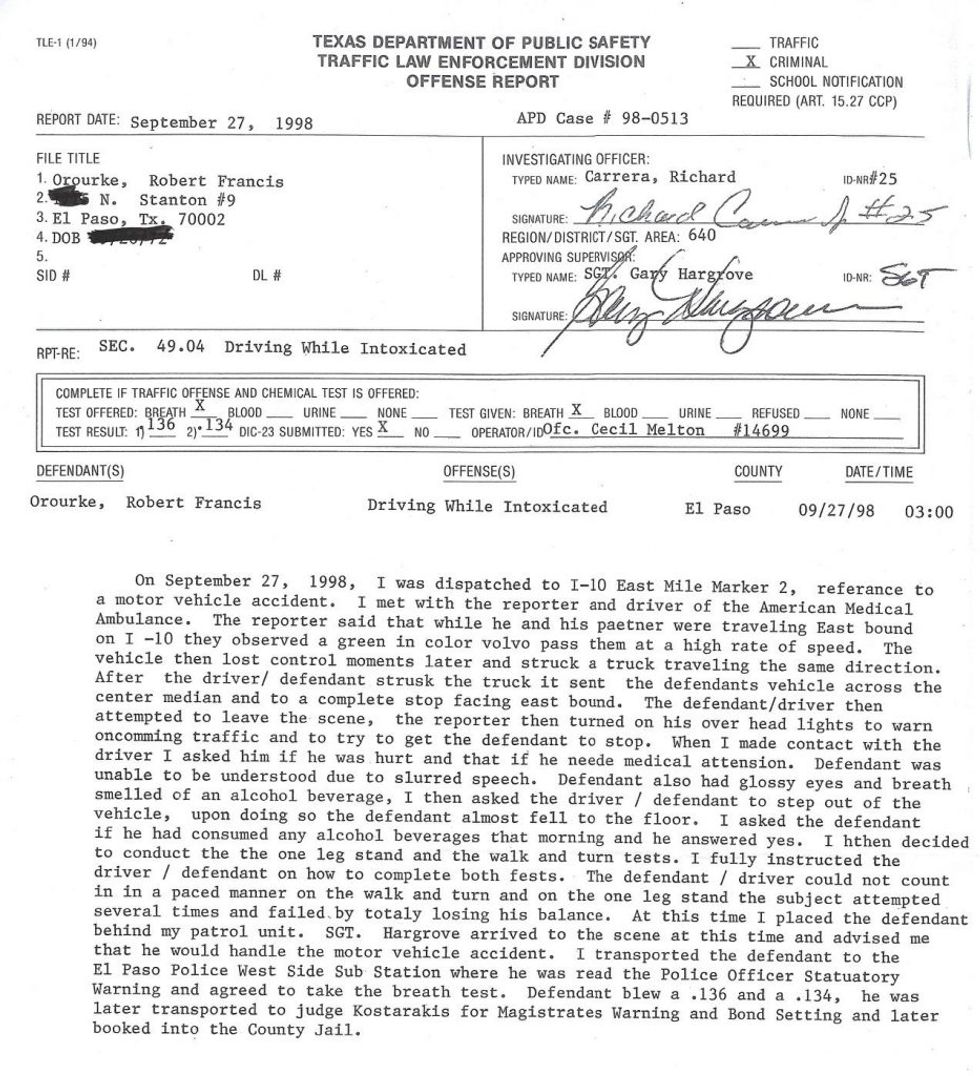 (Image source: Texas Department of Public Safety)
What did O'Rourke say?
"I drove drunk and was arrested for a DWI in 1998," O'Rourke told the Chronicle. "As I've publicly discussed over the last 20 years, I made a serious mistake for which there is no excuse."
He did not address his alleged attempt to leave the scene, according to the Chronicle.
Since being in political office, the congressman has called his arrests youthful indiscretions.
"Those mistakes did not ultimately define me or stop me from what I wanted to do in my life or how I wanted to contribute to the success of my family and my community," he said in the Chronicle op-ed Monday.
What did Cruz's campaign say about the incident?
On Friday in an email to TheBlaze, Cruz spokeswoman Emily Miller declined to comment on the subject.
What else?
In O'Rourke's op-ed, he wrote about his recent tour of the Harris County Jail and how he believes the criminal justice system should be reformed.
He wrote that he wants to eliminate private prison systems, stop the "failed war on drugs," "stop using mandatory minimum sentencing for non-violent drug offenses," and end the use of "bail bonds that punish people for being poor.'
Finally, he said he wants to "help cut down on recidivism for non-violent crimes."
"That starts with strong rehabilitation services, counseling and access to preventative health care," O'Rourke wrote. "It continues by banning the box on job applications so those formerly incarcerated can work and pay taxes, returning drivers licenses so they can get to that place of employment, allowing them to apply for loans that can unlock skills trainings, and ensuring their constitutional right to participate in civic life by voting is protected."