Children's author Anastasia Higginbotham has a new project out: "Not My Idea: A Book About Whiteness."
And since former NFL quarterback Colin Kaepernick is pictured in her new book, Higginbotham told the Jamestown Sun she created a cardboard cutout of the controversial national anthem kneeler in preparation for her readings.
"Colin Kaepernick kneels for justice; he kneels for an end to police brutality; he kneels for equity in education and economic justice," she told the paper. "So I'm going to kneel next to him as I read."
US Children's author Anastasia Higginbotham making children's books count. We need so much more of this. #kidlit… https://t.co/xfau2J8MHg

— Little Box of Books (@Little Box of Books) 1537344038.0
"Not My Idea: A Book About Whiteness" is the first title from Dottir Press, which the Sun said was founded "in feminism" by Jennifer Baumgardner, who had worked with Higginbotham on previous books.
I'll be having a conversation about NOT MY IDEA: A BOOK ABOUT WHITENESS with Anastasia Higginbotham at… https://t.co/xlmwW00irx

— Julie Danielson (@Julie Danielson) 1534531423.0
But, the paper said, by 2014 they knew Higginbotham should address racism, given the rise of Black Lives Matter following the riots in Ferguson, Missouri, and other police-involved shootings of black males.
'A painful history'
"I'm not afraid to look at a painful history, a history in which people who look like me did things they never should have done. I want to look at that history," the author, who also illustrated the book, told the Sun. "It's my fight and my liberation that is tied up in black liberation."
Higginbotham added to the paper that while she was raised to see racism as evil and felt sorry for those who suffered from it, she now sees that views that philosophy as a bit "patronizing" and stemming from "Whiteness" — the notion that "whites are in some way superior."
"As a white child myself, seeing myself as separate from issues of race, seeing racism as a problem happening to someone else, someone else's fight and seeing myself helpless to do anything about that, that has served the status quo," she told the Sun. "There's a lot of this clouding our thinking that tells us we can't do anything about it."
Higginbotham added to the paper in regard to her family: "Every chance we look for an opportunity to let them know that white superiority is a lie, that white innocence is a lie. Question everything you're being told about your goodness and your value as a white person."
Children's reaction?
Dana Bisignani, Women's Center Coordinator at Minnesota State University Moorhead — where the author was scheduled to read last week — told the Sun that children are primed to digest such hard topics.
"It's a really difficult thing to talk about, even for those if us who are adults. It can feel like a loaded topic or like we're walking through a field of landmines," Bisignani added to the paper. "But I think sometimes children are more open to having those discussions than even adults are. They're curious and eager. But parents want to protect them from the difficult, troubling or violent things in the world."
In a video about "Not My Idea: A Book About Whiteness," a child is seen reading aloud a line from its pages: "Racism is a white person problem."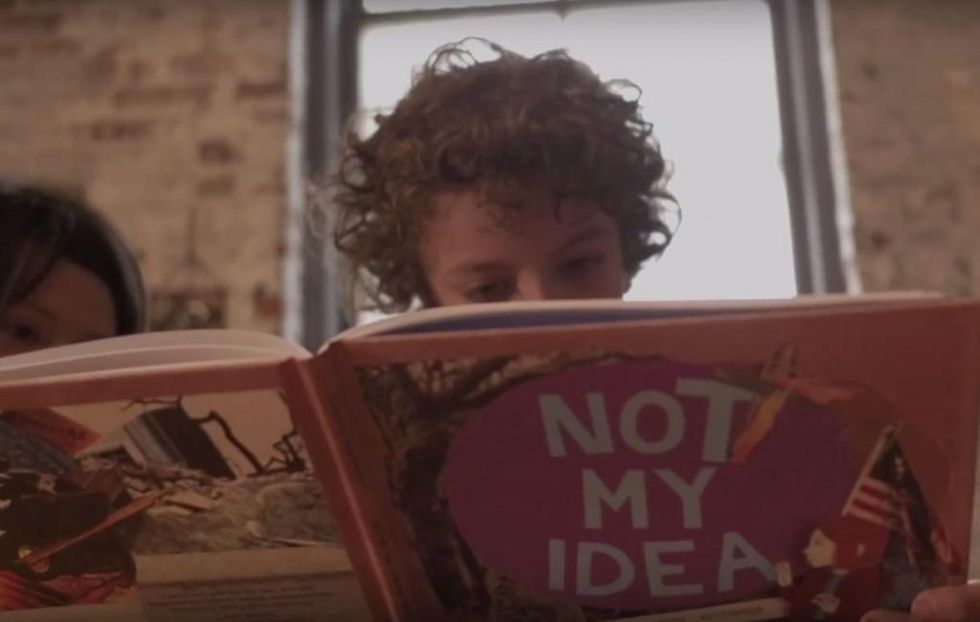 Image source: YouTube screenshot
The Kaepernick question
Higginbotham told the Sun she realizes that so closely associating Kaepernick with her book will repel those who might otherwise enjoy it.
"There was no way to do this book well or do it justice by going soft," she added to the paper. "There's no way to talk about white supremacy without people getting upset, including people of color, black and indigenous people. The issue is so charged and there's so much pain and so much injury that's been unacknowledged that people deny that the only way to do it is to step directly into it."

(H/T: The College Fix)