The words "gay pastor" were spray-painted earlier this week on the sign outside Allendale United Methodist Church — a social justice-oriented, pro-LGBT congregation in St. Petersburg, Florida.
The slur was spray-painted sometime between Sunday night and Monday morning over the church's message in support of Amendment 4, which would restore felons' voting rights in the state, WTVT-TV reported.
How did the church respond?
But rather than getting rid of the graffiti, the church decided to leave it up — and then added the message "love always wins."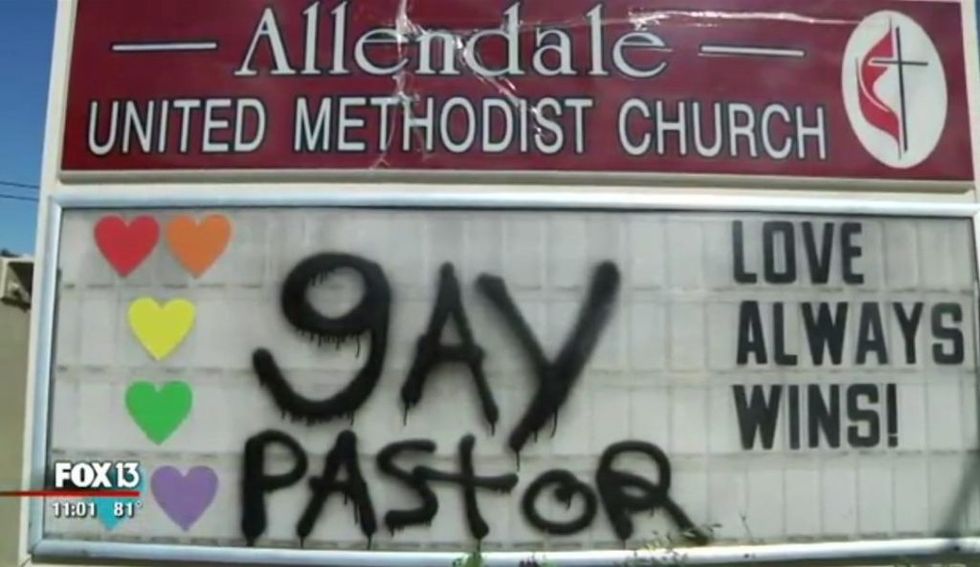 Image source: WTVT-TV video screenshot
"We will leave the spray paint up, surrounded by signs of love, to make visible the often invisible harm that the LGBTQ community receives every day," the church's Facebook post noted.
The pastor told WTVT the decision to leave up the graffiti and add "love always wins" was a chance to show the community that Allendale UMC welcomes everybody.
"You know, we believe that love does win," Rev. Andy Oliver told the station.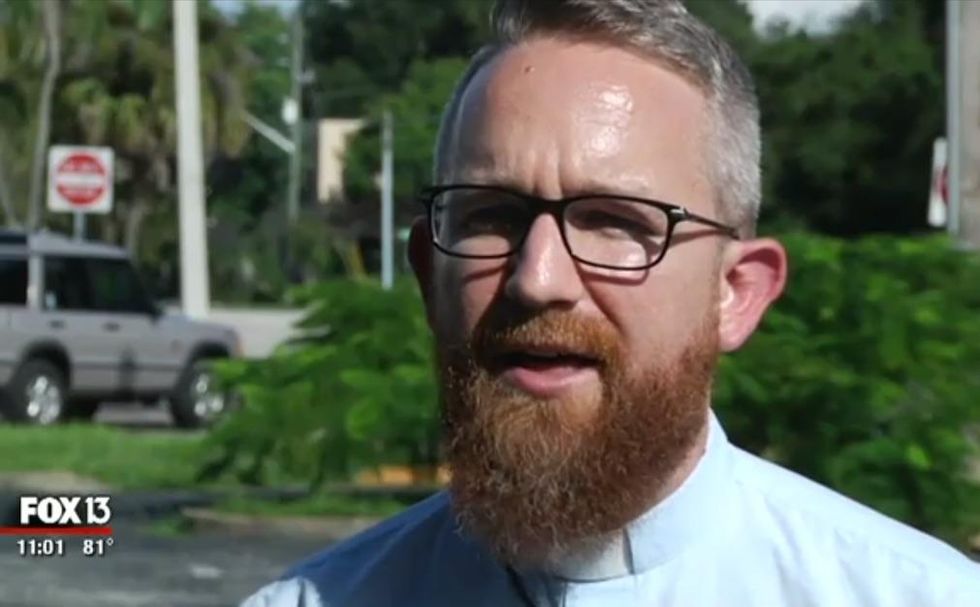 Rev. Andy Oliver (Image source: WTVT-TV video screenshot)
The church calls itself "a social justice, anti-racist, LGBTQ affirming congregation of believers, doubters, and everyone inbetween [sic]," and WTVT said it's known to stridently express its stances on a variety of issues.
Allendale UMC used the other side of the defaced sign to call attention to this fall's ballot issue regarding Amendment 4.
What message did the church send to the sign vandal?
"We are taking this opportunity to tell the vandalizer that, should they be arrested, we will fight for the restoration of their rights through the passage of Amendment 4," the congregation noted on Facebook.
The church also thanked community members who raised funds, said it has cameras to install, and noted a new sign already is on order from July when someone threw a brick at it. The last incident occurred when the sign had a quote from U.S. Rep. and civil rights icon John Lewis, the Tampa Bay Times reported.
Police on Thursday told TheBlaze there is no update on its investigation of the incident.