Legendary journalist Ted Koppel put CNN's Brian Stelter on the spot during a Monday panel discussion on "The Kalb Report," charging that Stelter's network would be nowhere without its favorite subject: President Donald Trump.
Trump "has been wonderful for the [media] industry," Koppel said, adding that former CBS Chairman Les Moonves as well as the head of CNN both admitted that Trump coverage has resulted in a ratings boon.
With that, Stelter got just a wee bit defensive.
"That means what?" Stelter asked Koppel. "If ratings are up, that means what?"
Koppel didn't shy away from the inquiry.
"The ratings are up, it means you can't do without Donald Trump," Koppel answered. "You would be lost without Donald Trump."
'Ted, you know that's not true'
Stelter challenged Koppel: "Ted, you know that's not true."
But Koppel wasn't done.
"CNN's ratings would be in the toilet without Donald Trump," the former "Nightline" anchor said as the room filled with chuckles.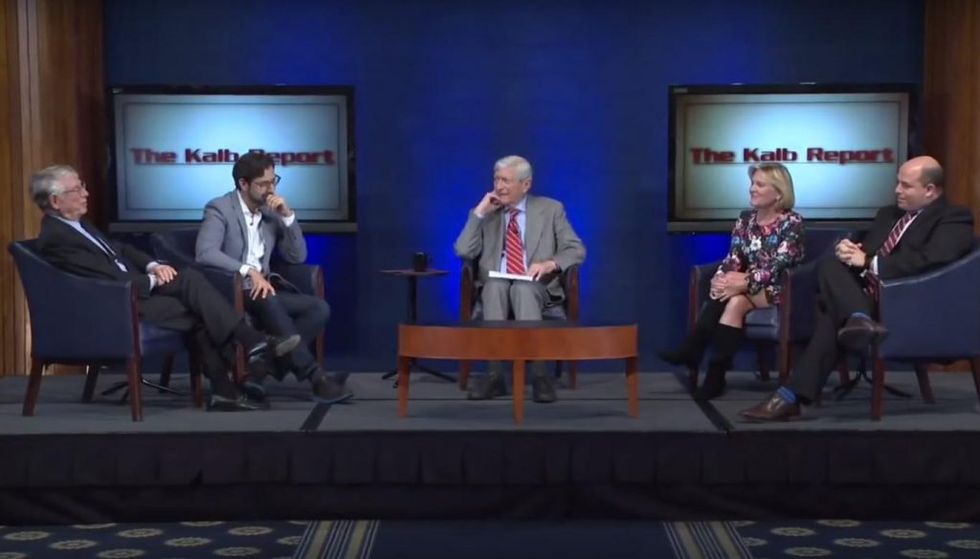 Image source: YouTube screenshot
But Stelter kept on battling.
"You know that's not true, you're playing for laughs," the CNN host pushed back. "You've lived through enough presidencies to know. There will be more presidents."
Koppel then shifted to specifics, asking Stelter what he likely already knew: "Hold on a second, Brian. What were the ratings before Trump, and what are the ratings now?"
Stelter said CNN's ratings have been up between 20 and 40 percent since the Trump era commenced — and then offered a curious prediction.
"If we go back down 40 percent, that's OK, too," he said.
The sound of silence
A noticeable quiet gripped the room for a few moments — and one wonders how CNN President Jeff Zucker would've reacted to that observation — until moderator Marvin Kalb broke in: "Well, it may not be OK."
The audience was laughing again — but not Stelter.
"Of course it is!" Stelter continued, undeterred. "I reject the premise that these networks are making so much money off of Trump and thus we benefit from it."
At that point, Koppel eased up, noting it must be a "sensitive subject" for Stelter, and turned to other topics.
Check out the clip:
Video: To consternation of @BrianStelter, Ted Koppel contended during 10/1 Kalb Report @PressClubDC: "You would be… https://t.co/9mee3cfMP1

— Brent Baker (@Brent Baker) 1538527678.0
&ref_url=https%3A%2F%2Fwww.mediaite.com%2Fonline%2Fted-koppel-battles-cnns-brian-stelter-your-networks-ratings-would-be-in-the-toilet-without-trump%2F
(H/T: Louder With Crowder; Mediaite)