Chelsea Clinton in a "CBS This Morning" interview criticized Supreme Court nominee Brett Kavanaugh as "nakedly partisan," but neither she nor the co-hosts mentioned sexual assault allegations against him, which have been the impetus for the delay in Kavanaugh's confirmation.
"We saw the president of the United States Donald Trump last night mock Dr. Christine Blasey Ford's testimony in a campaign style rally," Norah O'Donnell began Wednesday's interview — without noting Ford's testimony focused on sexual assault allegations against Kavanaugh. "What did you make of that?"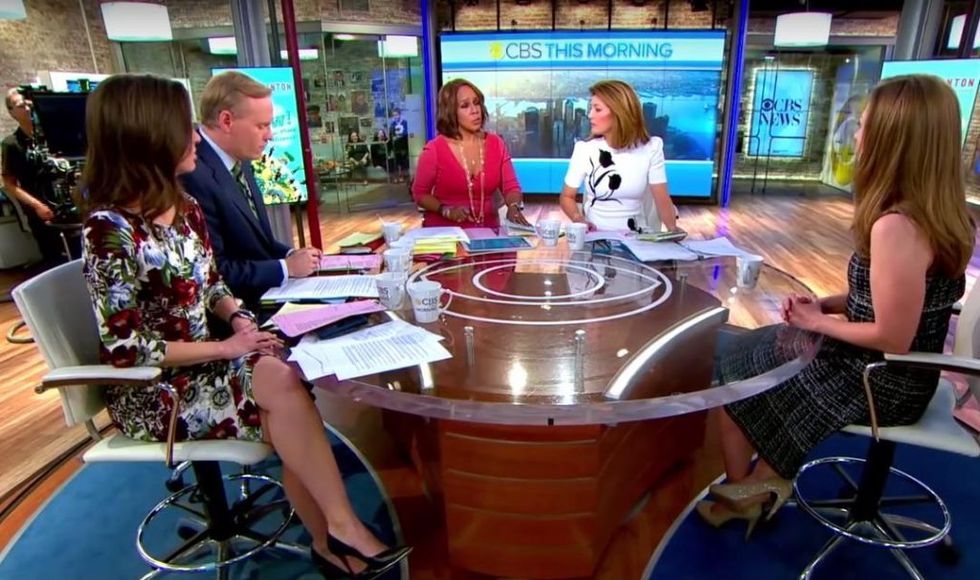 Image source: YouTube screenshot
"I don't think the president should be mocking anyone," Clinton replied, noting Trump's words weren't "becoming" of a president. "I don't think he should be mocking Dr. Ford. I don't think he should be mocking a Gold Star family. I don't think he should be mocking a disabled reporter."
Co-host Gayle King did bring up Clinton's mother and father in relation to Kavanaugh's testimony, in which the nominee pointed a finger at Democrats for "a calculated and orchestrated political hit" against him fueled in part by "revenge on behalf of the Clintons," CBS News reported.
"Did you call your mom or your dad and say, 'Can you believe he just mentioned our name?' You all must have had a discussion about it," King said to Clinton. "What was that like?"
Clinton seemed surprised by that portion of Kavanaugh's statement: "Oh, my gosh, we loom so much larger in your mind than you loom, at least in mine," she recalled reacting during the interview. "Like, I don't think I'd heard his name until he was nominated weeks ago."
'Nakedly partisan'
She added: "But to me what was so troubling was how nakedly partisan he was. And I think the principle of a judicial review being absent of partisanship is still really important. So if he had gone after President Bush or President Reagan's family, I'd feel the same way. Like, I just don't think that that is healthy as a dynamic on the Supreme Court or, really candidly, any court."
Again, no mention of sexual assault allegations — not even as a troubling element of the Kavanaugh controversy for Clinton, apparently.
What is troubling to Clinton with regard to Kavanaugh?
Clinton told "CBS This Morning" that her "opposition" to Kavanaugh's confirmation "is rooted in policy," such as workers' rights, women's rights, and the environment. "But I now am even more kind of intense in my feelings because of how political he's become."
So Kavanaugh's "political" stance is looming large in Clinton's mind — but what accusations of sexual assault? Will we ever know?
Ford's 'plight'
Also part of a question to Clinton was Ford's "plight" after she reached out to a local politician and "said that it was her civic duty, wanted to be anonymous, didn't want to come public the way she has now, and then we see the result. What is your response to those who say, 'You know what, I was going to do that, but I don't need to go through that.'"
Here's how CBS News described Clinton's response: "She said she hopes the discourse surrounding Ford and Kavanaugh's showdown doesn't have 'a chilling effect' on women coming forward."
Coming forward about what?
The latter exchange in the interview didn't mention what Ford's "plight" revolved around, what her "civic duty" was aimed at, why she wanted to remain anonymous and not "come public" — in short, no mention of Ford's sexual assault allegations.
The interview went on to other subjects, including a letter she wrote to President Ronald Reagan when she was 5 protesting his visit to a German military cemetery with buried SS troops, the network said.
Here's the full interview:

This writer's perspective
Could it be that neither "CBS This Morning" nor Clinton mentioned the sexual assault allegations against Kavanaugh during the interview because Bill Clinton was accused of the same thing? Uncomfortable subject, maybe? Asking for a friend.