You may have encountered the term "womxn" popping up on the internet.
According to the Telegraph, a couple of British companies used the term in ad campaigns instead of "women" over concerns that "women" isn't inclusive toward transgenders.
The reaction to "womxn"? Not too gxxd.
'Presence of womxn through their art, thinking and speculations'
For starters, the Wellcome Collection in London used "womxn" to describe women and non-gender-conforming people in an ad for a new exhibition "daylighting," described as a piece of artwork that "explores the presence of womxn through their art, thinking and speculations," the Telegraph said.
Here's a related tweet: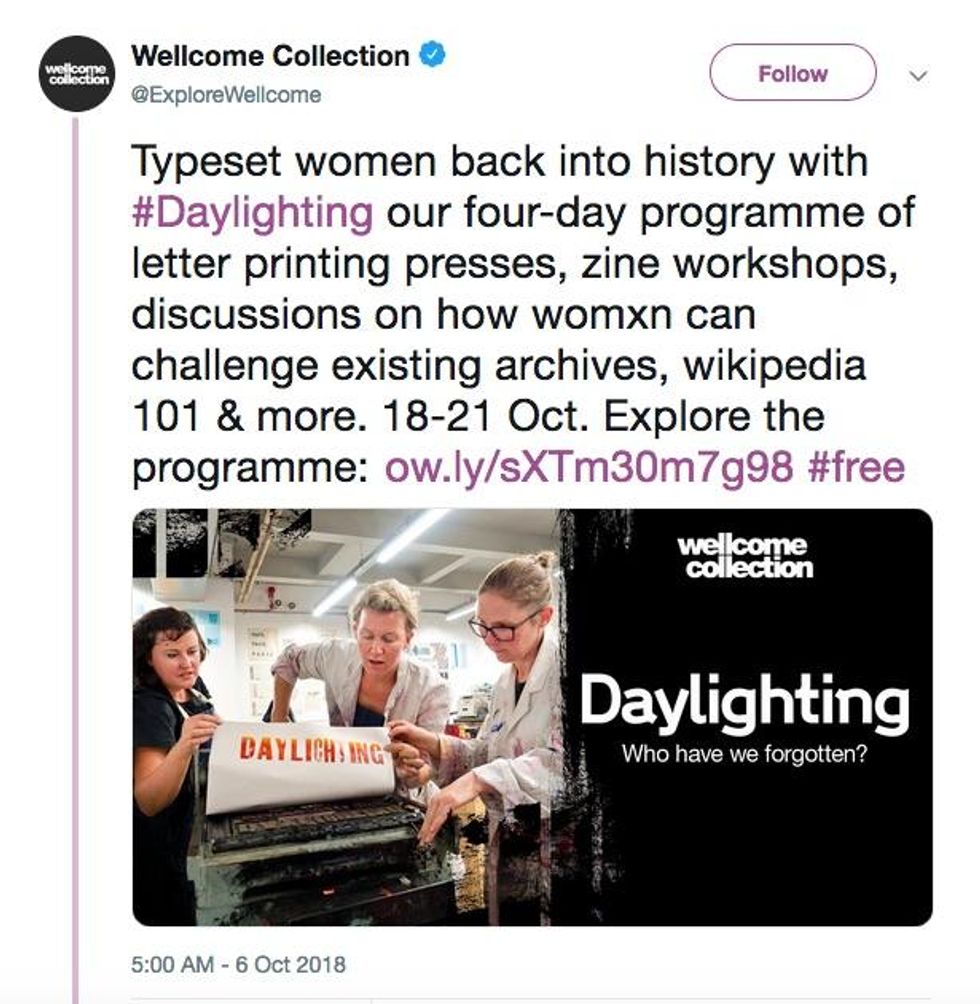 Image source: Twitter
Jess Phillips, a member of Parliament for Birmingham Yardley, had this reaction, the outlet noted: "I've never met a trans woman who was offended by the word woman being used, so I'm not sure why this keeps happening. As if internet dissent now replaces public policy. I get what they are trying to do but why is it only women not men where this applies."
The Telegraph said feminist Carolie Criado Perez agreed: "What the hell? You can't just make up words. Who are these 'collaborators' that told you it was OK to wholesale change the word for 50% of the human race? 'Aside: I'm really fed up of women being just a big grab bag of anyone who isn't a proper default human, aka a man. Read some bloody de Beauvoir & pull your head out of your a**.'"
The museum apologized Wednesday.
"We should have put more thought into whether this was the right term to use when communicating about the event. We made a mistake, and we should not have used it," the Wellcome Collection said, the outlet reported. "We're sorry that we made the wrong call. We invite challenges to our thinking and we listen to our audience, so we're removing the word from the website and from our communications about the event."
'The first womxn-only art auction; for womxn, by womxn'
Not to be outdone, clothing shop H&M got an earful after an event it's sponsoring used "womxn," the outlet noted.
Her Stories' ad said it's supporting "charities dedicated to womxn seeking asylum and refuge in the U.K. Spelling women differently to emphasize inclusivity, the organization has launched the first womxn-only art auction; for womxn, by womxn."
Again, "womxn" wasn't a big wxnner.
"Have you seen this and do you support the use of #womxn?" one customer tweeted, the Telegraph said. "If so, you have lost me as a customer. I am outraged as an actual #woman."
The outlet noted another individual reacted by saying, "I don't know who this is meant to please! Women of color are still women, FFS. And non-binary people are rejecting the woman label, so why would they want something as similar as 'womxn' to include them??"
Her Stories also was apologetic.
"For this year's edition, we chose to use the term 'womxn' in some of our communications around the art auction to reflect our emphasis on inclusivity," the outfit wrote, the Telegraph reported. "As the use of the term has recently created a distraction from the purpose in our work of raising money for these fantastic charities, we are revising our communications to use the term 'women,' with confidence that we remain inclusive and focused on our purpose..."
The outlet added that an H&M spokesperson said the company "does not use the term 'womxn' in any of our communications. We are pleased to support Her Stories and the three charity partners that they are working with this year."