U.S. Rep. Kyrsten Sinema (D-Ariz.), the Democratic candidate for U.S. Senate in Arizona, once called her own state the "meth lab of democracy."
Back in 2010, Sinema told activists at the left-wing Netroots Nation conference,"As we see in this very quote that the states are the laboratories of democracy, and then my state, Arizona, is clearly the meth lab of democracy."
"I cannot take credit for that line," she continued, "someone at 'The Daily Show' wrote it, but I'm happy to steal it and use it all the time."
The video was dug up and tweeted by the National Republican Senatorial Committee.
New leaked footage further adds to @KyrstenSinema's distaste for Arizona, calling it "the meth lab of Democracy."… https://t.co/mfTSp6ILP5

— The Senate Majority (@The Senate Majority)1539351759.0
Sinema is running against Rep. Martha McSally (R-Ariz.) for the U.S. Senate seat being vacated by Republican Sen. Jeff Flake, who is retiring. The tight race is considered a key one for Democrats in their hopes to flip the Senate.
Why are the videos coming out?
Allies of McSally found videos of a series of comments made by Sinema and began circulating them on social media.
Sinema, who was once a Green Party activist, has worked to revamp her image into a centrist Democrat who wants to work with both parties.
For example, in an interview with KNXV-TV in August, Sinema said she wants to listen to her constituents and is willing to change or adjust her opinion based on what she hears. "I think that's a sign of a mature human," she said.
Sinema told KNXV, "During my six years in Congress, I've been nonpartisan — really just solving people's problems in a very practical level."
In the following video, posted on Twitter by The Senate Majority, Sinema said socialists, communists and anarchists were welcome at her protest in Arizona.
LISTEN: @KyrstenSinema wanted socialists, communists, and even anarchists to show up to her protest in Phoenix.… https://t.co/edafDSQUya

— The Senate Majority (@The Senate Majority)1539185732.0
However, other past comments by Sinema belie any sort of nonpartisanship.  "Over the past several years, people have watched what is happening in Arizona and were like, damn, these people are crazy," Sinema said at a 2011 LGBT gathering. The Reagan Battalion posted the video Thursday.
"There's nothing wrong with the water," she said. "There's something wrong with the people in public office in Arizona."
Sinema also joked in the video that a song she once heard spoke of Arizona and its five Cs: cattle, copper, citrus, cotton and climate. Then she suggested adding a sixth C: "Crazy."
She also said the Tea Party and Republicans are the same thing and that they're "crazy." She went on to say that anti-immigration legislation in Arizona was being spread to state capitols throughout the country.
TheBlaze reached out to Sinema's campaign for a comment but did not immediately receive a reply.
A published response by Sinema explained her comments: "She was frustrated that no one in the state legislature was standing up to out-of-state special interests working to take away health care from children, make tuition more expensive, and take job security away from working families," Sinema spokeswoman Helen Hare said in a statement. "Kyrsten was born here, and will always stand up to outside special interest groups to protect and defend Arizonans."
Rep. McSally also weighed in on the comments: "Calling Arizonans crazy and having particular disdain for Republicans when she wants Republicans to vote for her is unbelievable," McSally reportedly said to reporters at a roundtable with business leaders and Gov. Doug Ducey. "And Arizonans need to know about it."
Other comments that have surfaced include a February 2011 Sinema tweet: "Dear Rest Of The World, I just want you to know, Arizona wasn't always this crazy. It used to be pretty great, actually. Sincerely, Kyrsten"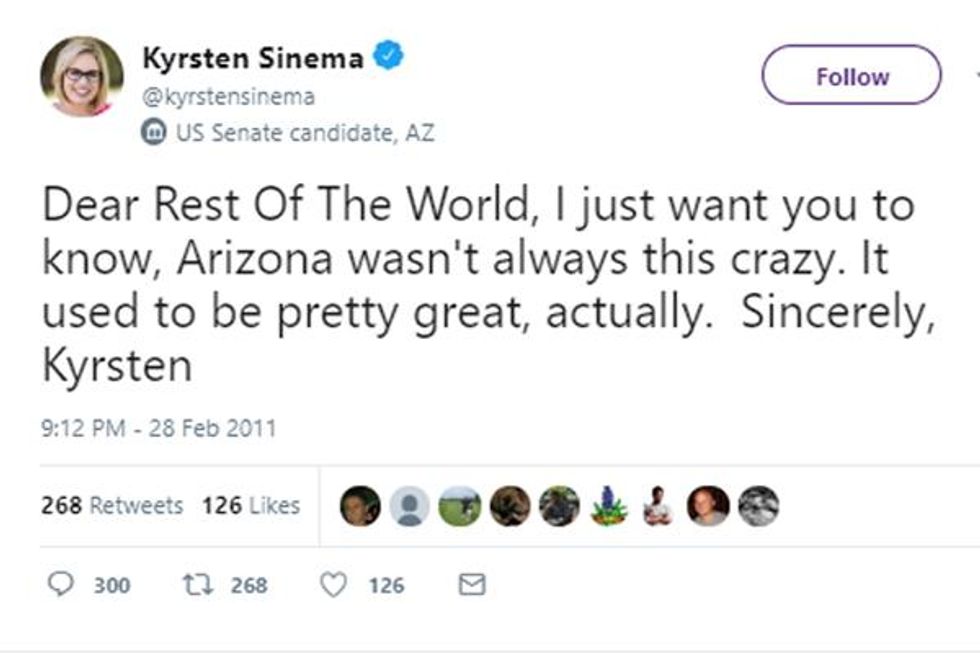 Image source: Twitter screenshot
In a May 5, 2011, tweet, Sinema wrote: "Poll: Given Choice Between Palin and Trump, Most Voters Choose Suicide."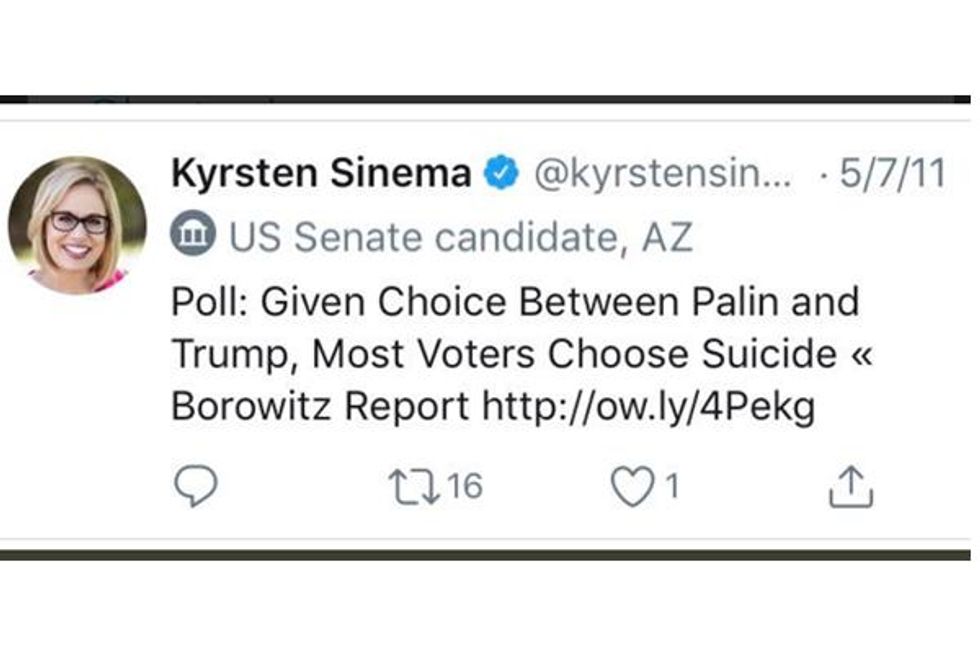 Image source: Twitter screenshot
And on June 4, 2010, she tweeted: "Just one day, I'd like Arizona to be in the news for something good. Just one day people."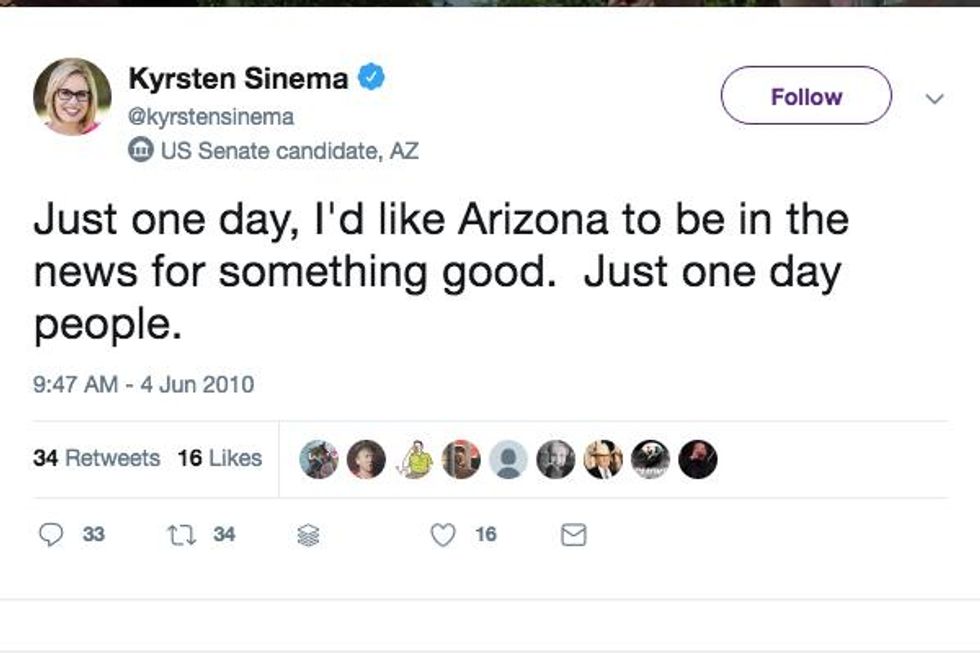 Image source: Twitter screenshot
On December 19, 2010,  Sinema wrote on Twitter that then-Sen. John McCain "is grumpy and a little bit crazy."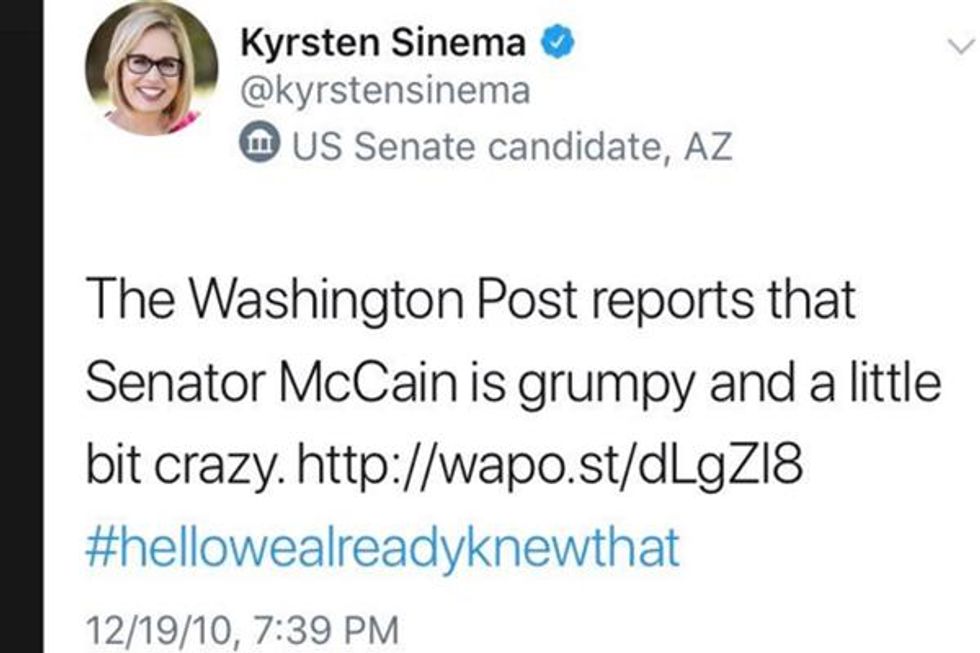 Image source: Twitter screenshot