A Tennessee restaurant owner said he was called a "Nazi sympathizer" and received death threats after word got out that he let Republican Rep. Marsha Blackburn — who's running for U.S. Senate — book the establishment's meeting room for a Saturday breakfast, the Wilson Post reported.
What else was said?
Tom Courtney of Courtney's Restaurant and Catering in Mt. Juliet told the paper he also was called an abuser and that his staff has been verbally attacked. Hundreds of social media users also said they'd boycott Courtney's, the Post noted.
"I was called a Nazi sympathizer of all things," Courtney told the paper. "It's hurt my business, my staff, me and my family. I've never seen grown people, or whoever is hidden behind the screens, act in such a manner. I have partners."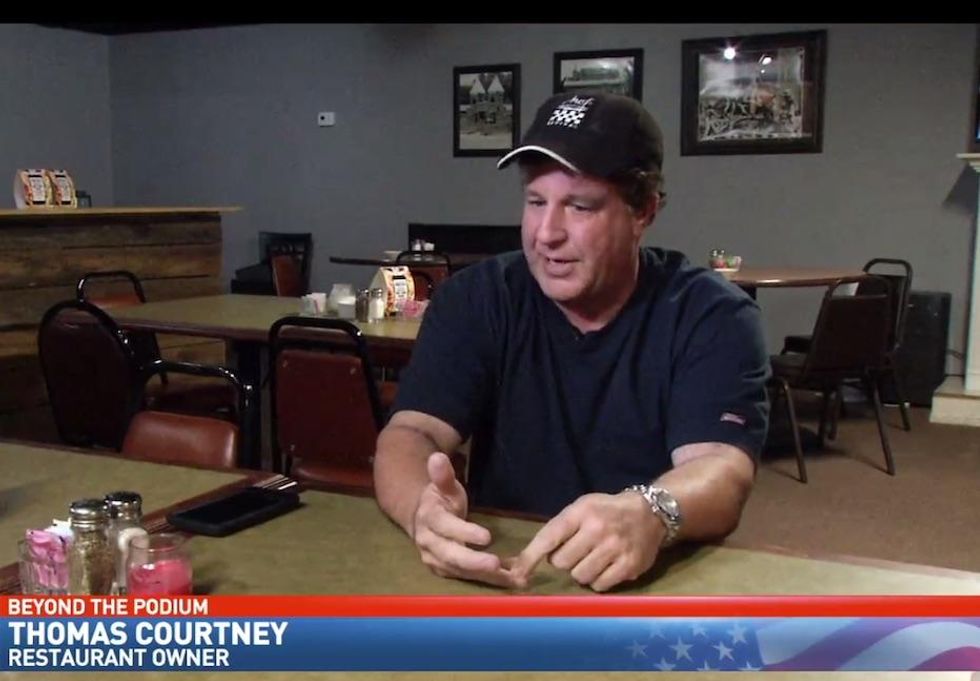 Image source: WZTV-TV video screenshot
He told the Post that the backlash stemmed from a thank you to Blackburn he posted on social media along with a photo of her.
One commenter wrote, "I can't support a business that is supporting her. I love your food but won't be eating at your restaurant again," the paper said.
"I have never in my life experienced such a thing," Courtney told the Post. "It's scary."
He added to the paper that he didn't file a police report about the threats.
"At first, I didn't make a deal. Right to free speech and everything," he said. "I don't need to expose the idiots who are keyboard crazy and damage a small local business. The ghosts behind their posts. It will blow over. I'm just blown away though."
And if Blackburn's opponent — former Democratic Tennessee Gov. Phil Bredesen — wanted to rent space in the restaurant, Courtney told the Post he'd do it. And when Blackburn inquired, Courtney told the Post he "did not think anything of it. I run a business. We were going to serve a hundred-plus people."
Now he's made an election choice
While Courtney told the paper he didn't endorse Blackburn at first, after all the threats to his life and vitriol that came his way — presumably to deter him — the restaurant owner said he only can support Blackburn now.
"I'm one who votes for the person, not the party," he added to the Post. "But with everyone saying they are going to boycott my restaurant because Marsha came here to treat my employees and customers, I can't even fathom people like that."
Blackburn responds
Blackburn noted on Twitter: "The radical left is out of control, and their angry mob is right here in Tennessee. Tom, we appreciate your opening your restaurant up to us, and we hope you are treated with the same respect as you treat your customers."
The radical Left is out of control, and their angry mob is right here in Tennessee. Tom, we appreciate your opening… https://t.co/eAgLSP1kQb

— Marsha Blackburn (@Marsha Blackburn) 1539817983.0
Courtney went back on social media to defend himself and his business, the paper said:
This is a family restaurant. It sells food. When people come in and order food, we sell it to them. We book events for all sorts of things including charities and business alliances, social organizations and such. We do NOT discriminate on race, religion or political affiliation. We have all manner of people eating in our establishment every day. They sit beside each other as neighbors and get along just fine. We are a family restaurant and we treat everyone as family with integrity and respect. Our employees' political affiliations are their own. We have both parties represented and we work shoulder to shoulder each day. We would appreciate you treating us with the same respect as we treat each of you.