The headline of PennLive's piece on Pennsylvania Republican gubernatorial nominee Scott Wagner is pretty damning: "Scott Wagner goes full xenophobe in new Facebook post, says Wolf won't stop 'illegal alien mob.'"
That the Tuesday piece was written by John L. Micek — the outlet's opinion editor — isn't so surprising.
But what was a bit of an eye-opener is that a piece by an opinion editor with a headline saying Wagner went "full xenophobe" ended up without explanation in PennLive's news section rather than the opinion section, where a number of Micek's op-eds are posted.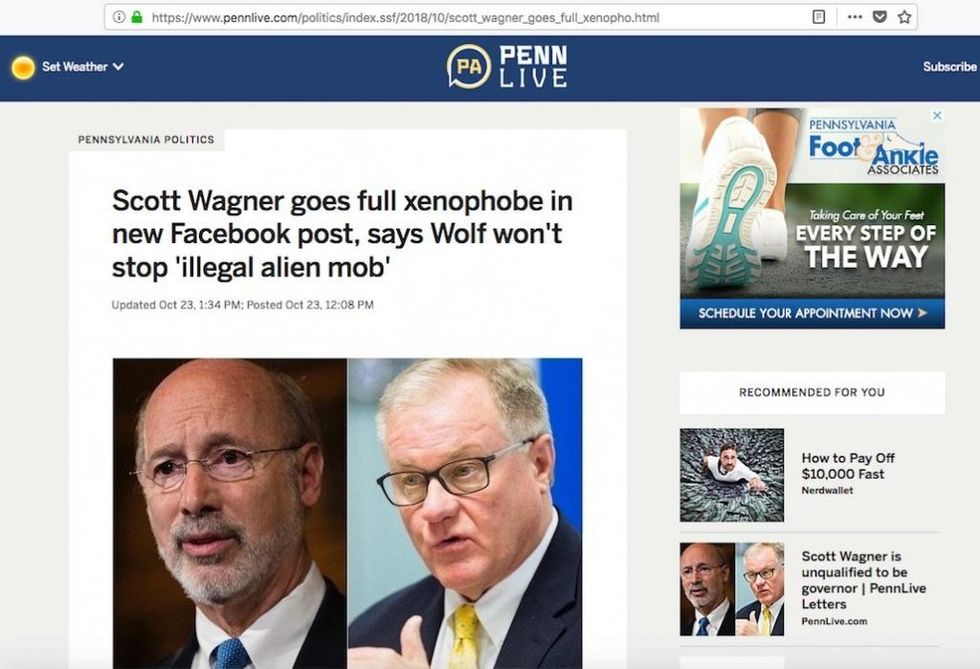 How the Wagner story looked earlier Wednesday in the news section (Image source: PennLive.com)-
Incidentally, the story was critical of Wagner's Tuesday Facebook post in which the GOP nominee raised concerns about the migrant caravan heading through Mexico toward the U.S. border.
Wagner wrote: "With an unprecedented mob of thousands strong approaching our country, Pennsylvanians want to know that they have a governor who will enforce our immigration laws and make sure our border is secured. But Governor Wolf has made it clear that he will not send the Pennsylvania National Guard to assist law enforcement at the border, and in light of the current situation that policy is flat out dangerous."
What did PennLive have to say about the headline and story placement?
To Micek's credit, on Wednesday he emailed back TheBlaze and acknowledged that he wrote the headline but that the piece was meant to carry an "Analysis" indicator as well.
"As PennLive's Opinion Editor, I also double as a politics columnist, and my work often appears in the news pages, where it is identified as analysis or commentary, as appropriate," he added to TheBlaze.
Micek also noted: "In this case, things got away from me, and I forgot to append the analysis label to the piece. The oversight here was entirely my own. And there was no agenda, explicit, or implicit on my part. The piece has since been corrected and re-labeled, with an editor's note. So, to that extent, I appreciate your vigilance in this matter."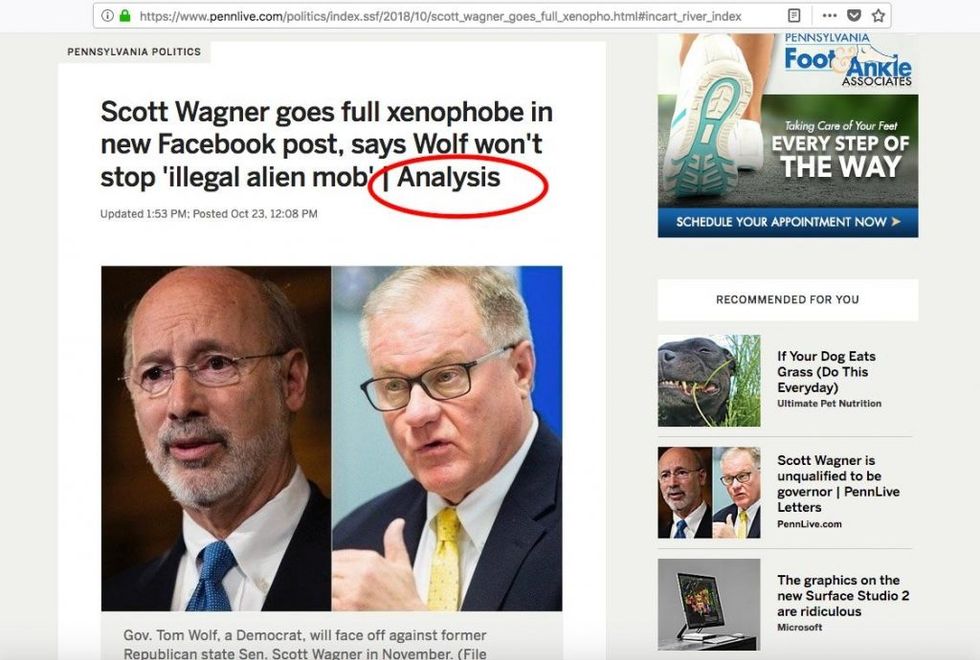 The headline later Wednesday beared an "Analysis" tag. (Image source: PennLive)
The editor's note reads, "This piece should have been identified as 'analysis' when it was first posted. It has been updated to reflect its more analytical nature. PennLive regrets the error."
What did Wagner's campaign have to say?
In regard to Micek's piece, Wagner campaign spokesman Andrew Romeo on Wednesday offered the following statement to TheBlaze: "There is a clear contrast in this race when it comes to who will assist the federal government in enforcing our immigration laws. Tom Wolf supports sanctuary cities and said he won't send national guard troops to secure the southern border. Scott cosponsored legislation to ban sanctuary cities and will work with President Trump to keep Pennsylvanians safe."
Wagner has trailed Wolf in likely voter support since the beginning of the campaign but has made headlines with some of his public statements. In July, he called an 18-year-old climate activist "a little young and naive" after her question at a town hall, and earlier this month he told Wolf in a Facebook video that "I'm gonna stomp all over your face with golf spikes."