Jason Blum — a Hollywood producer known for hits like recent horror flick "Get Out" and the just-released "Halloween" sequel — was booed during his speech at the Israel Film Festival in Los Angeles over his statements against President Donald Trump.
During the ceremony, which took place Tuesday, the night of the midterm elections this week, Blum blasted the commander in chief: "The great thing about this country is you can like Trump, but I don't have to … I don't like him."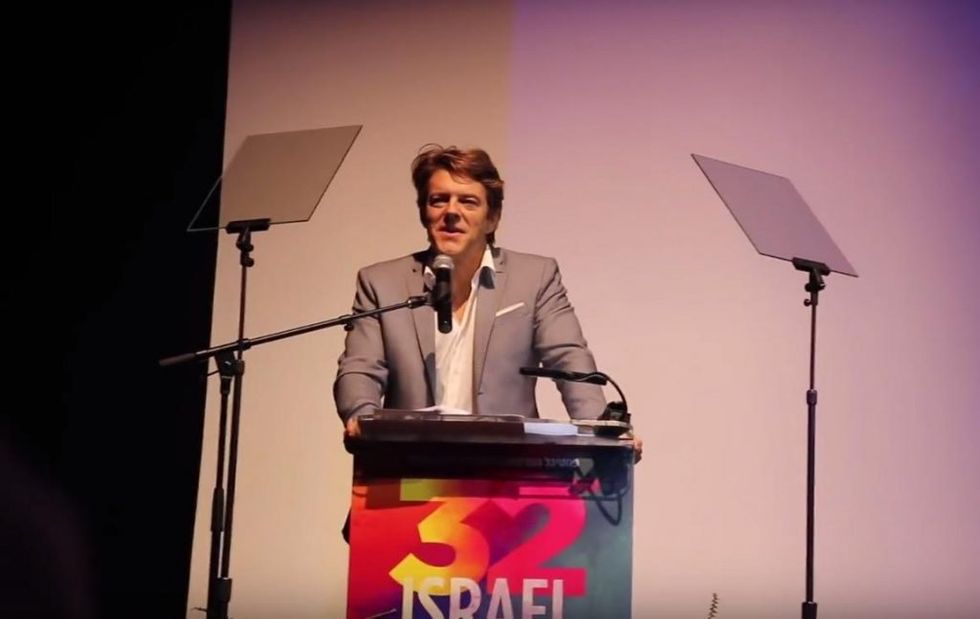 Jason Blum (Image source: YouTube screenshot)
When he got an earful back from the crowd, he acknowledged the backlash: "You can boo all you want, that's the great thing about America."
As the booing grew and audience members walked out, Blum added: "As you can see from the auditorium we have seen the end of civil discourse. We have a president who calls the press the enemy of the people. Thanks to our president, anti-Semitism is on the rise in the United States."
That got the crowd even angrier.
At one point Blum challenged his detractors, saying, "You're gonna have to drag me off the stage." And then someone actually tried.
"Beverly Hills Pawn" cast member Yossi Dina approached the stage and grabbed Blum's arm in an apparent attempt to remove him from behind the podium, Vanity Fair reported, adding that security got involved as the room continued descending into chaos.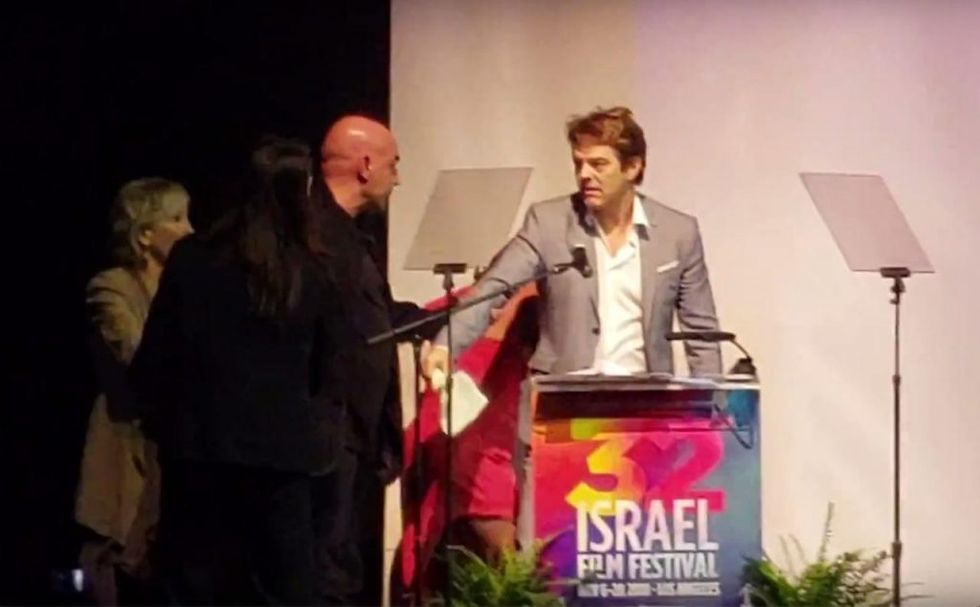 Image source: YouTube screenshot
Soon after, he was escorted from the stage. "Now I'm being physically removed," Blum said, "which is why Trump is not the right guy for us."
Here are two clips of Blum's remarks and the audience reaction:

Content warning on this one: Profanity:
What did the film festival have to say?
"We in no way condone violence but do wholeheartedly support dialogue that allows people to share ideas and viewpoints in a respectful way," festival founder and director Meir Fenigstein said in a statement, the outlet added. "Sadly, some audience members at last night's opening greatly lacked that respect and turned an evening of celebration and recognition into something else."
Fenigstein's statement also said the festival "did not in any way remove Jason Blum from the stage. To protect him when an audience member in no way associated with the festival charged the podium, the festival security ushered Blum off the stage," Vanity Fair added.
Blum later posted on Twitter the text of what would have been his full speech:
I was honored by the Israel film festival tonight and, unfortunately was not allowed to finish the speech I was try… https://t.co/o3T4FWrQM7

— Jason Blum (@Jason Blum) 1541572850.0
(H/T: The American Mirror)