"Every time I think about it, I want to cry," Nita Coburn told WCPO-TV.
Coburn drove her sick daughter to an emergency room in Middletown, Ohio, on Thursday afternoon, helped her into a wheelchair, and thought she locked her car — which contained her great-grandchildren in the back seat, the station said.
What happened?
But a safety feature prevented the car from locking since the keys were still inside — and just like that a man climbed into the driver's seat and began to pull away, WCPO said.
Coburn, 69, told the station it was the "most morbid feeling in the world."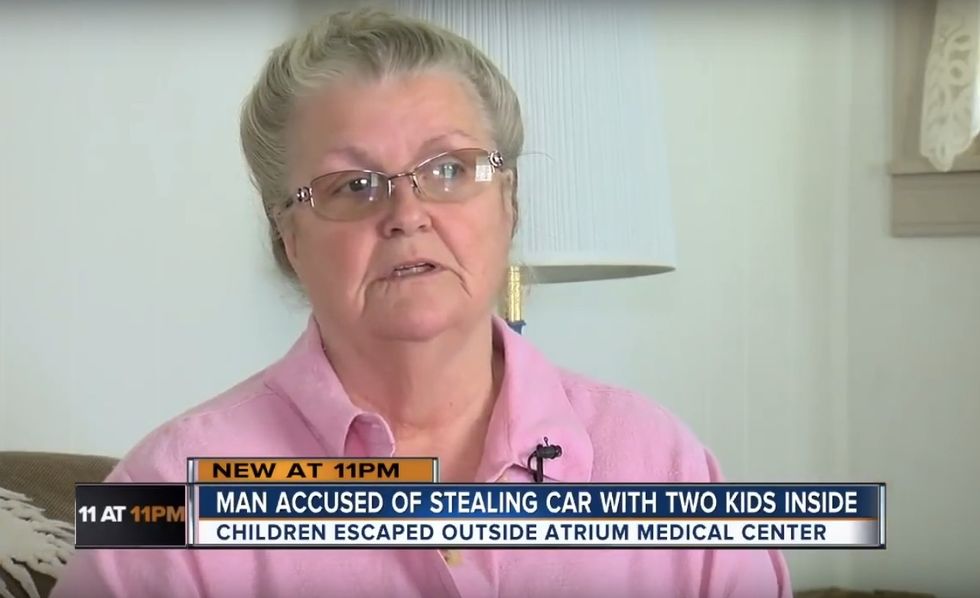 Image source: YouTube screenshot
So she ran after the car and grabbed the driver's side door handle before the man inside slammed it shut, WCPO said.
Coburn told the station she tried again to open the car door — and beheld an awful sight: "The second time he slammed it shut, I saw he had a hold of Skyler."
Skyler is Coburn's 10-year-old great-granddaughter — and she was in the back seat with her 8-year-old brother Chance, WCPO noted.
Coburn told the station she screamed and grabbed the door handle again, and the man in the driver's seat began dragging her.
'Extremely heroic'
But while all that was happening, Chance pulled Skyler away from the man's grip — and surveillance video shows the brother and sister tumbling out of the moving car, WCPO reported.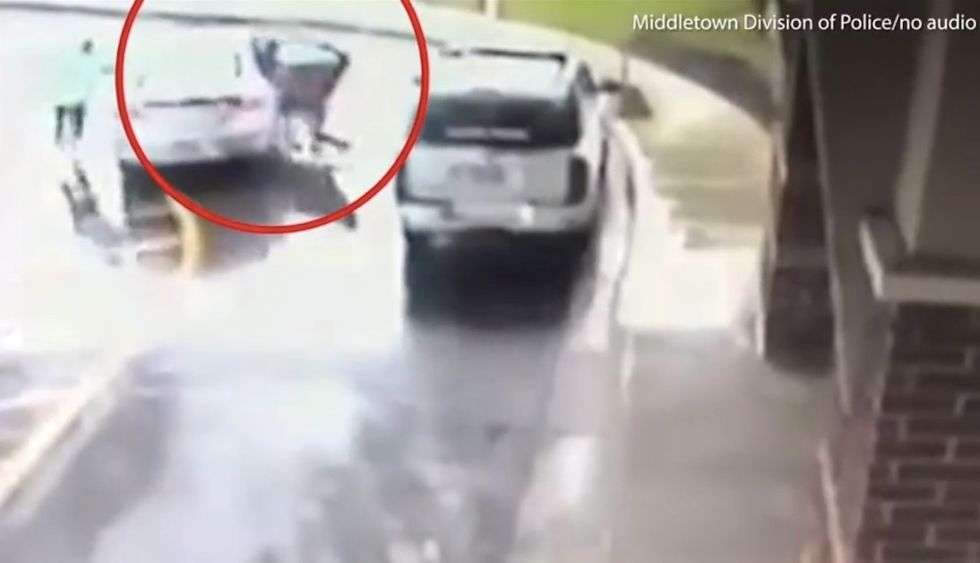 Image source: YouTube screenshot
"What Chance did was extremely heroic," Middletown Police Officer Connor Kirby told the station Friday. "It shows how extremely brave he was and how much he loves his sister."
Here's surveillance video of the incident:

Quick thinking boy drags sister from back seat of car being stolen youtu.be
As for Coburn, she didn't see her grandchildren's escape from the car and continued hanging on to the driver's side door handle, WCPO said, adding that police estimated she was dragged four car lengths before she let go.
She then saw Sklyer and Chance running toward her, the station said, as the car drove off.
"That car didn't bother me at all," Coburn recounted to WCPO. "It was them two babies. No one needs to feel that fear. No one does."
What about the alleged car thief?
Police told the station that 24-year-old Dalvir Singh didn't get very far after driving away from the hospital — they soon found him and the car a few blocks away and arrested him on charges of kidnapping, grand theft, and felonious assault.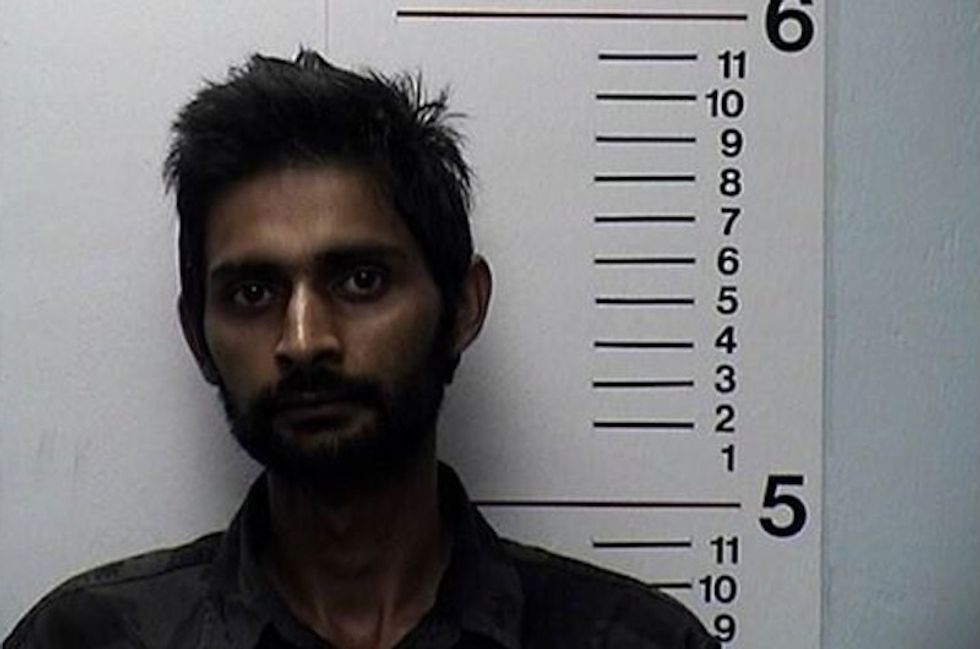 Image source: Middletown Police
Singh was being held on a $200,000 bond in the Middletown City Jail, the Journal-News reported, and his next court appearance is scheduled for Friday.
Police chief commends 'little guy'
"This little guy is a hero. No question," Chief Rodney Muterspaw in a statement to the Cincinnati Enquirer. "He pulled his sister out of the car with no concern for his own safety. That is incredible at his age."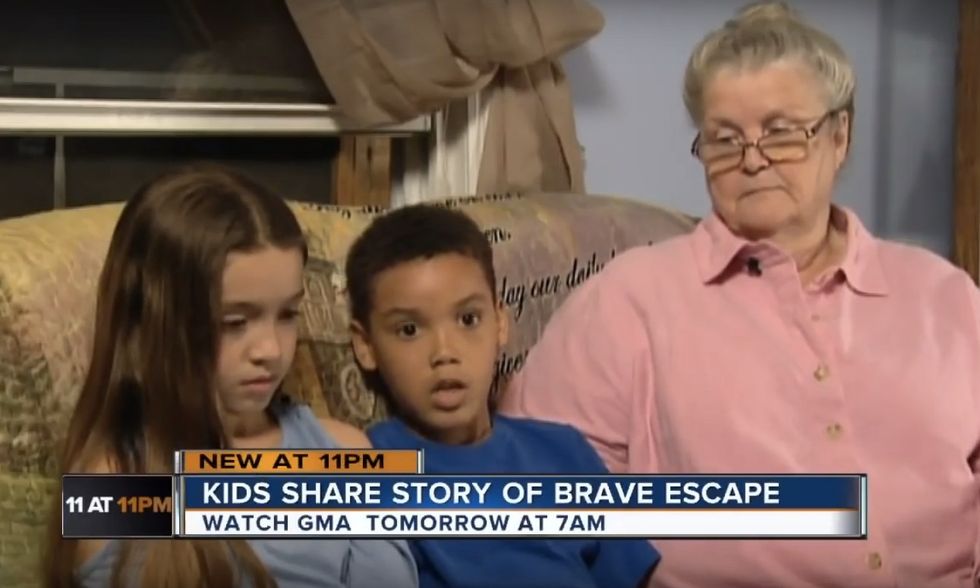 Image source: YouTube screenshot
Middletown police told the paper they will formally recognize Chance's actions at a later date.
Middletown 8-year-old's quick thinking saved him, sister from kidnapping youtu.be