Actor and rapper Donald Glover — also known as by his rapper name Childish Gambino — appears to have hit out at cancel culture for what he suggests is stifling content creators.
Much of social media, however, ran with Glover's remarks, and their thoughts on what he meant has divided Twitter.
What are the details?
According to a Tuesday report from the New York Post, Glover said that fear of cancel culture is creating "boring" avenues of entertainment as many content creators feel they are restricted from experimentation out of fear of repercussion.
Early Tuesday morning, Glover took to Twitter where he wrote, "[S]aw people on here havin a discussion about how tired they were of reviewing boring stuff (tv & film)."
"We're getting boring stuff and not even experimental mistakes (?) because people are afraid of getting cancelled," he continued.
The 37-year-old entertainer concluded his thoughts, "So they feel like they can only experiment w/aesthetic (also because some of em know theyre not that good.)"

Image source: Twitter screenshot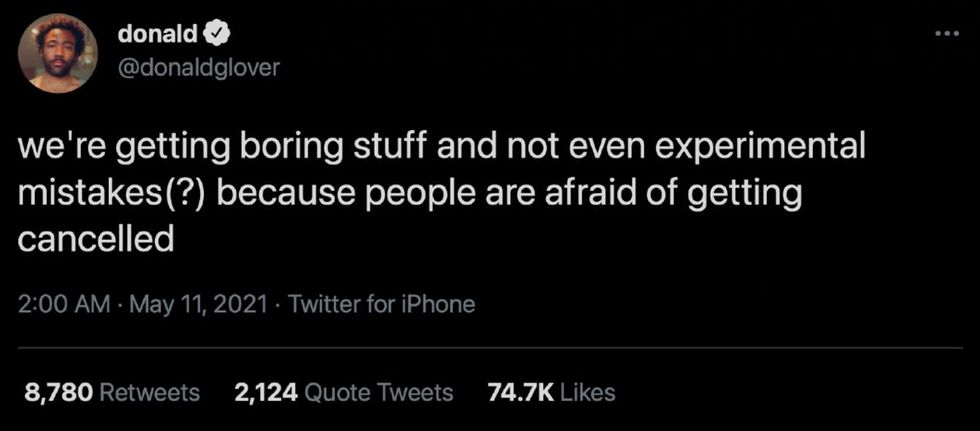 Image source: Twitter screenshot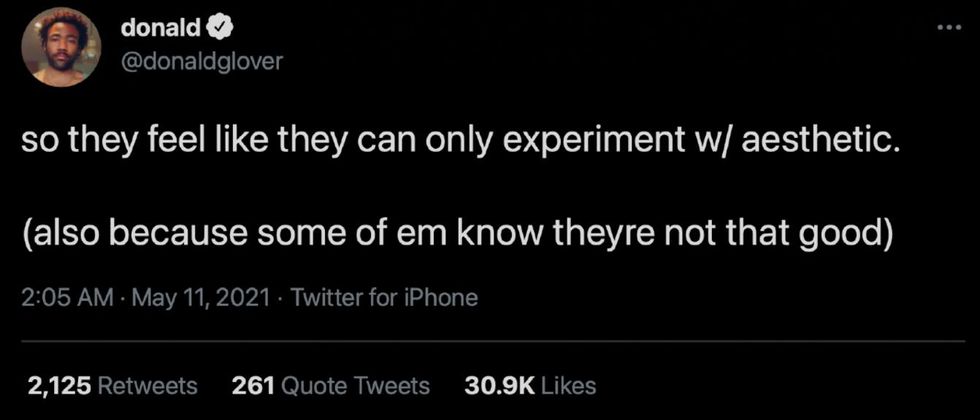 Image source: Twitter screenshot
What else?

Glover's comments seem to have been taken one of two ways: Some social media users believe that Glover is referring to cancel culture, while other social media users believe that Glover is saying that creators are concerned over their actual projects being canceled.
One user wrote, "This tweet immediately highlighted how fake woke so much of Twitter is. The man tweets about tv show cancellation because executives don't want to go outside the box and yall busted out your torches and pitchforks over cancel culture. Which is irrelevant to this tweet."
Another user added, "He's talking about movies/tv shows being cancelled but everyone's brains are so poisoned by twitter they think he's talking about cancel culture and getting mad."
"The internet has rotted people so much that they forgot the word cancelled literally just means to get your program taken off the air lmao," another user wrote.
On the flip side, one user who believed Glover was referring to cancel culture itself wrote, "The PC culture has really put a damper on creative work."
Another user chimed in, "[L]eave cancel culture for the racists, sexists, rapists, ect. It's gone from a good thing to something that has made people afraid of expression. Ain't right."
"Isn't the purpose of art to trigger a reaction in people?" another user asked. "Get creative because you're not getting canceled. I love your work, but when public opinion changes, being canceled isn't an excuse for making good art. Just look at history for that. Art perseveres."
Despite the flurry of discussion, Glover has yet to clarify his original comments at the time of this reporting.